Woodlands double deaths: A timeline of what happened
SINGAPORE — Teo Ghim Heng's murder trial began in the High Court on Tuesday (July 2). The 43-year-old is accused of killing his pregnant wife and four-year-old daughter on Jan 20, 2017 in their Woodlands flat.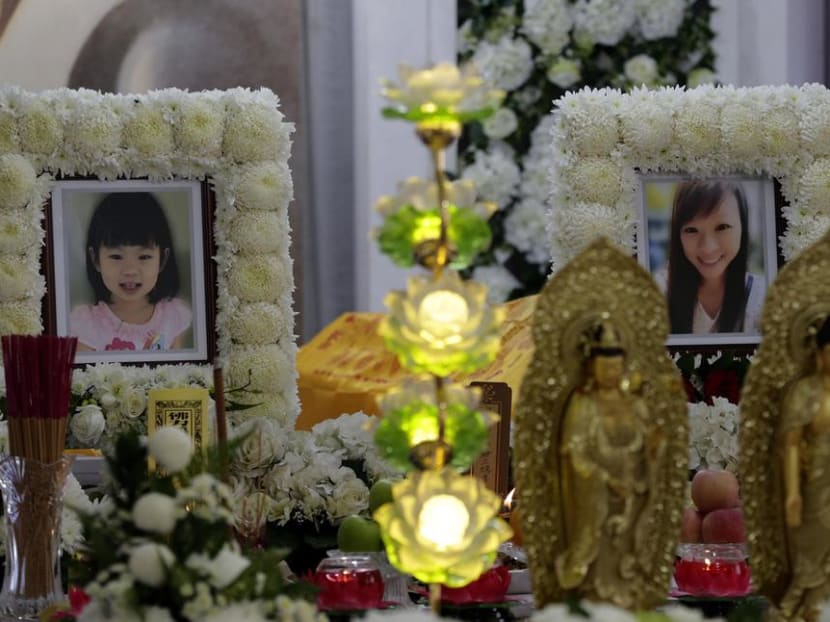 SINGAPORE — Teo Ghim Heng's murder trial began in the High Court on Tuesday (July 2). The 43-year-old is accused of killing his pregnant wife and four-year-old daughter on Jan 20, 2017 in their Woodlands flat. 
The following is a timeline of events leading up to the tragic deaths, the details of which were revealed in court on Tuesday.
2015: 
Teo claims that his income as a property agent has declined sharply due to the weakening property market. He begins to have marital problems with wife Choong Pei Shan, whom he married seven years earlier. 
She is a homemaker and unable to contribute to the household expenses. He has amassed significant gambling debts and resorts to borrowing from friends, colleagues and financial institutions.
End of 2016: 
Teo's income has dwindled so much that he is unable to sustain the family's daily expenses. His friend introduces him to Carpentry Design Works so that he may have a consistent source of income, and he lists his flat for sale.
Jan 18, 2017:
He argues with his wife over his finances, claiming that he owes debtors S$70,000 and cannot pay their daughter's school fees.
Jan 20, 2017:
In the morning, the couple argue again about the school fees. Teo strangles his wife with a towel for about 15 minutes, before using his hands to do the same until she dies. He kills his daughter in a similar manner.
Jan 23, 2017:
His colleague and two bosses from Carpentry Design decide to visit him when he failed to show up at work for a few days. They knock on his door, and one of them shouts for him to come out and talk, but Teo lowers the volume on the television programme he is watching and does not reply.
One of his bosses leaves her name card with Teo's neighbours, and ask them to call her if they see him or his family. 
Just before they leave, his colleague trips the main power switch outside the house to try to force Teo to open the door and check the power, but Teo will not budge.
Jan 27, 2017 (Eve of Chinese New Year):
Teo lies to family members that his wife is experiencing stomach pains and has to visit the hospital — in a bid to explain their absence at the festivities.
Pretending to be Choong, Teo uses her mobile phone to communicate with her family members and their daughter's school teachers.
In the days following the murders, he claims to have attempted suicide several times by taking Panadol, insecticide, among other things.
Jan 28, 2017 (First day of Chinese New Year):
In the afternoon, Choong's brother, Mr Choong Mun Chen, visits the couple's flat and finds the door and metal gate locked and the windows closed. He knocks and calls out his sister's name but gets no response.
2.30pm:
Mr Choong goes to a neighbouring flat and asks if they have seen anyone leaving the house, but they say no. He calls his mother on the phone before leaving.
Teo uses a public payphone at the void deck of his block to call his mother-in-law and his own mother. He tells them he did not visit them because he had fought with his wife, who kicked him out of the flat. 
He promises to visit them the next day, saying he will pick up his daughter from his sister's home, and reassures them that everything is all right.
5.45pm:
Mr Choong's mother tells him what Teo says, but Mr Choong replies that he cannot get in touch with his sister. Growing suspicious, Mr Choong calls another brother-in-law, Mr Chris Lam Kwek Fah, and heads to the flat with him.
6.30pm:
At Teo's flat, the two men get no response to their calls and knocking. Forcing open a window, they detect a pungent odour, like a gas leak. They call the police.
Police officers arrive, followed by officers from the Singapore Civil Defence Force. Before firefighters can force their way in, Teo opens the door.
As Teo stands behind the flat's locked metal gate, Mr Choong demands to know where Choong is. Teo lies that she has gone out, but is asked why he is in the flat when Mdm Choong has supposedly kicked him out.
Teo unlocks the gate to allow firefighters to enter the flat. He then walks close to Mr Choong, and tells him in a calm and soft voice that Choong is dead.
When Mr Choong shouts at him in disbelief, Teo dashes past him towards the lift lobby. Mr Choong manages to grab hold of his shirt, and the officers pinn both men down along the common corridor.
When an officer ask him what happened, Teo replies in Mandarin: "It was my fault."
He tells another officer, who confirms that there are two charred bodies in the master bedroom. Teo says he had poured thinner and set his wife and child ablaze as they slept earlier that day — he tried to take his own life by lying next to them on the bed but he felt the fire was too hot and left the flat.
He also lies that he had made a suicide pact with his wife a few weeks before. At a third officer's request, Teo shows him a handwritten note from the side drawer next to his wife's body. He claims it was a suicide note she had written to her father. He shows the officer three more handwritten suicide notes, allegedly written by him and his wife.