World's smallest baby, born at 212 grams at NUH, now doing well at 14 months old
SINGAPORE — On June 8 last year, after feeling excruciating abdominal pain for about two hours, Mrs Kwek Mei Ling, who was about 24 weeks pregnant, rushed to the National University of Hospital's (NUH) Accident & Emergency (A&E) unit in an ambulance.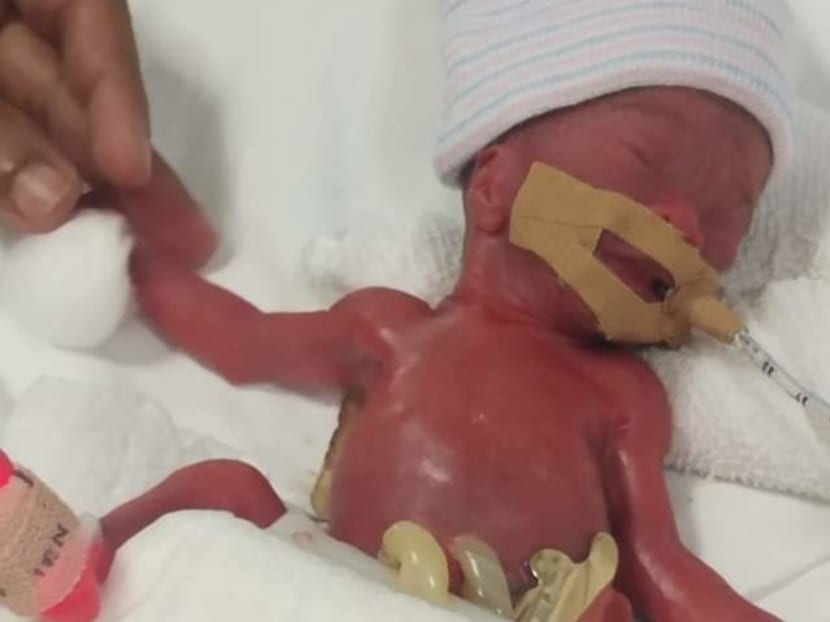 The baby, Kwek Yu Xuan, was delivered at just 24 weeks and six days as her mother had preeclampsia
She was discharged from hospital after a 13-month stay, weighing 6.3kg
She has chronic lung disease and pulmonary hypertension but is expected to get better with time
The family was able to pay off the hospital bills of over S$200,000 from donations
SINGAPORE —  On June 8 last year, after feeling excruciating abdominal pain for about two hours, Mrs Kwek Mei Ling, who was about 24 weeks pregnant, rushed to the National University of Hospital's (NUH) Accident & Emergency (A&E) unit in an ambulance.
She had thus far not experienced any complications in her pregnancy but that day, NUH doctors found she had preeclampsia, or high blood pressure during pregnancy, and was bleeding.
Mrs Kwek, 35, was admitted to NUH and the next morning, she was told that she would have to give birth, as it was difficult to control her blood pressure.
She underwent an emergency Caesarean section at 24 weeks and 6 days, giving birth to a daughter Kwek Yu Xuan, weighing only 212 grams. 
At birth, the baby was 24cm in length with a head circumference of 17.8cm. As she had been delivered after just 24 weeks of gestation, she was considered severely premature. The average gestation period for a fetus is 40 weeks.
Today, Yu Xuan, who is 14 months old, is the smallest baby in Singapore to have been delivered at NUH and survived. In fact the hospital believes that she is possibly the world's lightest baby to be born and discharged well on record.
On Saturday (Aug 7), the doctors involved in her delivery and her parents spoke to reporters for the first time since her birth to recount what happened and how they helped her to stay alive beyond her fragile first weeks outside the womb. 
The consultant on duty the day that Mrs Kwek went to the A&E, Dr Yvonne Ng, said: "We went in to counsel the parents face to face… The survival (rate) was 70 per cent, we told them, with moderate, mild disability. And then she went in for delivery."
Dr Ng, who is a senior consultant at the department of neonatology of Khoo Teck Puat–National University Children's Medical Institute (KTP-NUCMI) at NUH, added: "The challenge actually appeared when we saw (the baby). She was actually beyond what we expected. We expected her to weigh 400, 500 or 600 grams, but she came up to just 212 grams." 
Dr Ng recalled that Yu Xuan was so tiny that the smallest available breathing tube, of 2mm in diameter, had to be used.
"I remember my doctor who did it, she had to use just her fingers to pry open her mouth gently and put it in. It was quite special."
The next few weeks were the most challenging for Yu Xuan, due to her size and her fragile skin, said Dr Ng, adding that nurses had to handle her carefully and try not to move her too much to keep her in a stable condition. 
During her first seven weeks, Yu Xuan was kept on a ventilator, before being extubated when she was around 678 grams and placed on nasal prongs with ventilator assistance.
"We were very thankful that she escaped having infections, or major bleeds in the head. Nothing major I would say," said Dr Ng.
Yu Xuan was finally discharged from hospital last month, after a 13-month stay, on July 9, weighing 6.3kg and measuring 61cm. 
Before she was sent home, Associate Professor Zubair Amin, the head of the neonatology department at KTP-NUCMI, NUH, said the hospital first made sure her breathing capability and heart function were strong enough. 
Her parents also had to be trained to use the medical equipment that Yu Xuan continues to require at home.
"Yu Xuan's health and development have been progressing well with the unconditional support from her parents as well as the larger community and donors," NUH said in a statement. 
She has chronic lung disease and pulmonary hypertension – two conditions commonly associated with extreme prematurity, but she is expected to get better with time, the hospital added.
She also had severe retinopathy of prematurity, a potentially blinding eye disorder, and required laser therapy in October last year, NUH said, but added that her condition is getting better with continued checks by eye specialists.
Assoc Prof Zubair added: "Premature babies born at 24, 25 or 26 weeks will have a delayed development compared with a full-term baby. They need time to catch up, but she is progressing. Right now she can turn herself both ways, she can interact, she can smile… So, we are happy that she is progressing."
'ONE STEP AT A TIME'
Mrs Kwek, who works as an administrative assistant, is able to care for Yu Xuan full time as she works from home. Her husband is a technician.
While Yu Xuan was hospitalised, Mrs Kwek worked from the Ronald McDonald House at NUH, which provides caregivers and families of young patients a temporary place of respite closer to their children at no cost. 
Speaking to TODAY, Mrs Kwek said that prior to that fateful day when she was rushed to the A&E, she had only been to two doctors' appointments throughout her pregnancy, at a clinic in Jurong East.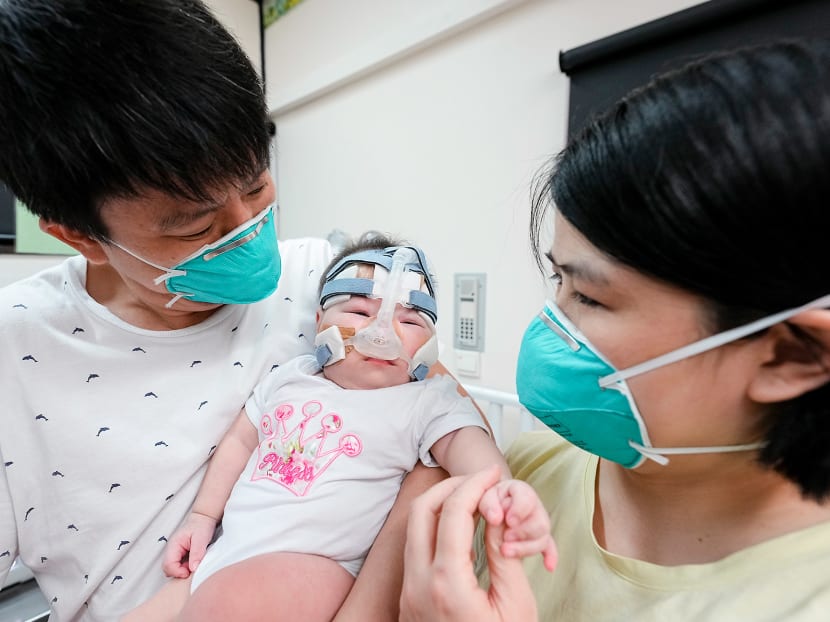 Mrs Kwek said she was "scared and very worried" when she heard that she had to go for the emergency Caesarean section.
The couple also wondered if they would have enough time to be transferred back to Malaysia because of the bills. 
"We were worried we wouldn't be able to afford it," said Mrs Kwek. 
The couple are Singapore permanent residents and had initially intended to deliver Yu Xuan in Malaysia, where their firstborn, a four-year-old, still lives.
After learning of their plight, friends suggested crowdfunding, and Mrs Kwek wrote to crowdfunding platform Give.asia about her situation in July last year. 
By January this year, the couple had received some S$323,000 from donors and Mrs Kwek was able to pay off Yu Xuan's hospital bills, which amounted to over S$200,000.
She said that about S$50,000 of the remaining amount will be used for Yu Xuan's ongoing outpatient treatment, and the couple plans to use the other S$50,000 to help other families in similar situations.
"For the past few months, we've just been trying our best. Even though at times we are worried, all we can do is take it one step at a time. We are trying to stay positive," said Mrs Kwek.