Wuhan virus: Online firms Carousell, Qoo10 threaten to suspend sellers charging inflated prices for face masks
SINGAPORE — Online marketplaces Carousell and Qoo10 are urging sellers to offer face masks at "reasonable prices", after a shortage caused by the Wuhan coronavirus outbreak prompted hundreds of sellers to charge about five to 20 times the retail price.
SINGAPORE — Online marketplaces Carousell and Qoo10 are urging sellers to offer face masks at "reasonable prices", after a shortage caused by the Wuhan coronavirus outbreak prompted hundreds of sellers to charge about five to 20 times the retail price.
The two firms on Wednesday (Jan 29) threatened to suspend sellers who persist in charging highly inflated prices to take advantage of the situation in order to make money.
Ms Tan Su Lin, vice-president of operations at Carousell, said: "In light of the recent Wuhan coronavirus, we have reached out directly to our sellers, advising them to price their masks reasonably in order to allow a fair distribution of masks. 
"Listings with unreasonable pricing will be asked to observe corrective action or may be taken down."
In a similar move, Mr Sam Too, general manager of online retailer Qoo10, said on Wednesday that the firm would not tolerate merchants who "escalate prices to unreasonable levels in an attempt to profit off the general public's worry and panic, or even as a joke".
"Merchants found guilty of such behaviour may be temporarily suspended as we investigate their intentions," he said
The surge in prices comes with the rising number of cases of the new coronavirus around the world. As at Wednesday evening, close to 6,000 people had been infected in China, along with 66 others elsewhere around the world, including 10 confirmed cases now being treated in Singapore.
The spread of the virus has led many people to buy surgical face masks, although the authorities have said that they are needed only by those who are feeling unwell.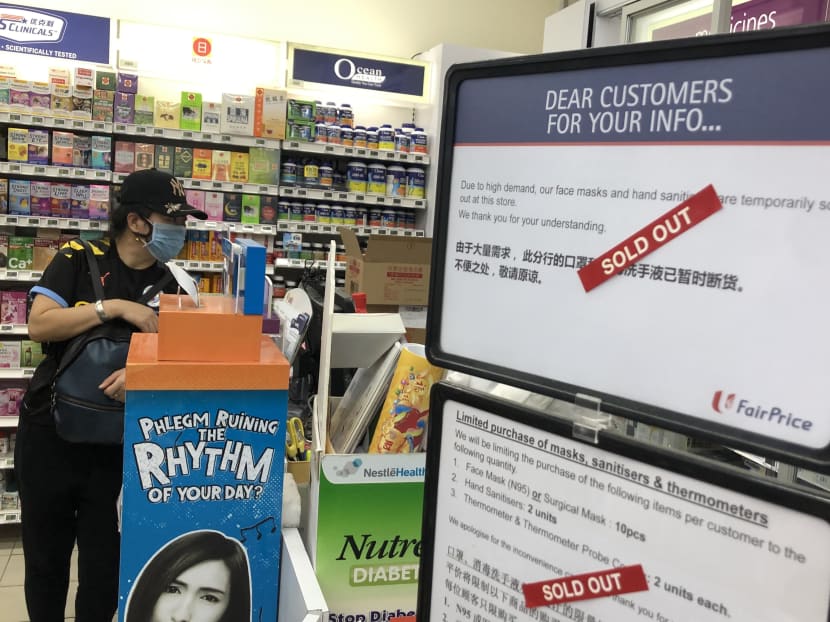 MAJOR OUTLETS OUT OF STOCK
A search on supermarket chain NTUC FairPrice's website showed that its surgical masks and N95 masks — which offer more protection than surgical masks but are regarded as unnecessary for the coronavirus — were out of stock.
On Watsons' website, there was a similar result, with at least four varieties of face masks sold out.
Many people have taken to social media to post videos and pictures of long queues for masks outside retailers such as Guardian and Watsons. However, the retailers have said that they are working with suppliers to bring in fresh stocks of masks.
The Government clarified on Wednesday through its online channel gov.sg that members of the public should "wear a surgical mask only if you feel unwell and have respiratory symptoms like a cough or a runny nose".
"Generally, people who are well do not need to wear a mask," the website stated.
However, sales have continued to flourish on online platforms.
A seller on Carousell, who priced surgical masks at S$28 for a box of 50, acknowledged that sellers such as herself are making the most of the situation.
"The main thing is that sellers see that there's no more stock (for surgical masks) anywhere, so for any stock available, people are selling it at extremely high prices," the seller, who declined to be named, said.
"People are just taking the opportunity to reap the benefits of (the situation)," she told TODAY by telephone.
She said that she has had 40 buyers over just two days of selling the masks, with each buyer buying an average of two boxes.
She said that her largest order was for 20 boxes, which was from a manager of a company who was buying the masks for employees.
"If somebody really comes and tells me that they really can't afford, I will definitely negotiate and sell them at a lower price," she said sheepishly, but added that out of all her buyers, not one has negotiated for a lower price.
Though some are willing to foot the exorbitant costs, many others are upset that those who really need the masks may not get them due to the sellers' antics.
"This should be the time that everyone should be united and think for others as well," Xavier, who did not want to give his full name, said.
The 31-year-old, who works in the IT industry, added: "There may be people who need (the masks) and can't wear them because resellers are hoarding all the extra stocks. I strongly believe no one should take any advantage out of a bad situation."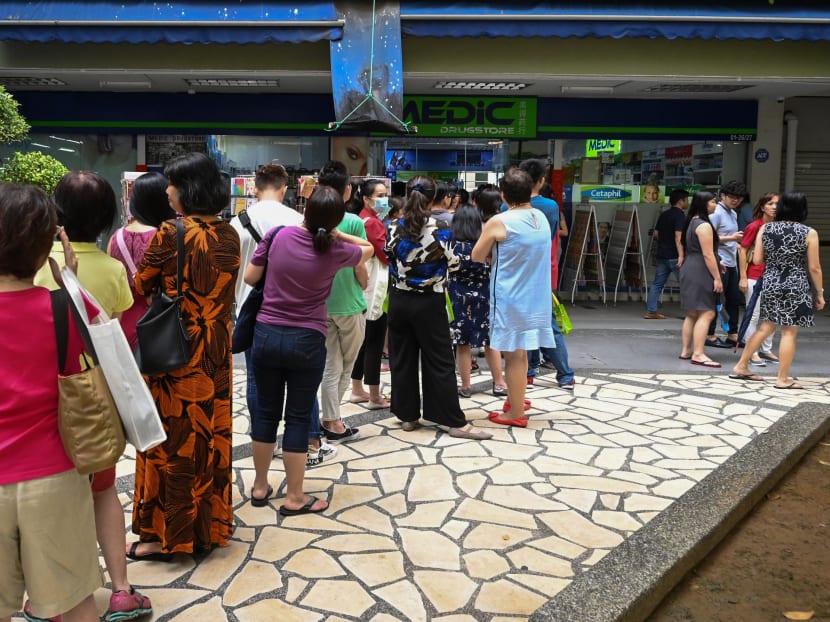 MORE THAN 500 NEW LISTINGS IN 3 DAYS
When TODAY searched Carousell's website on Wednesday evening, it found more than 500 listings for surgical masks posted over the last three days. Most sellers are offering boxes that each hold 50 surgical masks, and of these, most are priced at about S$30.
It is understood that a box of 50 surgical masks usually costs S$5 to S$7 — about one-fifth of the price typically being asked by online sellers.
Some sellers offered more reasonable prices — with a handful of listings for S$10 to S$15 a box — but some were even higher, at about S$50 and one at S$100, which is 20 times the usual price.
Over the same three days, 15 listings for hand sanitisers were posted on Carousell. The prices were jacked up as much as four-fold compared with the usual retail price.
For a 50ml bottle of Dettol hand sanitiser, at least two sellers were asking S$14 when the retail price is S$3.30.
Carousell's Ms Lin added that the firm is an "open marketplace that doesn't regulate prices for buying and selling".
"But in light of the escalating public health situation, we are stepping in to do our part to manage the situation by making sure that buyers who need masks can gain access to them fairly," she said.
"We advise our users to abide by our community guidelines, and encourage our community to help one another, take care and exercise precaution."
At Qoo10's website, similar prices were being charged for surgical masks and hand sanitisers. There were about 100 listings for face masks over the last week, with some priced close to S$100 for a box of 50 surgical masks.
Mr Too said that "across various products that can be related to virus contact prevention, we have observed price increases of approximately 30 per cent to 65 per cent of their usual prices".
Besides suspending the accounts of sellers in extreme cases, Qoo10 has also undertaken other measures to push prices down.
Mr Too said that its staff members have been reaching out to sellers in Singapore and South Korea over the phone to "advise them against profiteering from the sales of masks".
He added that a shipment of 70,000 masks will be shipping out from South Korea on Thursday, and is expected to arrive in Singapore by Monday.
"The shipment of masks from Korea will help to mitigate the supply shortages and help ensure there is sufficient supply of masks, thus ensuring that sellers on our platform do not take advantage of the shortage to inflate prices," he said.