Young activists single out Govt's support for fossil fuels, 'too low' carbon tax rates in climate change scorecard
SINGAPORE — Despite declaring climate change an existential threat for Singapore, the Government has not "walked the talk", said young climate activists in a report released on Saturday (May 23) night.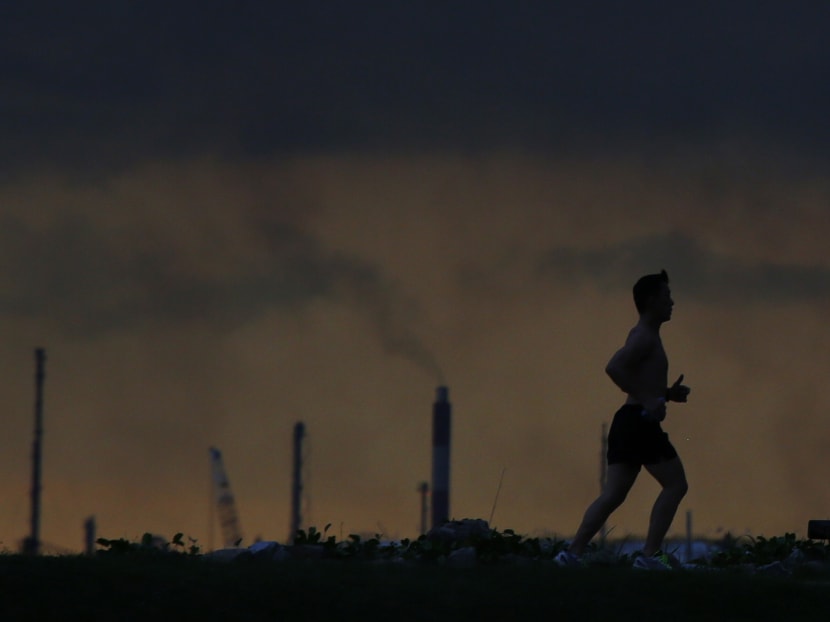 SINGAPORE — Despite declaring climate change an existential threat for Singapore, the Government has not "walked the talk", said young climate activists in a report released on Saturday (May 23) night.
The report, compiled by local environmental initiative Greenwatch, gave the Government a score of 8 on a scale of between -90 and 90 when assessing how green its policies are.
According to their "scorecard", policymakers did relatively well in green efforts for the land transport sector, but were penalised for their support for the fossil fuel industry.
Land transport contributes about 14 per cent of Singapore's total greenhouse gas emissions, while the petrochemical sector is a major contributor among industry emissions, which make up 60 per cent of the country's carbon emissions.
They also pointed out that the country's carbon tax rates of S$5 per tonne of carbon dioxide emitted are "clearly too low" as recommended rates are much higher, at US$30 (S$42.70) or US$40 per tonne.
Greenwatch is run by the organisers behind two ground-up environmental movements here. 
They are Singapore Climate Rally, which led a protest involving more than 1,700 people at Hong Lim Park last year; and Speak For Climate, started by two students, Ms Sammie Ng, 23, an urban studies undergraduate at the University of Hong Kong, and Ms Tim Min Jie, 21, an undergraduate at Yale-NUS College.
The scorecard is part of the group's wider effort to assess and rank political parties here based on how their manifestos and campaigns address various aspects of climate change ahead of the next General Election, so that voters can be better informed at the polls.
"(The incumbent government's) policies show a tendency to maintain the status quo… Singapore can and should do better than fossil fuels," said Greenwatch, which pointed out that it is "politically nonpartisan".
The scorecard's criteria drew upon recommendations of the Intergovernmental Panel on Climate Change, a United Nations body dedicated to providing the world with scientific information on the risk of climate change, and other relevant research.
There are 30 categories with each assessed on a scale of -3 to 3. A positive score means that the Government government has met its asks, while a negative score means that there are considerable doubts surrounding environmentally-friendly commitments, or that government policy has led to more carbon emissions.
The group awarded the Government a full score of 3 in only one category — its policy to protect Singapore from the effects of climate change by addressing the rise of sea levels and food security.
ACTIVE SUPPORT FOR FOSSIL FUELS
Meanwhile, the Government's support for the fossil fuel industry drew a score of -3 from Greenwatch – the worst score given across all categories.
"The government is still actively seeking to expand Singapore's petrochemical industry, despite acknowledging the climate crisis as an urgent and existential threat," the scorecard stated.
Elaborating, it pointed out that the Government received an investment from energy giant Shell to increase its storage capacity by nearly 1.3 million barrels at its Bukom refinery last year.
In the same year, it had also accepted a multi-billion investment from another energy giant, ExxonMobil, to expand its integrated manufacturing complex here, which would add 20,000 barrels per day of its base stocks capacity by about 2023.
Furthermore, Trade and Industry Minister Chan Chun Sing endorsed ExxonMobil as a "close and trusted partner" and affirmed the Government's plans to grow Singapore as a liquefied natural gas (LNG) hub when its multi-billion dollar investment was announced in April last year.
These actions followed an approval for Tuas Power to open Singapore's first coal-burning facility on Jurong Island in 2013 and a deal inked between Keppel and the Economic Development Board in 2017 to build a gasification plant on the same island.
Greenwatch is asking for the Government to indicate its plans to shift financial support away from the fossil fuel industry to lead it to a drawdown.
OTHER AREAS THAT SCORED POORLY
The report also highlighted two other areas which drew a score of -2:
Fossil fuel reliance: It said the Government gave mixed messages on the future of fossil fuels. While Mr Chan had said in January that Singapore is "thinking of a post-fossil fuel future", he said last October that natural gas will remain the dominant energy source for the next 50 years.
"They have recognised that fossil fuels have a limited role in Singapore's long term energy needs, but haven't said anything concrete about disavowing the fossil fuel industry," the report said.
The report further noted that even though the Government claims that Singapore's petrochemical industry is among the cleanest in the world, it now accounts for close to half of Singapore's emissions together with the oil and gas industry.
Carbon pricing sufficiency: The report said current and projected carbon tax rates are "still clearly too low".
The current tax rate is set at S$5 per tonne of carbon dioxide emitted for industrial facilities that emit over 25,000 tonnes of carbon dioxide equivalent (tCO2e), and the Government has said that it would review it by 2023, with plans to increase it to between S$10 and S$15 per tonne.
Greenwatch said this is low compared to the at least US$40 to US$80 per tonne recommendation by the High-Level Commission on Carbon Prices chaired by Nobel Laureate Joseph Stiglitz and former World Bank chief economist, Lord Nicholas Stern, so as to meet targets set at the Paris Agreement.
It is also low compared to the average carbon price of approximately US$30 per tonne, which environmental economist William Nordhaus has said is necessary to keep to a 2.5°C global warming projection.
Greenwatch also decried a lack of information on how the carbon tax rates here were decided and how they will contribute to emissions reductions.
For progress to be made on this end, it said calculations should reflect how the proposed carbon price, along with other policies, will limit Singapore to 1.5°C warming above pre-industrial levels.
TODAY has reached out to the Ministry of Trade and Industry as well as the Ministry of Environment and Water Resources for comments on the Greenwatch scorecard.