Young and in good health, mother of 4 recounts her rapid deterioration after getting Covid-19
SINGAPORE — She is only 43 and was in good health, but Madam Lee Sock Lee almost died of Covid-19 last month, making her one of the youngest Singaporean patients to have gotten seriously ill from the disease.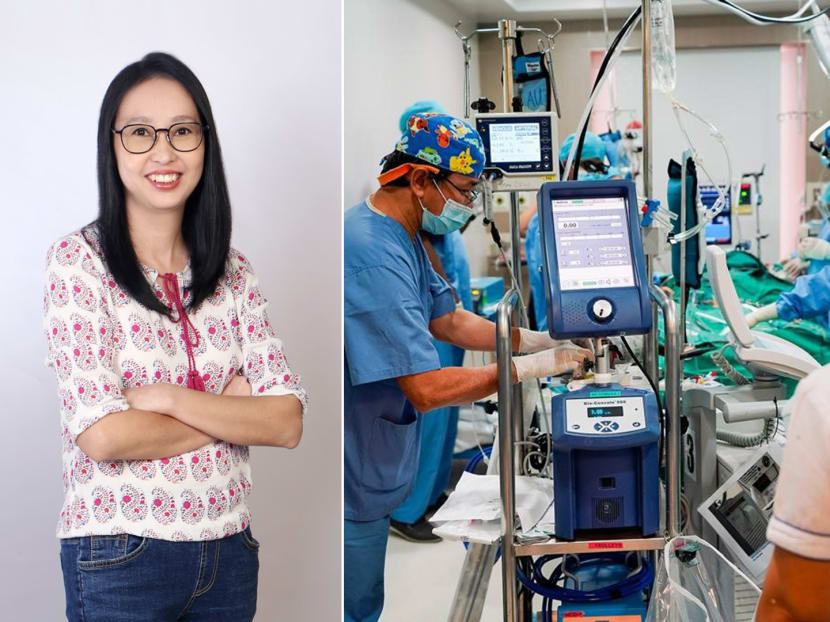 Madam Lee Sock Lee was down with Covid-19 and left fighting for her life
Her doctors said her heart was on the verge of failing
They were able to save her by putting her on a life support machine
Mdm Lee said she was not vaccinated
SINGAPORE — She is only 43 and was in good health, but Madam Lee Sock Lee almost died of Covid-19 last month, making her one of the youngest Singaporean patients to have gotten seriously ill from the disease. 
The self-employed mother of four children who are aged between three and 13 was close to suffering from a catastrophic heart failure after she was hospitalised and diagnosed with the disease on Sept 13. 
She was due to get her first dose of the Pfizer-BioNTech vaccine a few days before she was hospitalised, but she had to postpone it because she was not feeling well.
Mdm Lee was speaking to reporters at the National University Hospital (NUH), alongside a team of its doctors who took care of her.
Assistant Professor Ramanathan Kollengode Ramaswamy said: "She was on the verge of cardiovascular arrest. The prognosis was very bad, and she would have otherwise died if it were not for the extracorporeal membrane oxygenation (Ecmo) treatment."
He is a senior consultant from the department of cardiac thoracic and vascular surgery at the National University Heart Centre, Singapore.
The Ecmo treatment is a form of life support for catastrophic lung or heart failure. In general, it works by removing blood and carbon dioxide from a patient, and then pumps oxygenated blood back. 
Associate Professor Graeme MacLaren, the director of the heart centre's cardiothoracic intensive care, said that more than 95 per cent of Covid-19 patients use the machine for lung support, which makes Mdm Lee the first Covid-19 patient in Singapore to be placed on it for heart inflammation. 
At present, only National University Heart Centre and National Heart Centre, Singapore are able to provide this therapy, Assoc Prof MacLaren said.
So far, out of the six Covid-19 patients from NUH that have been placed on this treatment since the pandemic started, only one did not survive.  
"Nobody would have gone on Ecmo if they were vaccinated," Assoc Prof MacLaren added.
RAPID DETERIORATION 
Detailing the events that led to her hospitalisation, Mdm Lee said that she decided to test herself using an antigen rapid test kit on the morning of Sept 13 because she had been feeling unusually tired over the weekend.
When the test kit showed a positive result, she visited a Swab and Send Home clinic where a nurse noticed that she was perspiring profusely and found that she had low blood pressure.  
Still, Mdm Lee did not think too much about it, thinking that the perspiration was a result of her walking to the clinic, and besides, she did not feel like fainting.
"I didn't realise how serious it was," she recounted. 
However, the clinic insisted that an ambulance take her to Ng Teng Fong General Hospital. And none too soon. 
Everything else that followed quickly became a blur, as she was slipping in and out of consciousness.  
Among the few things Mdm Lee recalled, aside from nurses in "space suits" (personal protective equipment), was calling her husband to "settle some financial issues in case he needs".
A day after she was admitted, an assessment was made and it was determined that she needed Ecmo support and was referred to NUH.  She spent four days hooked up to the machine.
"The first time I woke up, I rejected the nurse's question of whether I wanted to do a video call (with my family) as I still had tubes around me," Mdm Lee said.
While she spoke with her husband over the phone, she did not want to do any video calls with her children until she was left with just a feeding and oxygen tube, because she did not want to scare them.
It was through these calls that Mdm Lee found out her entire family had been infected with Covid-19, though the symptoms were mild.
They have all since made a full recovery.
Mdm Lee was discharged on Oct 6 after spending 23 days in hospital. She is now considered non-infectious.
Although she generally feels fine now, the harrowing experience has left her feeling physically weak and requiring physiotherapy. 
She said that she is afraid of carrying out simple movements now such as squatting, worried that she may not be able to get up on her own.
"I lost my muscles (while hospitalised). I had to relearn everything — from eating, swallowing, showering and even going to the toilet," she said, adding that she gets breathless easily.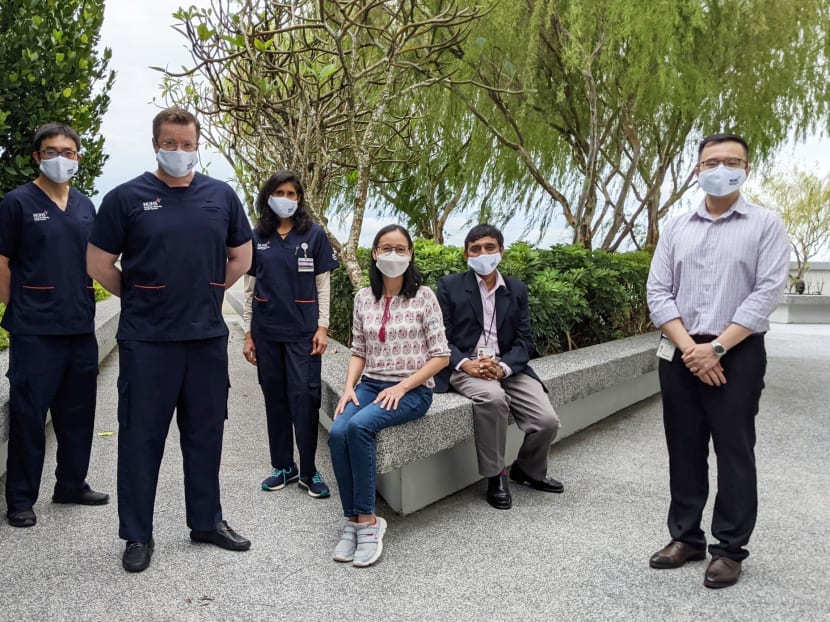 Assistant Professor Lin Weiqin, clinical director of the heart failure programme at the National University Heart Centre, said there were signs that Mdm Lee's heart had been scarred, a condition that could weaken it if it does not heal.
However, what troubled Mdm Lee the most about her illness was the worry it had caused her family, especially her husband, who was also trying to care for the young ones.
"Seriously, I don't think you want anyone who is near to you to have to go through that kind of stress," Mdm Lee said.
She plans to finally get vaccinated in January next year when she is eligible.  
"I'm very afraid of re-infection," she said. "After going through what I went through, I don't think I want to leave my young family and go off on my own." 
GIVE DOCTORS AND NURSES A BREAK
When asked why she did not get herself vaccinated early, Mdm Lee said that when the vaccines were first introduced here, the medical authorities had advised those with serious allergic reactions not to get immunised.
Though she has no medical history, Mdm Lee is allergic to seafood and she recalled how her tongue had swollen up one night after having it for dinner. 
For that reason, she and her husband held off booking their respective appointments to get inoculated because they had heard about the Novavax vaccine being developed by an American firm.
Novavax is a non-messenger ribonucleic acid (non-mRNA) Covid-19 vaccine that has a high efficacy rate of about 90 per cent, and clinical trials found that it was well-tolerated with few side effects.
In August, Dr Janil Puthucheary, Senior Minister of State for Health, told Parliament that the Novavax vaccine was due to arrive in Singapore by the end of the year.
However, this is unlikely to happen.
Novavax has been struggling to get its vaccine to the finishing line, and news agency Reuters reported last week that the company is facing significant hurdles in proving it can manufacture its experimental Covid-19 vaccine that meets regulators' quality standards, resulting in production delays.
In any case, Mdm Lee said that when she and her husband suspected that it would be some time before the Novavax vaccine arrives, they decided to go ahead and get inoculated with the Pfizer-BioNTech, an mRNA vaccine, in early September.
If there is one takeaway from her experience, she said that it is for anyone who is eligible to be vaccinated to do so.
"We really don't know how much we can plan ahead. No matter how much you plan, sometimes things don't go your way," she said.
Mdm Lee also said that she realised from her stay in hospital how overworked healthcare workers are, with many working 12 hours or more to look after patients.
Getting vaccinated, she said, reduces the chances of getting seriously ill and consequently, the burden it places on doctors and nurses.
"Nobody's taking care of them. So maybe it's our turn. If we can take the vaccine, we will not get seriously ill and they can have a break."