As young home cooks seek convenience, the fate of Singapore's wet markets hangs in the balance
SINGAPORE — About eight years ago, Mdm Christine Yew, an egg seller at the Ang Mo Kio Blk 409 wet market, realised she had to do something drastic to draw younger buyers to her stall.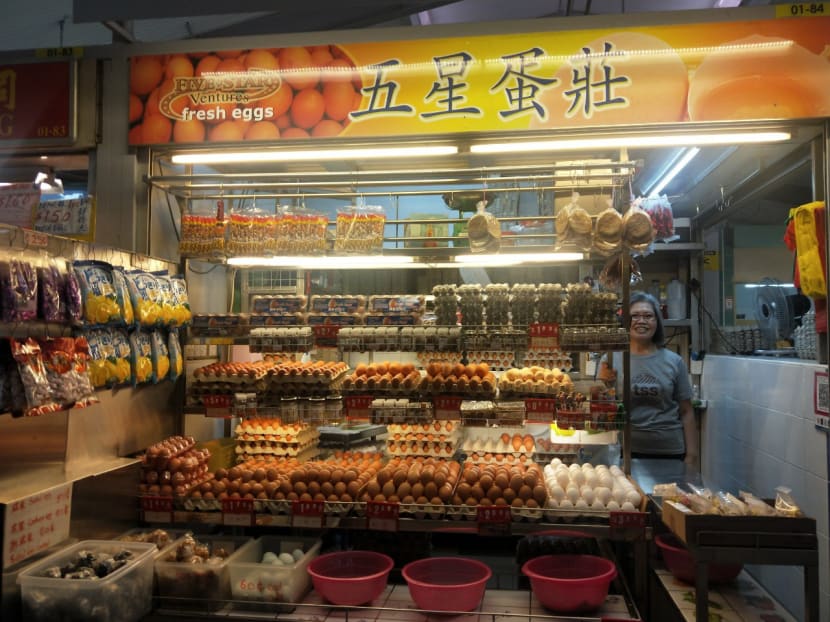 SINGAPORE — About eight years ago, Mdm Christine Yew, an egg seller at the Ang Mo Kio Blk 409 wet market, realised she had to do something drastic to draw younger buyers to her stall.
So she put up rows of lights to brighten up the stall and spruced up her egg display to make her wares look more attractive.
"I think it worked because after that, I did have younger customers," said Mdm Yew, 59.
Even so, she said that overall, there has been a steady decline in customers to her stall and the market.
Many other wet market vendors that TODAY spoke to also said business has been getting tougher for them over the years, as shoppers are increasingly turning to supermarkets and grocery delivery services.
A National Environment Agency (NEA) survey conducted last year found that 39 per cent of Singaporeans had not been to a wet market in the previous 12 months.
The number has been steadily rising. In 2016 and 2014, the corresponding figures were 33 per cent and 23 per cent respectively.
 
THE CHALLENGES OF RUNNING A WET MARKET STALL
TODAY spoke to nine vendors at four wet markets islandwide. Many said they have seen sales drop significantly over the years.
Vegetable seller Jheng Miaochan at Yew Tee wet market, who is in her mid-40s, said she used to sell 20kg worth of goods daily but now she can only sell about 10kg a day or less.
Similarly, a 60-year-old Tekka Market fishmonger who only gave her name as Mdm Zhang said business has declined by about 70 per cent in recent years.
To cope with the slowing demand, these sellers said they simply order less from suppliers.
Another vegetable seller at the Ang Mo Kio Blk 409 wet market, Mdm Low Siew Cheng, 67, said she now orders about half of what she used to, as business has shrunk drastically over the years.
The money she earns from her trade "is sufficient for daily needs, but may not be sufficient for leisure spending", she said.
As fewer shoppers turn to wet markets, fewer such markets are being built.
There are now 83 wet markets in hawker centres here managed by NEA and NEA-appointed operators.
Most were built before 1985. In fact, in the past 24 years, only two wet markets have been built.
In a statement to TODAY, an NEA spokesperson noted that in 2012 and 2015, the Government had announced that current hawker centre building efforts will be focused on increasing the number of cooked food stalls in new estates.
"The inclusion of a market in a hawker centre for fresh produce might only be considered if there is strong community demand, or when there is a shortage of sources of market produce in the surrounding areas," the spokesperson added.
Besides slowing demand, vendors also face an uphill battle in convincing their children to take over the family business.
Egg seller Mdm Yew said she brought it up with her son, but was rejected.
"The work environment to him is not conducive. It is hot, and he also felt that it would be a challenge to engage with the older customers at the wet market."
Given the challenges, some vendors fretted that wet markets, long an iconic symbol of Singaporean food culture, may not even exist in the next couple of decades.
A fishmonger at Fajar Shopping Centre's wet market, Mr Lim Toh Khoon, 53, said: "I think in the next 20 years or so there will be no more wet markets, there will only be supermarkets."

WHY WET MARKETS ARE FALLING OUT OF FAVOUR
Undergraduate Sean Lew, 22, is fairly typical of young grocery shoppers who spoke to TODAY — he said he prefers supermarkets as they are air-conditioned and more hygienic.
"I would only go to the wet market for beef, because beef there is way cheaper than in the supermarkets," he said.
Fellow undergraduate How Ying Hui, 22, added that the short opening hours of wet markets make them too inconvenient.
"I would prefer to get fresh meats and vegetables at the wet market, but because most of the stalls are closed by noon, there would not be many stores open if I go after school."
Ms Cheong Bao Wen, 23, an operations executive at a private equity firm, said that she has only been to a wet market once and is unlikely to ever return.
"The wet market is very warm and smells sometimes. Plus anything that I can get there, I can also get it from the supermarkets. And supermarkets are also more accessible than the wet markets."
Some older shoppers too, share these views.
Housewife Teresa Yeo, 54, said she find supermarkets much more convenient because they are open later.
"(I would not go to a wet market) unless I need ingredients that I am not able to get at the supermarket and I have no choice."

AMID THE DECLINE, SOME FRESH FACES
Still, even as fewer young people are frequenting wet markets or becoming stall vendors, there are a few young diehards who want to keep the tradition alive.
One of them is Liew Rhui Heng, 23, a fishmonger at Jurong West wet market, who got into the business about two years ago.
"At the start I did not like it too, I did not dare to touch the fish and its organs. Gradually, I got used to the job and really like it now."
There are also young customers who say they cherish the rapport they have with stallholders at the wet markets they go to.
Undergraduate Sharmili Pillai, 22, said: "It is like they know what you want. Whenever my parents approach the stallholder, they remember our usual order — the type of fish, number of slices and so on. But in a supermarket, you do not get that."