Young homeowners who bought ageing flats: What's the deal?
SINGAPORE — During the National Day Rally last year, Mr Leroy Yew, 31, watched Prime Minister Lee Hsien Loong announce several new schemes to address the issue of the depleting leases of Housing and Development Board (HDB) flats.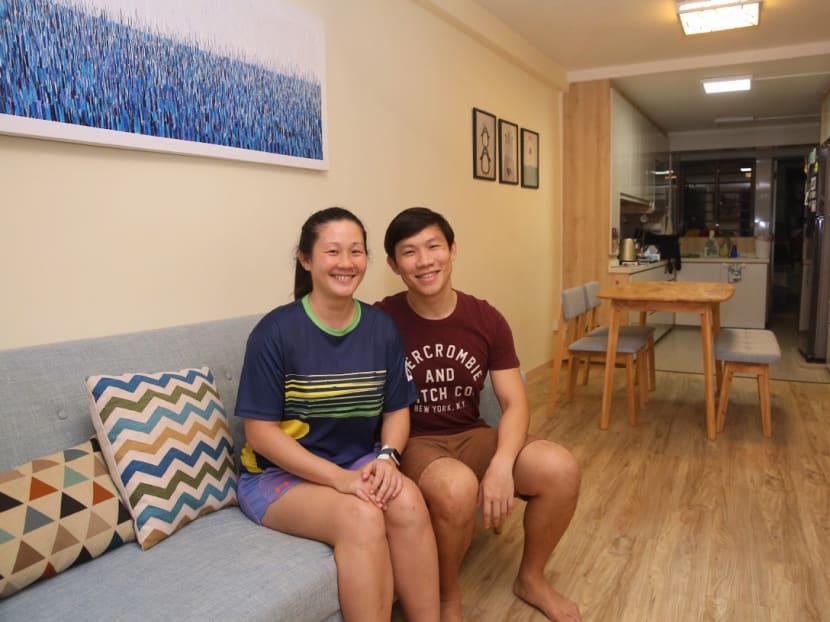 SINGAPORE — During the National Day Rally last year, Mr Leroy Yew, 31, watched Prime Minister Lee Hsien Loong announce several new schemes to address the issue of the depleting leases of Housing and Development Board (HDB) flats.
Mr Yew, who recently joined the real estate industry, admitted that it was only then that he began to worry about the resale value of his own flat, which has less than 60 years of lease left.
Based on previously released figures by HDB, he is among 2 per cent of Singaporeans who live in a home with a lease that will end before the owners turn 95 years old.
Last year, nearly one in 10 buyers (9 per cent) bought a resale flat that will expire before they turn 95.
TODAY spoke to some young adults in this group — who are all aged below 35 — to find out why they bought flats they might outlive and the concerns they might have.
LOCATION MATTERS
For many young homeowners, it was all about the location.
All four homeowners TODAY spoke to are living in neighbourhoods that they or their spouses grew up in, are near their parents or in-laws, or both.
Growing up in Marine Parade, Mr Victor Loh said he "can't imagine living anywhere else" when the 32-year-old, who works in the media industry, and his wife started house hunting.
He also felt it important that he lives near his parents, who also reside in Marine Parade, so he bought a 3-room flat that has only 56 years of lease left.
"There are also a lot of good schools (in the area)," said Mr Loh, who will be 88 years old when his flat's lease runs out.
While aware of the risks that come with buying an older flat, Ms Neesha Shaik said the benefits of being near her in-laws outweigh the risks.
"You can't put a price on being near parents. When you have kids, there is ease of going from one place to one another. Little things like sharing food, visiting each other," said the 28-year-old homemaker, who will be 92 when her flat's lease of 64 years runs out.
Living near Tampines Central and being close to the train station and amenities were also reasons she and her husband decided to buy their 3-room flat.
"The number of years left on the lease is not the number one priority. It is something worth thinking about, but there are other important aspects as well," she said.
For Mr Eugene Wong, the location of his Indus Road resale flat near the prime River Valley area was a "key primary consideration", despite it having 52 years of lease remaining.
He will be 87 years old when its lease runs out.
Besides it being so close to the city, his 3-room unit was also near his in-law's place.
"We knew the inherent risks. It was a location perspective versus knowing the risk. … If it was old and out of the city, the risk is higher," said the 35-year-old who works in a technology research and advisory firm.
Another practical factor driving these homeowners to purchasing resale flats is that they have to wait longer for Build-to-Order flats.
OPPORTUNITY FOR SERS?
It is also because of the location of their flats that some of these homeowners hold out hope that their estate would be picked for the Selective En bloc Redevelopment Scheme (Sers) and hence decided to take that chance.
This is despite National Development Minister Lawrence Wong cautioning the public more than two years ago that not all old HDB flats will be eligible for the programme, which seeks to renew older housing estates by relocating affected residents to newer flats and compensating them.
He had said then that only 4 per cent of HDB flats — those located in sites with high redevelopment potential — have been identified for Sers since it was first launched in 1995. Most HDB flats will be returned to the state once their leases run out.
While the announcement has certainly "dampened hopes", Mr Eugene Wong believes that the chances of his estate being picked for Sers are higher than the others because of its prime location.
"Even if there were limited en bloc considerations, we felt that we're in a better position than many others further away than the city," he added.
Mr Loh believes the same is true for his own home in Marine Parade.
In addition to its location and variety of amenities, Mr Loh said another appeal is that the Marine Parade MRT station would be ready in about four years.
While he expected his estate to be chosen for Sers, he acknowledged that he was "taking a gamble".
REALISTIC EXPECTATIONS
None of the homeowners TODAY spoke to are concerned that they would be left without a roof over their heads in their old age, saying that they plan to move to another property sometime in the future.
However, they are worried about whether they would be able to sell their homes without losing too much money.
Having lived in his 3-room HDB flat in Holland Village for the past one year, Mr Yew hopes to be able to sell his unit after the minimum occupation period of five years.
Now aware that his ageing flat would likely fetch a lower value in the resale market, he said he would be happy if he can cover the purchase price of his unit and its renovations, which comes up to about S$500,000. Otherwise, he knows that he might have to sell it at a loss.
Worried about the depreciation of HDB flats, especially older ones, Mr Yew is hoping to get a private condominium for his next home, seeing it as a better form of "investment".
Other homeowners are also keenly aware of this predicament that they might find themselves stuck in.
"There is concern that we may have to sell below purchase price. It is what it is. There is really nothing much we can do, if the impetus to sell is greater than the cost of purchase," said Mr Eugene Wong, who bought his home near River Valley for about S$400,000.
While worried, Ms Neesha still feels that there is a chance the value of her Tampines flat may rise above its S$370,000 price tag, given its good location.
Hoping to move to a bigger flat in about five years' time, it would mean her flat would have about 59 years of lease by then.
However, she believes that there is still demand in the market among retirees and singles over 35 years old, who would not be too concerned with the flat's lease.
For Mr Loh, even though he recognised the risks involved in buying an old flat, he wishes that the Government can do more to help homeowners like him, given that many had bought into the idea — partly perpetuated by the Government itself — that "property is like an investment".
MEASURES ANNOUNCED LAST YEAR
At last year's National Day Rally, PM Lee had said that the Government will do its part to help residents monetise their older flats.
The Ministry of National Development, he said, was working on expanding the Lease Buyback scheme.
Mr Lee also announced that the Home Improvement Programme (HIP) will be extended to blocks constructed up to 1997, and a new HIP II will be rolled out for ageing units at the 60- to 70-year mark.
And there will be a new Voluntary Early Redevelopment Scheme, which will allow owners of HDB flats to vote if they want the authorities to take back their apartments for redevelopment at the 70-year mark of their lease.
Then in May this year, the MND and the Ministry of Manpower announced changes to the rules governing the use of Central Provident Fund (CPF) savings for housing, in a bid to nudge buyers towards homes that they will not outlive.
Most younger buyers of resale flats with leases that expire before they turn 95 will be able to use less of their CPF savings for housing and take a smaller HDB loan than before.
But older buyers will be able to draw more from their CPF savings and get a larger HDB loan for older resale flats.