Youth in Action: Late father's battle with dementia at an early age spurred youth to help other caregivers
SINGAPORE — At the tender age of 14, Melissa Chan watched as her father slowly started losing his memory and became increasingly confused.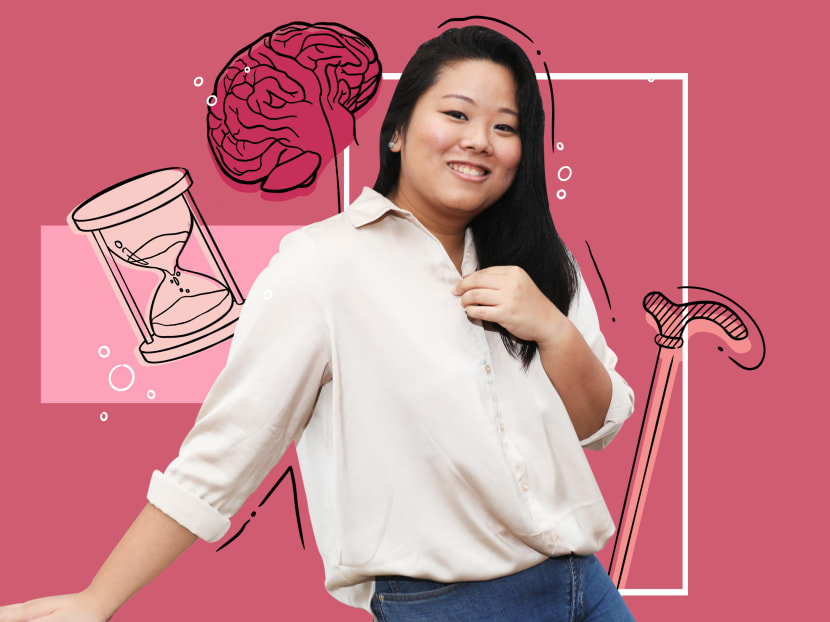 As part of a series to highlight youth activism, TODAY speaks to young people in Singapore who are not only passionate and vocal about social issues, but are driving positive change through their actions. In this instalment, Melissa Chan talks about how she started a non-profit organisation after watching her father deal with dementia at an early age.
Melissa Chan was 14 when her then 54-year-old father was diagnosed with young onset of dementia

The lack of information and community support her family experienced during this period spurred her to start non-profit Project We Forgot

She posts stories from those affected by dementia in the hope of removing the stigma associated with the condition
SINGAPORE — At the tender age of 14, Melissa Chan watched as her father slowly started losing his memory and became increasingly confused.
Her late father, who was only 54 years old at the time, was diagnosed with dementia — a condition which usually affects those who are more senior.  
After experiencing what it was like to be a young caregiver to her father, Ms Chan, now 30, started a social enterprise in 2015 dedicated to supporting those affected by dementia.  
Her organisation, Project We Forgot (PWF), focuses less on the medical aspects of the condition and more on the social impact it causes. 
"There was little information on what we as a family experienced — the burnout, the stress and the isolation," said Ms Chan, who now works with two other people on PWF.  
As she researched how to help her family as her father battled dementia, all the information she found came from outside Asia. 
"There was almost the illusion that dementia was non-existent in an Asian context," said Ms Chan who used to work in travel and technology, social innovation and healthcare startups. 
Fuelled with the desire to fill these gaps, and with some inspiration from American actor Seth Rogen's non-profit Hilarity for Charity which focuses on those affected by Alzheimer's, Ms Chan left her full-time job a year after her father's death to start PWF. 
She channelled her father's "very entrepreneurial" spirit and started posting content on dementia on the organisation's website and social media platforms with the hope of breaking the stigma that caregivers and people with dementia face. 
While PWF, which receives funding from the National Youth Council, now has over 4,000 followers across its social media platforms, as well as over 250 stories contributions from the community, Ms Chan recalled how starting out was a challenge.  
"It was impossible to find stories in Singapore due to the stigma associated with dementia," she said.  
Fortunately, she found communities in the United States and in Britain that were already sharing stories, which she tapped initially. 
After posting a number of stories, Singaporeans began to understand what PWF was trying to do and contributed their own stories, she said. 
Most stories published on the site have pictures and names as content from anonymous authors would only reinforce the stigma association with the condition, said Ms Chan. 
In addition to the stories posted, PWF also builds networks within communities to disseminate information on the crippling effects of dementia and collaborates with various community partners to run events that raise awareness and provide support for caregivers.
For example, it partnered with the Alzheimer's Disease Association of Singapore to help create communities for caregivers. 
She said that young people should not think that dementia is just an "old person" problem. 
According to the National Neuroscience Institute, the number of cases of young onset dementia in Singapore, or those who are diagnosed with it between the age of 35 and 65, has increased from 60 cases in 2013 to 245 cases in 2019. 
This means those tasked with taking care of this group of patients are likely to be younger than what is thought to be the traditional demographic of caregivers. 
"Despite this, the awareness of young caregivers is still low and is not talked about, and when this is overlooked it can have inadvertent effects on youth mental health," said Ms Chan, noting that most support services for caregivers target older age groups.    
That is why, creating awareness and providing a support network for young caregivers is on the cards for PWF, said Ms Chan. 
"Young people who have been thrust in the role of caregiving should recognise what their role is... do not be ashamed to be a caregiver, reach out to information or support using the digital tools available and remember that you are not alone," she said.