Youths as young as 11 lead the way for Singapore's inaugural climate rally
SINGAPORE — Calling on the public to take urgent action to mitigate the impact of climate change, Oliver Chua said: "Parents really do care about what their children think. Let's teach our parents a lesson for once."
SINGAPORE — Calling on the public to take urgent action to mitigate the impact of climate change, Oliver Chua said: "Parents really do care about what their children think. Let's teach our parents a lesson for once."
And the crowd, including mothers and fathers in attendance, cheered.
Eleven-year-old Oliver was the youngest among six Singaporeans who took to the stage at the inaugural Singapore Climate Rally at Hong Lim Park on Saturday (Sept 21) afternoon.
A member of the Mother Earth Toastmaster club, Oliver said it is hard to comprehend the impact of droughts, floods, hunger and malnutrition in a country where "necessities are in abundance".
However, he warned that if climate change is ignored, some of these disasters will become eventualities. "How habitable will Singapore be in 46 years' time when it celebrates its hundredth birthday?"
To get more Singaporeans his age to care, he suggested that students would be learning about their relationship with the environment as part of their curriculum. And make that compulsory, too.
"A lot of my classmates are still in that 'don't know, don't care' or 'I know but don't know what to do' phases," said the primary school student.
Saturday's event came a day after the Global Climate Strike, a worldwide movement led by the Swedish teenager and environmental activist Greta Thunberg.
While organisers said they were not aligning themselves with the global strikes, they had chosen to stage the rally this week "in solidarity".
The organisers estimated that there were about 2,000 people in attendance.
Spotted in the crowd were figures from across Singapore's political spectrum, such as Minister for Social and Family Development Desmond Lee, Nee Soon Group Representation Constituency Member of Parliament Louis Ng, Singapore Democratic Party vice-chairman John Tan and activist Jolovan Wham.
Mr Ho Xiang Tian, who capped off the series of speeches, argued that some of the school-going speakers, such as Oliver, should not have needed to speak up in the first place.
"They shouldn't be having to come out here to give speeches because they are worried about our future without a stable climate… they should be worried about their (exams) and puberty instead," said the 23-year-old.
The founder of environmental advocacy group LepakinSG then led the crowd in a moment of silence for the climate.
"We just took a moment of silence for the climate. But the government has been silent for far longer," he charged.
He said that although Singapore contributes only 0.11 per cent of the world's carbon emissions, the nation needs to take more responsibility for climate action.
"(We) ignore the fact that we are the world's fifth largest refinery export hub, or that the fuel we provide to ships and planes emits almost three times of our own national emissions."
He added: "It makes no sense to me that we are told to switch off our lights when (they are) not in use, but the lights on Jurong Island never seem to be switched off."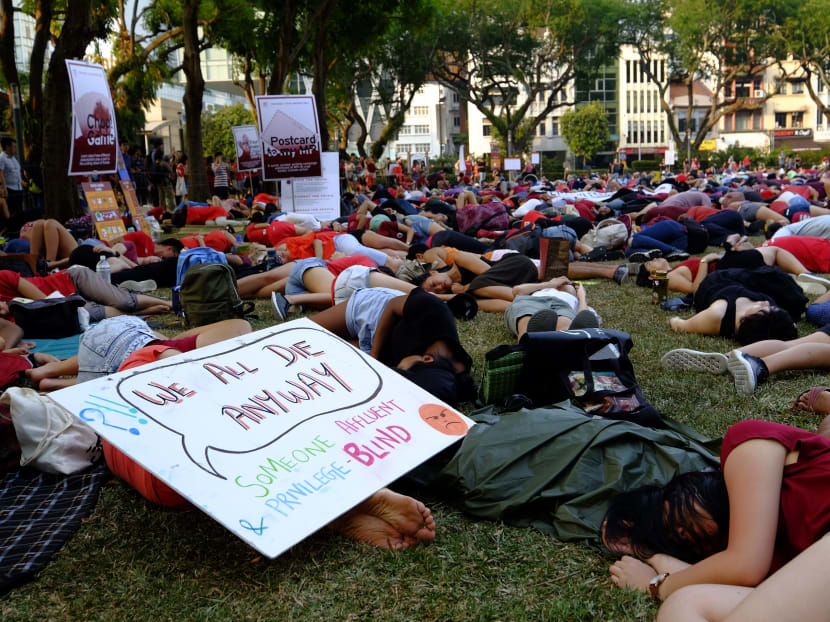 'SORRY, WE MUCKED UP THE PLANET'
Some of those who attended carried placards with messages such as "You'll die of old age, I'll die of climate change" and "Respect your mother".
The attendees also took part in activities such as environmental-themed board games, writing postcards to their elected representatives about their environmental concerns, and a "die-in" — a form of protest in which participants simulate being dead.
Mrs Tan Peck Leng, who came with her 24-year-old daughter Tan Jun Qi, lamented a lack of awareness among her generation of Singaporeans.
"We didn't study about climate change when we were in school because it was not a big issue," said Mrs Tan, a 55-year-old author of science textbooks.
Mrs Betty Khoo, a 75-year-old environmental and natural health educator, said she showed up at the rally to "apologise to all the grandchildren of the world", including her own.
"We really have mucked up the planet with our greed and lack of ethics. And the way back is to go back to bringing up the biodiverse forests and cleaning up the oceans," she said.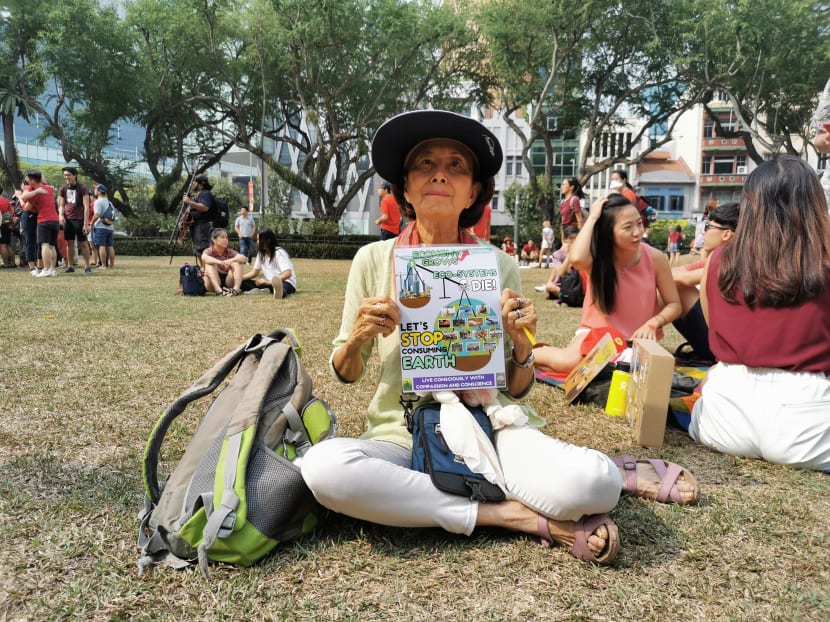 Mr Robin Tan and his wife Chutina Ermukdakul said they were at the rally because they wanted to expose their five-year-old son to topics about the environment.
"He is still quite young to talk about climate change (with)," admitted Ms Chutina, 38.
"So what we do with him is we try to teach him to be connected with nature. Because by loving nature, you start protecting nature."
Mr Tan, a 42-year-old technology start-up founder, said he is uncertain how the messages brought up by the speakers on climate action would work when "capitalism is in place".
Ms Thye Yoke Pean agreed with the message that corporations and governments need to do more to combat climate change.
"We do what we can to create change. But there's so much that is beyond our control," said the 33-year-old co-founder of Wise, a non-profit organisation that focuses on water, sanitation, hygiene and waste issues in Southeast Asia.
As the clock ticked closer to the start of the Formula 1 race qualifiers, Ms Thye said: "This is just one example of incongruities that we live with every day."