Amateur National Football League lands major sponsor, as FAS pledges more support
SINGAPORE - After experiencing years of neglect, once-forgotten and ignored National Football League clubs must be feeling as though Father Christmas paid them a visit eight months early.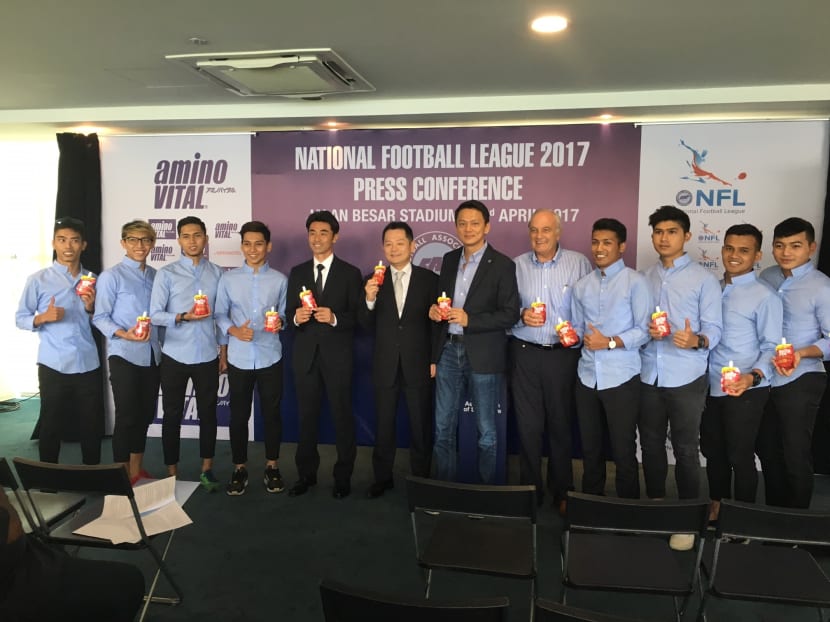 SINGAPORE - After experiencing years of neglect, once-forgotten and ignored National Football League clubs must be feeling as though Father Christmas paid them a visit eight months early.
For the first time, NFL clubs will get their registration fees - about $1,200 per club - to participate in the tournament waived. 
They will also get seed money of $8,500 per club, group insurance from Great Eastern Singapore for their players, dedicated stadiums to train at, and also a 50 percent increase in prize money this season.
On Saturday afternoon, the biggest and latest gift to the NFL arrived. 
It came in the form of a league sponsorship by Ajinomoton (S) Pte Ltd - and it took place at a media event at the Football Association of Singapore headquarters, just hours before the new NFL season kicked off.
No cash figures were revealed at the media event but TODAY understands that the Japanese food company will be sponsoring the NFL for a year to the tune of more than S$100,000.
It will also be sponsoring aminoVITAL by Ajinomoto products which will be provided to all NFL clubs, and will also be conducting sports nutrition workshops for them this year.
FAS technical director Michel Sablon said at the media conference: "This is a special day for the National Football League clubs as we celebrate the launch of the 2017 NFL season.
"The NFL is, and has always been an important part of the football ecosystem in Singapore. It is our belief that by building a strong base with the NFL, we will be able to ensure a stronger football landscape in Singapore.
"We are honoured to have Ajinomoto coming on board to contribute to Singapore's football scene and hope for a fruitful partnership in the season ahead... and I hope more organisations will follow Ajinomoto's lead."
FAS general secretary Winston Lee said: "For the record, I have to admit that the FAS could have done more for the NFL in the past. We will be doing more from now on."
Skeptics and cynics had described the slew of goodies that the NFL clubs have been getting as electioneering. 
After all, the historic first-ever democratic FAS elections are due to be held on April 29, and it was former FAS interim president Lim Kia Tong, who heads Team LKT, one of two teams contesting in the polls, who had  pushed through these changes to the NFL before the FAS Provisional Council stepped down on March 31.
NFL clubs make up 23 of the 44 FAS affiliates who will be casting their votes in the elections. Given their sheer size, they make up the most powerful constituency among the affiliates. 
Both Team LKT and Team Game Changers have made focusing on the NFL clubs a key plank in their manifestos.
But GFA Sporting Westlake secretary Zairi Ahmad said: "This is a good initiative by the FAS and we definitely appreciate these changes."
Meanwhile, Eunos Crescent FC's director of football R Vengadasalam has rubbished claims that the moves were meant to secure NFL votes for Team LKT.
"FAS pushed through the changes for NFL clubs before the Provisional Council stepped down because Lim was doing his duty to football as interim president.
"If the FAS didn't all these things, then NFL will be in limbo and in a rut for another year. 
"These changes are what we NFL clubs have always been asking for a long time. 
"So I am very grateful and appreciative that FAS listened to us, and granted most of our wishes."
Venga also praised the move by Lim to convert the Islandwide League into the NFL Division 2.
"If the IWL remained the same, the IWL clubs will not be getting the $8,500 seed money. The money is only meant for NFL clubs.
"There are also some clubs that are grumbling about the entry of Academy Juniors, a new club, straight into NFL Div 2. They should remember that the NFL Div 2 is essentially the IWL. 
"There are no other leagues for new clubs to join, and Academy Junior's participation will ensure more games for all."
A new logo for the NFL was also unveiled on Saturday. It features a footballer in mid-strike which is meant to symbolise the bold and active spirit of NFL teams.
The NFL Division 1 and 2 seasons also kicked off today with two matches at the Jalan Besar Stadium. 
Warwick Knights held Kembangan United to a 2-2 draw in the first NFL Div 2 game of the season while reigning Div 1 champions Eunos Crescent were  stunned 1-2 by GFA Sporting Westlake.