The Big Read: Disabled athletes get their day in the sun, and others hope to follow
SINGAPORE — They come in all shapes and sizes — tall, short, skinny, one even a little portly around the middle. And together the para footballers dance, in quaint jiggles as they shuffle side to side with a ball with bells at their feet. Curious passers-by at the JTC Launchpad @ one-north's futsal court stop to watch the blindfolded players — dressed in their neon yellow jerseys, shorts and shoes — training hard for the biggest tournament of their lives.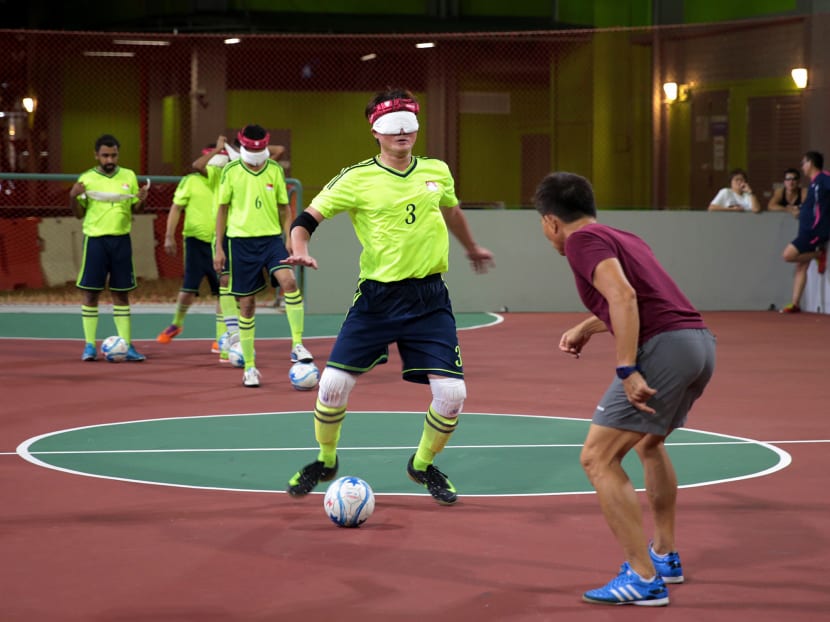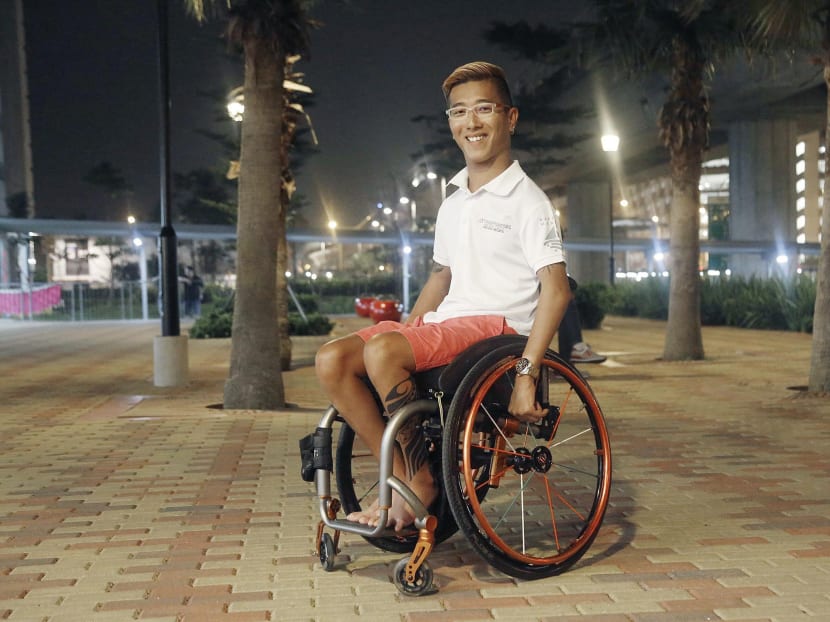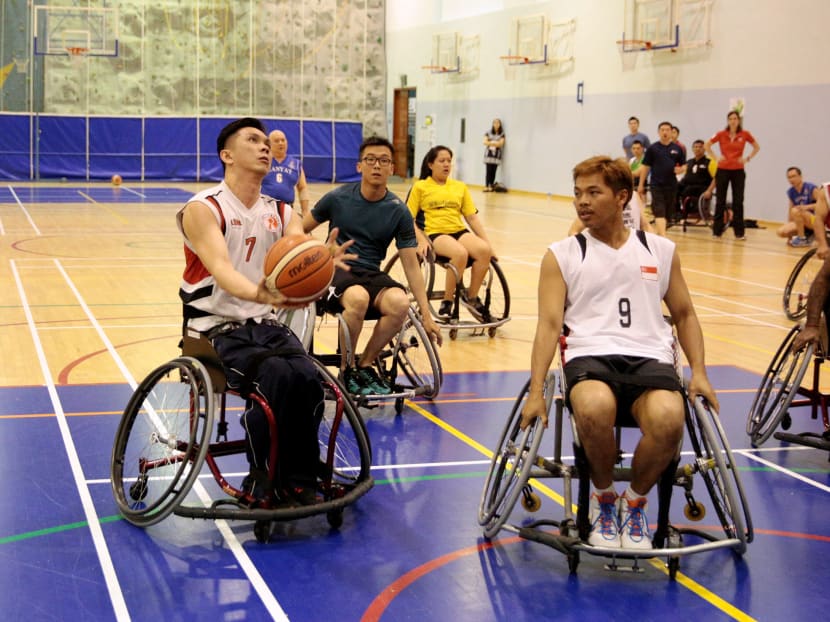 SINGAPORE — They come in all shapes and sizes — tall, short, skinny, one even a little portly around the middle. And together the para footballers dance, in quaint jiggles as they shuffle side to side with a ball with bells at their feet. Curious passers-by at the JTC Launchpad @ one-north's futsal court stop to watch the blindfolded players — dressed in their neon yellow jerseys, shorts and shoes — training hard for the biggest tournament of their lives.
Captain Steve Tee and his nine teammates will be representing Singapore 
in five-a-side football for the visually impaired at the week-long ASEAN Para Games (APG), which kicks off in the Republic next Thursday (Dec 3).
Team Singapore will be fielding its largest-ever contingent of 157 athletes at the Games, which will see some 1,500 athletes from 10 countries competing across 15 sports.
As Singapore prepares to host the region's biggest para sports event, its athletes have been hard at work – dribbling, kicking, swimming and sprinting in their bid to bring glory to the nation, and end the nation's Jubilee year on a medal high.
Hailed by the disabled community as a game changer for disabled sports here, the APG — which will cost some S$75 million — will mark a number of milestones in the areas of funding, financial support, sponsorship, awareness and recognition for Singapore's para athletes.
Public interest has been encouraging so far, with some 50,000 spots for the APG Experience Tour — which allows participants to experience some of the sports first-hand and catch the action "live" — as well as free entry to competition venues snapped up by fans. Tickets to the Dec 3 opening ceremony at the Singapore Indoor Stadium are also almost sold out.
WHO'S COMPETING FOR TEAM SINGAPORE?
Back on court, Mr Tee is hunched over, sweat dripping furiously from his brow after a two-hour session of drills and mini-matches. The mood is light-hearted, and laughter breaks out when a shot goes awry and coach Richard Tan asks: "You shooting the ball to Jurong?" Played by visually impaired athletes who are blindfolded to ensure fairness – the goalkeeper is sighted and able-bodied — the sport features a ball equipped with bells, and guides are allowed to give instructions to the players in the different zones.
Formed only in August, the team of debutants have been training four times a week for the APG, and recently spent four days in Malaysia on a training and competition stint. They will face stiff opposition when they take on the more experienced teams from Malaysia, Thailand and Vietnam. Finishing on the podium will be a huge task for the newbies, but Mr Tee, 34, just wants the team to be able to showcase their skills in front of their family and friends. "I'm definitely very excited, and we are all looking forward to it," said the call centre supervisor, who was diagnosed with retinitis pigmentosa – a hereditary degenerative disease that causes severe vision impairment – after his National Service in 2004.
"Although we are a new team, we can learn a lot from playing with the other countries and we love the challenge."
While others like shooter Alvina Neo, Mr Muhd Sharizan Mohd Shah (boccia) and archer Nur Syahidah Alim are also making their debuts at the APG, veteran sailor Jovin Tan is relishing the opportunity to compete in his second APG. And the 29-year-old, who won gold in the Hansa 303 at last year's Asian Para Games, is aiming for gold with his 71-year-old partner Anthony Teo this time. The spunky sailor, who sports blonde highlights in his hair, is urging Singaporeans to come out in force when the seven-strong sailing team take to the Marina Bay for the APG. "I'm hoping we get more support from people and in the media, and not just for the pre-Games period," said Mr Tan, who was born with cerebral palsy.
"I hope people can come and watch the Games, or see it on TV, and see that we're just like the able-bodied athletes, and see how the Games are played. This is our time to showcase our sport."
HOW HAS DISABLED SPORTS CHANGED?
Mr Raja Singh, Team Singapore's chef-de-mission for the APG started participating in wheelchair basketball, swimming and athletics in 1984, a year after a bicycle collision with a stationary truck left him paralysed. The 53-year-old recalls what the sports scene was like over 30 years ago: "When I started in 1984, there was very little support…we had to buy our own equipment and fund ourselves," said Mr Singh, who is also vice-president of the Singapore Disability Sports Council (SDSC).
"Back then, there were only three sports you could choose from, and we didn't have the 15 sports that you have now at the APG."
Funding and financial support for disabled sports here have increased over the years, with the APG giving it an added shot in the arm. For example, the SDSC, the national body for disabled sports, now receives S$2.31 million in government funding, more than double the S$1.06 million it got in 2005.
The drive for sports excellence has been boosted by three funding schemes for athletes: the Final Push programme, spexScholarship, and the Race to Rio 2016 programme.
A first for APG athletes, the Final Push programme was initially launched for able-bodied athletes training for SEA Games, before it was extended to the para athletes last year.
"It is a game changer in terms of funding, in moving forward for para athletes," said Dr Teo-Koh Sock Miang, president of the SDSC and Singapore National Paralympic Council (SNPC) and chairman of Special Olympics.
"To be able to get close to S$1 million — that is really unprecedented and we are really grateful," she said, adding that the programme has allowed SDSC to send athletes overseas for training and exposure to countries like Japan and United States, as well as to double its monthly transport allowances for all APG competitors to S$100.
"At the national level, the athletes are recognised as part of Team Singapore and the public are cheering them on. The profiling and public awareness is fantastic, and that's because of APG."
On top of the support from the Final Push, para athletes can also tap on the spexScholarship. The S$40 million scheme was launched in 2013 to offer enhanced support for elite national athletes - both able-bodied and para athletes — lending weight to the push for equity among both groups of athletes. To date, 10 para athletes – including seven competing in the APG — have been awarded the scholarship, which covers athletes' training and coaching costs, and pays monthly stipends of between S$1,200 and S$8,400 to recipients.
Swimmer Theresa Goh, who will compete in her eighth APG in December, receives over S$2,000 a month from the spexScholarship, and she told TODAY: "Funding has changed in the sense that we are more on par (with the able-bodied athletes) as funding levels are based on what standard and level you are at."
Yet another milestone for the para sports community is the Race to Rio programme to fund able-bodied and para athletes — who are not spexScholars — who have qualified, or are attempting to qualify, for the Olympic and Paralympic Games in Rio de Janeiro. Details of the programme, and its quantum, have yet to be announced by the Government.
WILL THIS MAKE FOR A MORE INCLUSIVE SOCIETY?
Veteran sports administrators, officials and disability rights advocates whom TODAY spoke to attribute the increase in financial support for disabled sports to the Government's focus on developing an inclusive society.
"It's starting from the leaders at the top who recognise that Singapore is a first world country, that we must be inclusive and all citizens matter. We see people contributing in different ways, and we embrace diversity," said Dr Teo-Koh.
Sport Singapore chief executive officer Lim Teck Yin, who is also chairman of the Singapore APG Organising Committee, echoed the sentiment, adding: "Our sports policy reflects the national policy, which is to be inclusive. Inclusive means equity, and as many opportunities we afford for able-bodied athletes, so too people with disabilities should have those opportunities."
He is confident that the APG athletes will deliver.
"Their performance at home inspires us very directly, you see that at the SEA Games, I am very confident you will see that at the APG too."
While the consensus is that the Government's drive for a more inclusive society is still a work-in-progress, the signs have been encouraging.
"There are wider implications to promoting competitive sports for persons with disabilities," said Mr Nicholas Aw, president of the Disabled People's Association (DPA). "It signifies that the Government is behind the idea that persons with disabilities can do more than just participate in sports or other recreational activities, but can also excel in it.
He said that this should send a message to those with disabilities that they not only have the same opportunities as athletes without disabilities, but also equal access to opportunities, sporting or otherwise.
"DPA hopes that the Government support will continue beyond the Games so that there is permanent and robust funding for disability sports as well as other inclusive initiatives in the arts and recreational activities," he added.
Likewise, Ms Denise Phua, Member of Parliament for Jalan Besar and president of the Autism Resource Centre, is hopeful that the spin-offs from the APG will go beyond sports. "There will be positive spillover effects for sports for the entire special needs community, not just the athletes," she said, adding that it will promote greater awareness and engagement in schools, companies and the community at large.
"It is an important piece in the bigger national tapestry of supporting inclusion and celebrating abilities of persons with special needs."
Corporate lawyer and nominated member of Parliament Chia Yong Yong is hopeful that Games like the APG will allow Singaporeans to see para athletes in a different light. Ms Chia, 53, who was diagnosed with peroneal muscular atrophy at the age of 15 and is wheelchair-bound told TODAY: "The very fact that we are having it so close to home enables us to raise greater awareness to what people with disabilities can do. We see the athletes in a different light, not as people who are dependent, but heroes despite their limitations."
WHAT'S NEXT AFTER THE ASEAN PARA GAMES?
The key is to keep the ball rolling to continue the work in developing disabled sports here, say officials and para athletes.
One of the areas that will need addressing is the inequity in monetary rewards for disabled athletes. While athletes who win an Olympic gold receive S$1 million under the Singapore National Olympic Council's Multi-Million Dollar Awards Programme, Paralympic champions get S$200,000 from the SNPC's Athletes' Achievement Award. Gold at the SEA Games will reap a reward of S$10,000, while an APG gold medallist will get S$2,000.
The issue has divided the community — both able-bodied and disabled Singaporeans — into two camps: one that feels that disabled athletes should get less because the Games and their sports are not as competitive due to a smaller athlete pool, and those who feel that para athletes deserve equal rewards because they train as hard as their able-bodied counterparts. It will not be an easy matter to resolve, as more corporate sponsors and donors need to come on board to help.
"We put in as much effort (as the able-bodied athletes) and sometimes incur more expenses," said three-time Paralympian Tan, the sailor. "There are no nearby MRT stations where I train, and I have to take taxis. Sailing is also very expensive, and sometimes we need to customise the boat, and a special seat for me.
"Perhaps for able-bodied sailors the fleet will have 40 boats, while ours has 10 to 15, but if you talk about the level of competition, it is exactly the same."
Mr Singh, a former wheelchair racer, feels that the disparity in rewards is justifiable as competition is stiffer for able-bodied sports.
But Ms Goh disagrees.
"Training-wise, we train as much as them. I would like it to be as equal as possible, but if not, it's okay as I'm not doing this for the money," added Ms Goh, who has spina bifida.
Getting more people with disabilities to play sports is also a key focus for the SDSC, as it plans to extend the Learn-to-play sports programmes — they offer sports such as sailing, boccia, athletics and bowling — to more persons with disabilities, particularly children in the special schools and volunteer welfare organisations. There are also plans to work with Sport Singapore to incorporate the Learn-to-play programmes at its ActiveSG centres around the island.
More local sporting events will also be organised to give athletes more opportunities to compete in their chosen sport.
The SDSC is also aiming to increase its pool of volunteers — it currently gets some 100 volunteers on a weekly basis. With some 4,300 volunteers out in force for the APG, the SDSC is also hoping that many of them will be inspired and motivated to help out more regularly.
All these factors will be crucial to help the council build on the momentum of the APG, and Dr Teo-Koh is also hoping to attract a young crop of athletes for the future. "It is important that we nurture the next generation of athletes," she said. "We are also appealing to parents with children with special needs to come, see the possibilities and speak to the athletes.
"Please come, watch, be inspired, and talk to us."