The Big Read: To keep roaring for S'pore, F1 needs to raise its game
SINGAPORE — In 2008, there was palpable excitement on Singapore's city streets as the shrill roar of Formula 1's speed machines reverberated around the Marina Bay for the first time.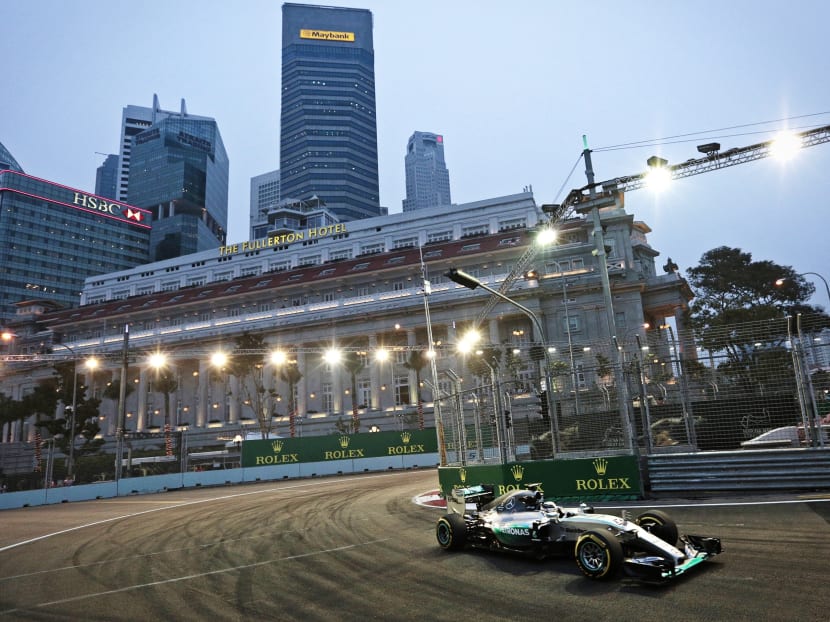 SINGAPORE — In 2008, there was palpable excitement on Singapore's city streets as the shrill roar of Formula 1's speed machines reverberated around the Marina Bay for the first time.
Nine years on, the 10th edition of the Singapore Grand Prix offered spectators the same thrills last week on a dramatic, rain-drenched night which saw British driver Lewis Hamilton clinching the Singapore title, after three frontrunners crashed out after the first turn. The ending, which reminded F1 fans around the world of the high octane drama that other sports cannot match, could not have been better scripted - coming days after the Singapore Tourism Board (STB), Formula One, and Singapore GP Pte Ltd shook hands on a new deal to hold the race for another four years until 2021.
In town last week for the race, Chase Carey, 63, chairman and chief executive officer of Formula One Group, hailed the Singapore GP as F1's "signature event" for its winning mix of street racing at night, carnival atmosphere with food and entertainment, and business networking opportunities.
Spectators at the Padang watching the practice race on day one of the Singapore F1 Grand Prix. TODAY file photo)
"It certainly is a spectacular race with the city lit up, with racing through the streets," said the American media mogul. "It's something we're very proud of, it's a race that anchors our Asian strategy and certainly a signature race for us globally."
The overall attendance of 260,400 for this year's race was higher than the average overall turnout in its history, and a 18.9 per cent increase from last year's total of 219,000.
The success of this year's race banished fears that the allure of the Singapore GP was fading, after the overall ticket take up for the 2016 race fell 15 per cent lower than the average attendance since 2008. Last year's daily average attendance — 73,000 — was also the lowest since the inaugural race.
Yet, despite concerns in some quarters about F1's diminished appeal and the cost of hosting the event, there was never a real doubt that the biggest return on investment (ROI) for Singapore lies in the branding and reputation that it enjoys globally via its association with the race.
"Global exposure is never a bad thing and perceptions can be fickle: being presented to the world so vividly and dynamically every year helps keep Singapore on the shortlist for tourists and investors alike," said Mr James Walton, Sports Business Group Leader of Deloitte Singapore and South-east Asia.
Scuderia Ferrari driver Kimi Räikkönen passes turn 14 with the Singapore CBD skyline in the background. Photo: Nuria Ling/TODAY)
Agreeing, veteran F1 commentator Steve Slater said: "Once a year, the Singapore Grand Prix is broadcast to 80 million people, it's a two-hour commercial advertisement for Singapore.
"It shows Singapore as the absolute best, it would cost millions to have a two-hour long commercial of that magnitude, with that kind of reach, and it's a ready-made commercial going around the world."
Nevertheless, hosting motorsport's glitziest and most prestigious race at the Marina Bay street circuit does not come cheap. The Government has been coughing up 60 per cent of the S$150 million organising costs annually, but the sum is set to come down to S$135 million for future editions. Renewing the contract for the second time - the first five-year extension was announced in 2012 - Singapore, however, will be looking for more bang for the buck.
After all, as straight-talking former F1 supremo Bernie Ecclestone famously lamented, the Singapore Government is a tough negotiator and "a bit of a pain" to deal with.
As Singapore gears up for another four more years of F1, expert believe that the Republic, which Mr Ecclestone had once called "F1's crown jewel", will provide the perfect launchpad for the Formula One Group's plans to reinvent itself and grow its audience, via digitalisation, drawing younger fans and making greater inroads into Asia markets - an outcome which Singapore stands to gain handsomely from.
Overview shot of the F1 Singapore Grand Prix track shot from Swissotel The Stamford on Sept 14, 2017. Photo: Nuria Ling/TODAY)
THE MONEY POT: MONETISING THE DIGITAL SPACE
Since succeeding Mr Ecclestone earlier this year, Mr Carey - whose United States-based Liberty Media paid US$8 billion for F1 last year - has spoken publicly about his ideas to inject new life into the sport. He believes the digital frontier will give the sport a much-needed boost, as it looks to regroup and woo new fans.
Imagine sitting in the stands during race weekend at the Singapore Grand Prix: As a driver takes off from pole position at the start line, his car is hit from behind by his rival and a melee ensues. Instead of sitting there, scrutinising the on-site giant screens for clues on what happened, a spectator can turn to his mobile phone to watch a replay of the video from a 360-degree camera mounted onto the driver's helmet.
At the same time, the phone receives a constant stream of on-track video footage, social media posts from fans and F1 teams, as well as real-time data of the high speed crash including the speed of the impact, velocity, and the extent of damage to the car. After the race ends, fans can head to the Padang or venues around the circuit to catch entertainers strutting their stuff on stage ala the National Football League's (NFL) famous Super Bowl half-time show.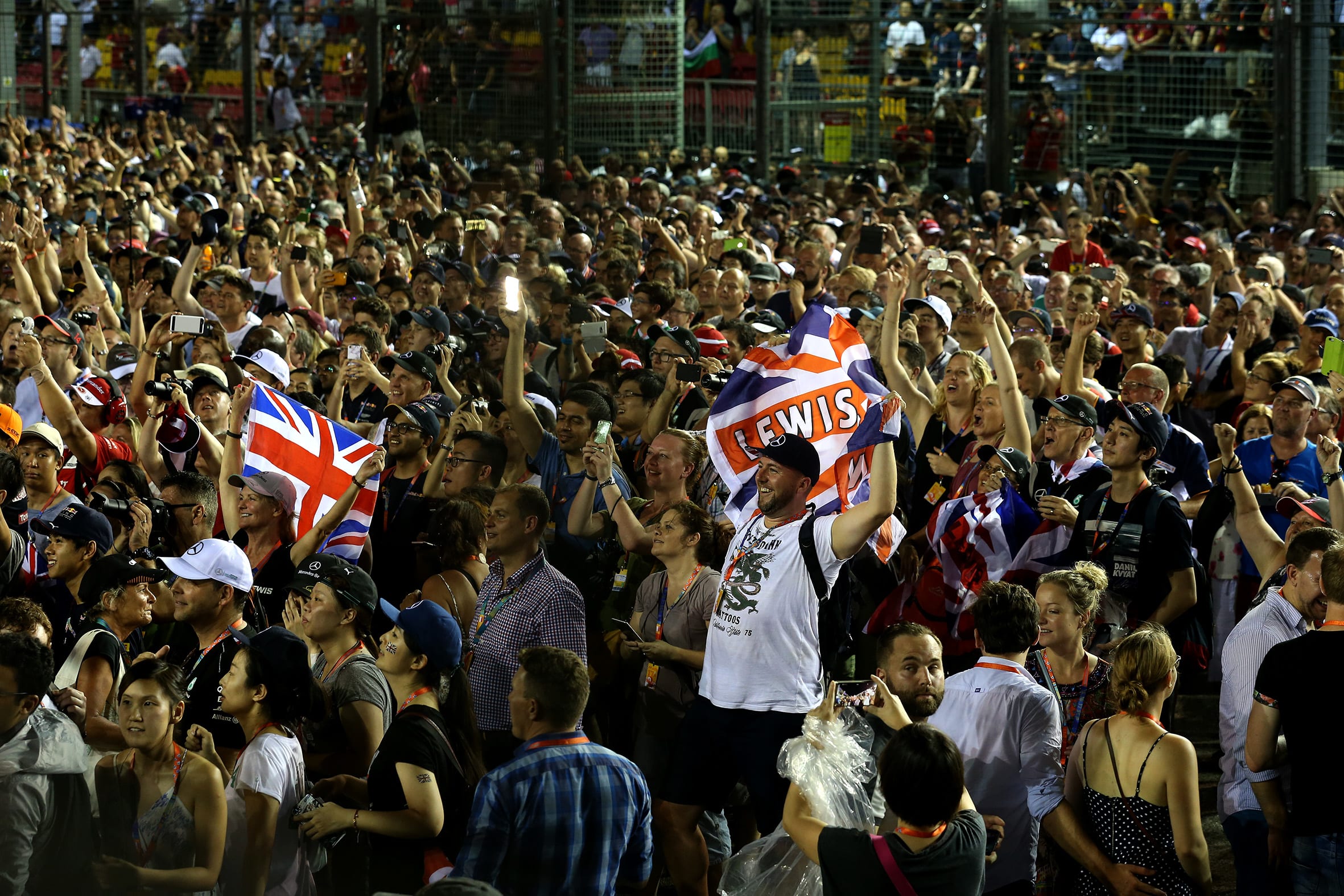 Fans cheering on the drivers at the award ceremony of the Formula One Singapore Grand Prix 2017. Photo: Nuria Ling/TODAY)
This is the kind of F1 experience sought by Mr Carey, who had previously referred to the Super Bowl as an example of a festival of sport and entertainment that transforms host cities. He has also urged the sport to embrace social media and develop more digital capabilities, in order to win over younger fans.
Typically associated with a demographic of older, well-heeled fans, the sport has seen dwindling global television audiences in the past decade. It has lost a third (or about 200 million) of its audience since 2008, while team sponsorship revenue went down by some 20 per cent last year.
According to reports, this year's advertising spend for Super Bowl hit US$385 million, while social media interactions reached a high of 240 million and 150 million on Facebook and Twitter respectively. The NFL's livestream of the game on Facebook got more than 3.3 million views, while an 11 minute pre-game video received 260,000 views and over 1,100 shares.
These numbers could be transformative for the 20 race events under the F1 franchise, which has its roots in the 1920s and 1930s.
Spectators at the floating platform during the first practice on day one of the Singapore Grand Prix 2008. TODAY file photo.)
Noting the social media success of One Championship, a Singapore-based mixed martial arts promoter, Mr Walton saw similarities between F1 and English Premier League (EPL) football.
"You can build a fan base through social media easily… but EPL teams are struggling with how to monetise this," he said. "Are these fans going to games and buying merchandise? One way to earn money is through sponsorships and strategic marketing. What EPL teams are trying to do, what One Championship has done well, is tying up with sponsors and partners to give access to their followers... What you can do is take that data on buying patterns and exchange it with another company."
Dr Doreen Kum, a marketing senior lecturer at National University of Singapore (NUS) Business School, believes that it will be a boon for fans, as well as Singapore, if F1 succeeds in its efforts to conquer the digital and social media space.
"One of the downsides of a city centre street circuit is its lack of vantage points," she told TODAY. "If livestreaming or social media feeds can be provided to trackside fans and spectators, it would make the experience of being on-site more differentiated from watching it on television at home."
She added: "Having the drivers reach out on social media to fans (through behind-the-scenes videos or tweets, data about the race) would drive engagement and increase interest in the sport. Telecommunications firms would certainly benefit from this increase in digital activity."
Dr Kum also felt that more could be done to enhance the retail experience for fans and drive more revenue for Singapore, such as a F1 ticketholder-only app that showcases Singapore designers and allows retailers to offer promotions during the race weekend.
Associate Professor Ang Swee Hoon, a marketing expert at NUS Business School, reiterated that F1 should "go beyond social media". "It should think of e-sports which is a rising sport among the younger generation," she suggested. "F1 should consider having a parallel e-sport version that players can play 'live' with the cars on the track. Singapore can then play host to F1 e-sport and host two events simultaneously."
Red Bull Racing driver Max Verstappen exits the garage at the pit during the Formula One Singapore Grand Prix third practice session on Saturday (Sept 16). Photo: Nuria Ling/TODAY)
THE REWARDS SO FAR
While the out-of-pocket investment may be hefty, the Republic has reaped significant rewards from F1. Over the past decade, the Singapore Grand Prix has attracted a total of 450,000 visitors to the race, generating an estimated total of S$1.4 billion in tourism receipts.
According to industry experts and analysts, a fair amount of wheeling and dealing also goes on within the luxurious race suites that dot the Marina Bay street circuit. Others also take the opportunity to mix pleasure with business, with banks, multi-national and local companies going all out to woo and entertain clients and high net worth individuals during the race weekend.
Mr Anthony Indaimo, legal sports advisor and partner at Withers KhattarWong told TODAY: "Singapore's reputation as the asset management capital of Asia provides meaningful business to business (B2B) opportunities for local, regional and international businesses who can enjoy the spectacle of the Grand Prix from various business meeting rooms/suites that the F1 has made available to facilitate B2B opportunities."
A director in a European bank who declined to be named, said: "Companies do use it to entertain their clients, to thank them for past businesses. When we are with the client at the F1 event, it is also an opportunity to talk about work and create potential deals."
Nico Rosberg of Mercedes drives during the Formula 1 Singapore Grand Prix first practice session. Photo: Jason Quah/TODAY)
Local businesses also benefit from the Singapore Grand Prix, as 90 per cent of race operations and preparations are sub-contracted to local firms, including small and medium-sized enterprises (SMEs) such as local eatery Saybons, ice supplier Tuck Lee Ice and JR Foods, which has been the official caterer for the race since 2013. With the race attracting some 45,000 foreign visitors each year, hotels, particularly those trackside who charge a premium for their location on the street circuit, food establishments and retailers – aside from the ones in the Marina Bay area who complain about the lack of footfall – also benefit from Singapore hosting the event annually.
Ahead of the race weekend and the announcement of the new deal, the Singapore Nightlife Business Association, which represents a total of 443 operators, had expressed its wish for Singapore to renew its contract with F1.
Speaking to TODAY, the association's president Mr Dennis Foo said the return of the Singapore night race can only be a boon to businesses here. "Now that Malaysia's Sepang circuit is no longer continuing with their F1… we will be the only F1 race in the region and will have even better turnouts."
Pubs and bar owners whom TODAY spoke to agreed that the Singapore Grand Prix has been good for business. Hotels, particularly those with views of the race action at Marina Bay, report brisk business every year as visitors flock here to soak in the action and entertainment both on and off the race track.
Regent Singapore general manager Peter Draminsky said: "(The renewal) is great news for everyone in the city. F1 is a highlight sporting event for Singapore, and the weekend brings in a fair number of inbound international/regional travelers."
He added: "We have started working more closely with the STB over the past couple of years to be more involved in the Grand Prix Season Singapore (a line-up of festivities on and off the track) initiatives through our Manhattan Bar."
Winner of the Formula One Singapore Grand Prix 2017 Lewis Hamilton (right) from Mercedes AMG Petronas Motorsport gets champagne sprayed on him by team mate Valtteri Bottas who came in third. Photo: Nuria Ling/TODAY)
Australian race fan Darren Nunis is one of the many tourists who travel to Singapore every year to watch the race and soak in the trackside festivities. Mr Nunis, who caught the race from the Stamford Grand Stand this year, estimated that he spends between S$5,000 to S$8,000 on accommodation, food, drinks and tickets each time he was in town for F1.
Singapore business and SMEs involved in the Singapore race have also reaped the benefits. Mr Vincent Phang, senior vice president for events and catering at Tung Lok Group, said: "TungLok Group has been in collaboration with F1 since the event came to Singapore in 2008. We provide food and beverage services in a couple of areas... as well as setting up food and drinks kiosks to serve general visitors to the event."
He added: "It is good to be a part of a major event and be associated with an international brand like the Grand Prix. Apart from increased sales, we also benefit from the brand exposure."
The benefits have gone beyond just dollars and cents, and other firms that have built on the increased brand exposure include Steward's Solution, which provided stewarding staff and service ware, and built base kitchens at the hospitality suites, among other things. Its managing director Michael Lian said the Singapore Grand Prix has opened doors for his company in other countries such as China, United States and the Philippines. "Our involvement in F1 has helped to create awareness for our company in the hospitality industry," he said. "It has become a very good reference for us when marketing ourselves to new or potential customers."
He added: "The Singapore Grand Prix has given us the opportunity to grow our business and the confidence in taking on many more projects that we would not have dared taken on previously. With our experience, we have also started growing into the regional market."
Local software and internet firm Acronis – which is a sponsor of F1 team Toro Rosso – has also leveraged on the F1 brand to build its business. Its founder and chief executive officer Serguei Beloussov noted that his company "protects data and data is one of the most important assets for F1", in order for teams to improve their technology and racing performance. "Our technological partnership (has) helped Acronis improve our products and significantly increase our presence in the automotive industry, with 30 per cent of our new enterprise customers coming from this field," he said.
Red Bull Racing driver Daniel Ricciardo passes turn 22 during the second practice session of the Formula One Singapore Grand Prix. Photo: Nuria Ling/TODAY)
WHAT FANS WANT TO SEE
While some spectators shied away from the race track last year, as the Singapore race saw its worst-ever turnout, they were back in droves this year.
Without providing figures, Mr Carey said last week that F1 has seen an increase across all its races in the 2017 season since the new owners came on board.
Singapore F1 fans whom TODAY spoke to were generally pleased to hear that the race will be back for the next four years. A number of them, however, said they would like to see a better variety of entertainment acts during the race weekend. This year's event saw the likes of Ariana Grande, One Republic and Chainsmokers entertaining the crowds at the Padang and other sites around Marina Bay.
Ms Patricia Poh, 28, who was attending the race for the sixth time, said: "To me, this is positive for Singapore - it is truly a unique race in the GP calendar and every year, it gives the world a chance to see how gorgeous our country is.
"This year's acts, namely the DJs, are terrible. Please do away with the DJs and (have) more of the singers and performers. Every year has been a good mix of acts except this year."
Ms Charleen Leo, who has been to every edition of the race so far, added: "I think Singapore has done a great job of attracting non-F1 fans by providing world class off-track entertainment. (As for the acts) I think it is less diverse now as compared to a few years back. It's very mainstream, while I think the crowd in Singapore will appreciate some non-mainstream or alternative acts."
Mercedes AMG Petronas Motorsport driver Valtteri Bottas stops by the pit lane during the Formula One Singapore Grand Prix third practice session. Photo: Nuria Ling/TODAY
While some Singaporeans continue to be enthralled by the F1 race and its entertainment options, there are others who still perceive it as a race for the rich and well-heeled.
Despite early excitement in its inaugural year which saw Singaporeans of all ages travelling to the city centre to soak in the atmosphere and take in the high decibel roar of the F1 cars, there has been hardly any F1 buzz outside the city in recent times.
Industry experts and analysts have pointed out that F1, teams, sponsors, and race promoter Singapore GP need to do more to reach out to the heartlands, engage the local fans and get them involved and interested in the sport.
Responding to queries from TODAY, a Singapore GP spokesperson said: "We will continue to engage Singaporeans with various initiatives such as educational talks, the hugely popular Thursday Pit Lane Experience, as well as behind-the-scenes tours which attracted a record-number of attendees this year – over a thousand people took part in the tours, which started in May." The spokesperson said the company will explore other avenues to increase engagement with local fans.
F1 first practice session, shot from Swissôtel The Stamford, Singapore. Photo: Nuria Ling/TODAY
Mr Walton is among the experts who believe the future looks bright for the Singapore Grand Prix. "The Singapore success story has been well-publicised but there is still an audience out there to be reached: there are always tourists planning their next holiday, investors considering the location of their next Asian hub," he said.
Indeed, Singapore's status as one of the gateways to the region was another factor that Mr Carey was enamoured with, as F1 eyes further forays into the region. Apart from Singapore, the F1 also holds Grand Prix races in Bahrain, Shanghai and Suzuka, Japan. Malaysia has announced that it will stop hosting the race from next year, citing diminished returns and the high costs involved.
Malaysia's loss is Singapore's gain, experts noted. Dr Kum said: "With Malaysia opting out of the F1 circuit... Singapore becomes the only country in South-east Asia to host this prestigious racing event."
ADDITIONAL REPORTING BY ANGELA TENG, TEO TENG KIAT, NOAH TAN
Scuderia Toro Rossa driver Carlos Sainz passes the Singapore Flyer during the second practice session of the Formula One Singapore Grand Prix. Photo: Nuria Ling/TODAY