National Stadium pitch under fire ahead of Brazil vs Japan clash
SINGAPORE — The state of the pitch at the new National Stadium has again come under scrutiny.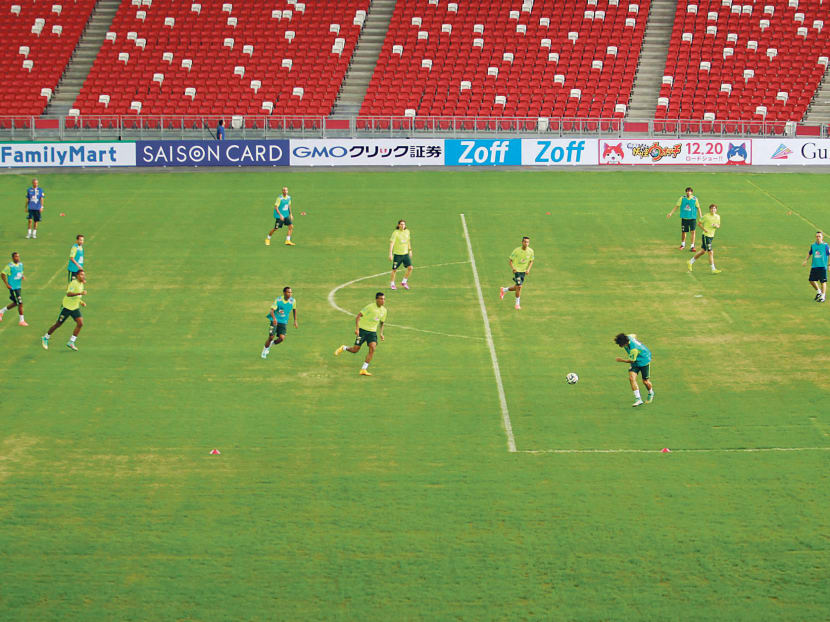 SINGAPORE — The state of the pitch at the new National Stadium has again come under scrutiny.
In preparation for this evening's Brazil vs Japan international football friendly, the coaches of both teams inspected the playing surface yesterday and expressed concern as to how safe it would be for their stars to play on.
Four months after the construction of the stadium — and following much questioning of the pitch's quality — brown, sandy patches still cover nearly half the playing surface.
Following yesterday's training session on the pitch, Brazil coach Dunga gave a fairly damning assessment of the surface, calling it "more synthetic than natural". He added: "The Brazil team will always try to produce a good spectacle, but to do that, you need good conditions. The field ... raises the possibility of having injured players because there is a lot of sand and I hope the sand doesn't create holes in the pitch during the match, but it's a risk we are going to have to take.
"Most of it is sand, not grass, and it's a mixture of synthetic grass with natural grass, but there is more synthetic than natural. It is going to be hard to pass the ball in such conditions."
With a squad including the likes of Neymar, Kaka and Robinho, as well as Chelsea pair Oscar and Willian, Dunga's duty of care literally runs into tens of millions of dollars.
Japan's coach Javier Aguirre was a little less critical, but was also concerned about his squad's ability to play decent football on the sandy surface. "I honestly believe it will take some more time to have a perfect condition. It is a little bit sandy, and it may be a bit difficult to show our best performance."
This is not the first time the playing surface at the National Stadium has come under fire from a visiting international team. Juventus coach Massimiliano Allegri blamed the pitch for his decision not to field superstar forward Carlos Tevez during August's match against a Singapore selection team, for fear of injuring the striker.
Sports Hub chief operating officer Oon Jin Teik admitted at yesterday's media briefing the conditions are still far from ideal. "Many things are still raw and we are fighting nature here to get this pitch ready," said Mr Oon.
Despite this, the team working on managing the S$800,000 Desso GrassMaster pitch stressed that in their opinion the surface is safe enough for tonight's game to go ahead.
To help speed up the process of improvement, the Sports Hub has made a S$1.5 million investment on a new lighting system which hovers about a metre above the field, simulating sunshine and ensuring an even spread of photo-nutrients for the surface. It has also drafted in Romanian Alexandra Garbea — an independent pitch specialist who has worked on Italy's San Siro stadium and Brazil's Arena Corinthians — to provide his expertise in getting the playing surface up to scratch.
However, it can take up to a year to understand the micro-climate, said Mr Greg Gillin, senior director of stadia at the Singapore Sports Hub.
"But if the grass gets diseased and if we get some scorching sun, it knocks that back a little bit … and we are also getting a lot of disease at the moment," he said. "It certainly doesn't look up to international playing standards now. When we access the pitch, we look at things such as ball bounce, ball roll, hardness and traction."
But Mr Gillin revealed that there is confidence in the "stability and playability" of the pitch for today's game. "We have already to spoken to reps of the team, and they have asked us to ... make sure it is stable, and that the ball will bounce and roll, and the stability of the surface is very consistent right across, so we are very happy with that."
Meanwhile, national footballer Baihakki Khaizan took to his Instagram account to lash out at the direction taken by those operating the new National Stadium. Noting how many sporting greats roused the nation at the "plain" old National Stadium, he spoke out against how the new National Stadium was being run. "You don't seem to know your priorities any more and I don't see how new stars will be born in you again. You've sold out, haven't you? You're more about money, moving in a direction I don't understand. Honestly, I miss the old you," he posted.