The Schooling story
Charting 15 years in the making of Singapore's finest swimmer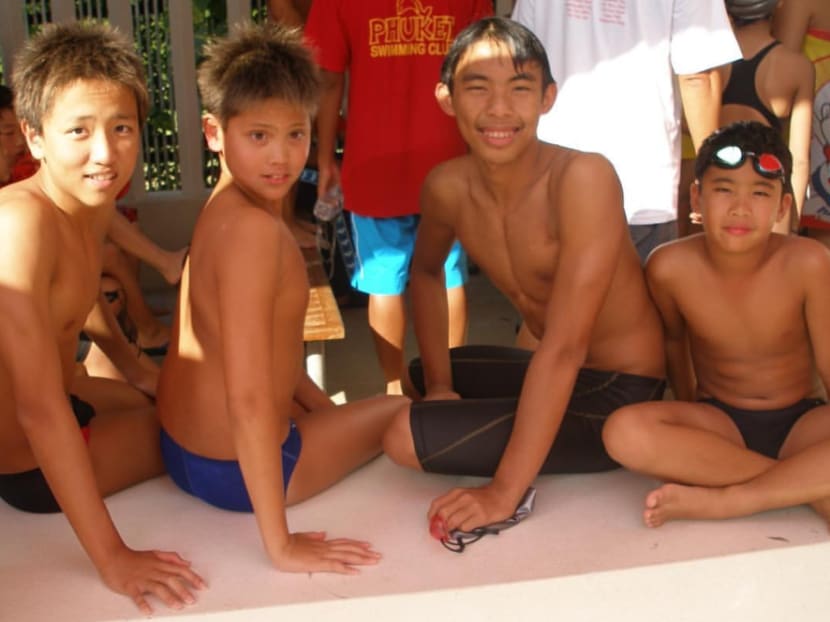 2001: Over family dinner, a six-year-old Schooling has a chat with his relatives about his grand-uncle Lloyd Valberg, a former national high-jumper who was Singapore's first ever Olympian at the 1948 Games. The chat inspires Schooling to go to the Olympics.
A childhood photograph of Joseph Schooling (Photo: Joseph Schooling/Instagram)
2006: Schooling's parents, Colin and May, send him for a bone test – which calculates growth potential – to see how far he can go in the sport. The test reveals that he will hit 1.90 metres, which is an optimum height to excel in the sport at the highest levels.
2008: The Anglo-Chinese School (Independent) quartet, which includes Joseph Schooling, sets a new "C" Division record of 1min 54.12sec in the 4x50m individual medley relay. A month later, he meets the US Olympic swimming team – which his parents help to host – including his idol, Michael Phelps for the first time (pictured below). He subsequently makes the decision to train in the US.
(Photo courtesy of May Schooling)
2009: Swimming for ACS(I) at the National Inter-School Championships for the final time before he leaves for the United States, Schooling times 57.55s in the 100m butterfly to finish about two body lengths ahead of his nearest rivals. Schooling's time smashes the national under-14 record, and also the "A", "B" and "C" Division records. The 13-year-old subsequently leaves home for the Bolles School in Florida, US, to study and train.
Joseph Schooling with his swim mates in photographs taken in 2009 and 2010 (Photos: Teo Zhen Ren/Facebook)
2010: The young Schooling starts training under Spanish coach Sergio Lopez (pictured below) at the Bolles School. Lopez would later become Singapore's national head coach in 2015.
2011: Schooling is part of a 4x100 yards medley relay team that times 1:28.09 to smash the US age-group (15-16 years) record by almost six seconds in April. However, this achievement is not counted as a US record as Schooling is not a US citizen.
He then sets three new Singapore national records – 100m butterfly (54.19sec), 200m butterfly (2:00.05), and 200 individual medley (2:05.07) – when he returns to Singapore to compete in the National Swimming Championships.
In July, he re-writes his own national records again in the 50m (24.95sec) 100m (53.71sec) and 200m butterfly (1:57.95sec) at the Asean School Games.
Four months later, he becomes the first Singaporean swimmer to meet the Olympics "A" qualifying time for the 2012 London Olympics, when he clocks 1:56.67 to win the 200m fly at the SEA Games in Indonesia in a new Games and national record time.  He also wins the 50m fly in a new Games record time, a silver in 200m individual medley, and bronze in the 100m fly.
2012: Schooling makes his Olympic debut in London as the youngest member of Singapore's contingent. Just before his 200m fly heats, his swim cap and goggles are rejected for failing to meet Olympic regulations. Flustered, he finishes 26th overall (1:59.18) in the heats and does not qualify for the semi-finals. He does not advance from the 100m heats either, finishing in 35th (53.61s) and 26th (1:59.18) spot respectively. A disappointed Schooling says "Champions don't make excuses" and vows to bounce back.
 
(Joseph Schooling with national swimmers Quah Zheng Wen and Mylene Ong at the 2012 London Olympics. Photo: Aloysius Yeo/Facebook)
2013: In March, Schooling times 54.71s to win the 100m fly final at the Speedo South Sectional Championships in Florida, beating 11-time Olympic medallist American Ryan Lochte who comes in second (55.20). Seven months later, he becomes the first athlete to be granted long-term deferment from National Service, which allows him to pursue his dream of winning an Olympic medal at the 2016 Olympic Games.
Later that year, he wins six gold medals out of six events at the Myanmar SEA Games, setting four new Games records in the process.
2014: Schooling's rise continues when he claims a silver at the Commonwealth Games in Glasgow in July. His win in the 100m fly in a new national record time of 51.69s is also Singapore's first swimming medal at the Commonwealth Games. Two months later, he becomes the first Singaporean swimmer to win gold at the Asian Games in Incheon since Ang Peng Siong's men's 100m freestyle win at the 1982 Asiad in New Delhi. Schooling's 51.76s is a new Asian Games record.
2015: Schooling wins his first individual title at the prestigious NCAA Division 1 men's swimming championships in March, after clocking 44.51secs in the men's 100-yard (91.44m) fly to erase five-time Olympic medallist Ian Crocker's (44.72) school mark set 11 years ago. He is named the NCAA top freshman swimmer.
Five months later, he makes history by becoming the first Singaporean to win a medal at the World Championships, when he finishes third in the 100m fly in a new national record and Asian record time (50.96s).
In June, he wins nine golds out of nine events at the SEA Games on home ground, in all new Games' record times.
2016: Two months before the Olympics, Schooling beats Michael Phelps at the Austin Elite Invite. The Singaporean touches home in 51.58s in the 100m fly to take gold, ahead of his childhood idol and 2016 Olympics rival Phelps, who finishes second in 51.65s.
At the Rio Games, Schooling clocks a new Asian and national record of 50.83s during the 100m fly semi-finals to qualify for the final. The performance is also the world's fastest time this year.
WATCH SCHOOLING IN THE FINAL
Catch Joseph Schooling's race LIVE on Saturday at 9.12am on the following Mediacorp platforms:
- Okto, its designated TV channel for sports content
- Four Toggle channels on www.toggle.sg
- TODAY's daily coverage on www.todayonline.com, on our Facebook page @TODAYsports and on Twitter @tdysports
CORRECTION
In an earlier version of this report, we said that Schooling had a chat with his granduncle, Lloyd Valberg, in 2001, at the age of six. This is inaccurate. Schooling had a chat with his relatives about Valberg. Lloyd Valberg died in 1997.