SLA serves Home United's youth academy injunction on pitch usage
SINGAPORE — One of the best youth football facilities in Singapore, the Home United Youth Football Academy (HYFA), has been slapped with an injunction by the Singapore Land Authority (SLA) to restrict operations on two of its pitches, following complaints from nearby residents about noise.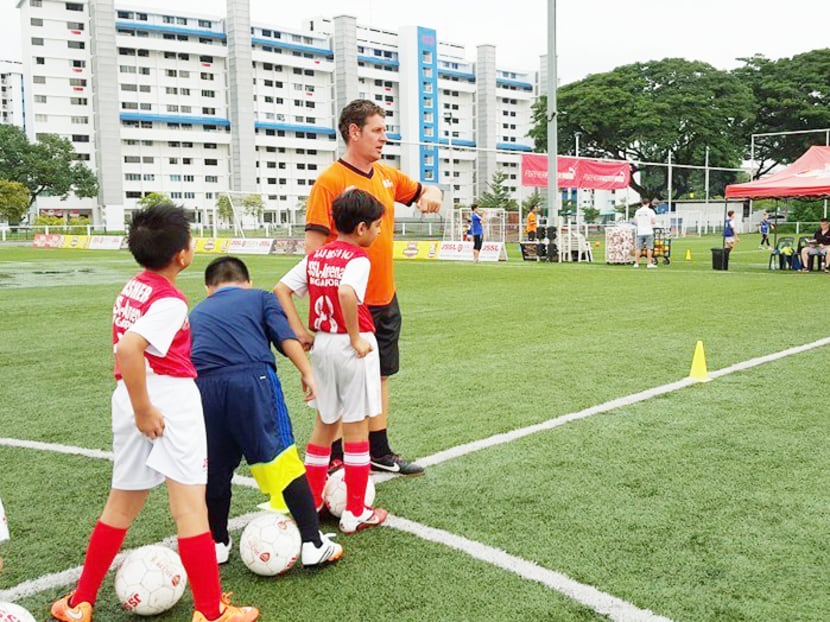 SINGAPORE — One of the best youth football facilities in Singapore, the Home United Youth Football Academy (HYFA), has been slapped with an injunction by the Singapore Land Authority (SLA) to restrict operations on two of its pitches, following complaints from nearby residents about noise.
TODAY understands that the 2.5ha venue at Mattar Road — which boasts 12 football pitches of varying sizes — has been told by the SLA last month to cease operations of two 11-a-side pitches during weekends, and they can only be used up to 7pm on weekdays.
This came after residents living in the nearby block of flats on Aljunied Road complained that the football activities conducted at these HYFA pitches generate too much noise.
Activities on other pitches are not affected.
These misgivings were submitted to the SLA and the Urban Redevelopment Authority (URA), as well as Ms Tin Pei Ling, the Member of Parliament for MacPherson.
HYFA — which is owned by S.League side Home United Football Club (HUFC) and managed by Asia Sports Holdings Pte Ltd — comes under the MacPherson constituency.
The area is demarcated by the URA for sporting activities. HUFC's detailed plans for the HYFA facility — which cost in excess of S$1 million to build in 2014 — were approved by the authorities.
HUFC said in a statement last night: "HUFC and SLA are aware of complaints on noise raised by a handful of residents, and are in discussions to address the feedback received."
TODAY learnt that, despite the limited operating hours, HYFA is still required to pay the full monthly rental fee to the SLA, which is in excess of S$30,000. HYFA renewed its lease with the SLA to 2019 in the middle of last year.
MORE THAN 1,200 KIDS AFFECTED
The injunction has forced one of HYFA's main clients — local football academy JSSL Singapore — to relocate. It has significantly affected HYFA's revenue, as JSSL used to conduct their activities at the 11-a-side pitches on weekends.
JSSL Singapore managing director Harvey Davis revealed he was informed of the injunction in the middle of last month. He said his company was told to stop all weekend sessions with immediate effect.
"This is a disgrace. Complete disregard for the 1,200 kids who use the fields, disregard for the business we are running. And all of this for what? Complaints by four, maybe five people?" said Mr Davis, who revealed his company paid in excess of S$20,000 a month in rental to HYFA.
"You are talking about 1,200 kids, of which 600 to 700 are local boys.
"We had to relocate somewhere and, luckily, we found a new venue in The Arena. But it affected our business. Our costs have gone up substantially with the relocation, we've lost students because it's not where we used to be and it's all happened in the space of three weeks.
"It's incredible how something like that can happen."
On top of lost rental revenue from JSSL, the SLA restrictions are believed to set HYFA back by an additional S$15,000 per month in terms of lost potential earnings. HYFA's total operating costs, including rental to SLA, are around S$50,000 per month.
In addition, more than 200 players from HUFC's youth programmes, which cater to the at-risk and underprivileged youths in Singapore, now have no 11-a-side pitch to train on.
"The weekend is where a lot of the kids come to play football," said former Home United's head of youth development Philippe Aw.
"In Singapore, the biggest problem is a lack of venues for youth players to train on. Now with these two big pitches gone, it will reduce the opportunities for youths further."
Responding to TODAY's queries, the SLA said discussions with HYFA to resolve the issue are ongoing.
PETITION AGAINST HYFA
In June last year, The New Paper reported that a resident living nearby launched a petition against HYFA, although it generated signatures from just five families. In an interview at the time, the 55-year-old resident going by the name of Alan Hoong said: "The field is so close to the building that even when they talk at a normal volume, I can hear what they are saying. It's like living inside a football stadium. Given a choice, I want them out of there."
When TODAY spoke to 10 families from the affected blocks on Friday (Jan 13), seven had no objections to HYFA operating on weekends or beyond 7pm on weekdays.
"Even though they play so near (to our block), we have no problem," said a 56-year-old resident who wants to be known as Mr Nahli. "We actually enjoy watching the small kids play."
Mr Low Chor Young, 67, who has stayed over 30 years on the fifth floor, said: "Some people think it's noisy, some don't. As for myself, I don't think it is much of a problem as long as they aren't too loud in the morning."
A resident on the seventh floor, who declined to be named, said: "It can get quite noisy during school holidays and weekends, or when they have programmes that start from 7am or 8am. It's difficult to get some rest on weekends."
In a bid to appease the affected residents, HYFA had implemented several measures to reduce the level of noise at its facility.
This includes the use of low-decibel referee whistles, limiting the area of play to pitches which were further from the flats, reducing the initial hours of operations of the pitches, as well as setting up a hotline for residents to call in should they be disturbed by activities at the venue.
In its online booking form, HYFA also stated rules that urged users to refrain from "excessive shouting especially in early morning or evening hours of the day". Those who flout the rules, said HYFA, "can find their activity suspended or cancelled without any refund".
Added JSSL's Mr Davis: "We've known there have been issues with the neighbours. They've asked us to reduce noise, do this and do that, everything they (SLA) have asked us to do, we have done and more."