Sports Hub CEO Sawhney resigns, slams allegations
SINGAPORE — Under fire and under investigation over an anonymous complaint, Singapore Sports Hub chief executive Manu Sawhney resigned and stepped down from his position with immediate effect on Thursday (May 25).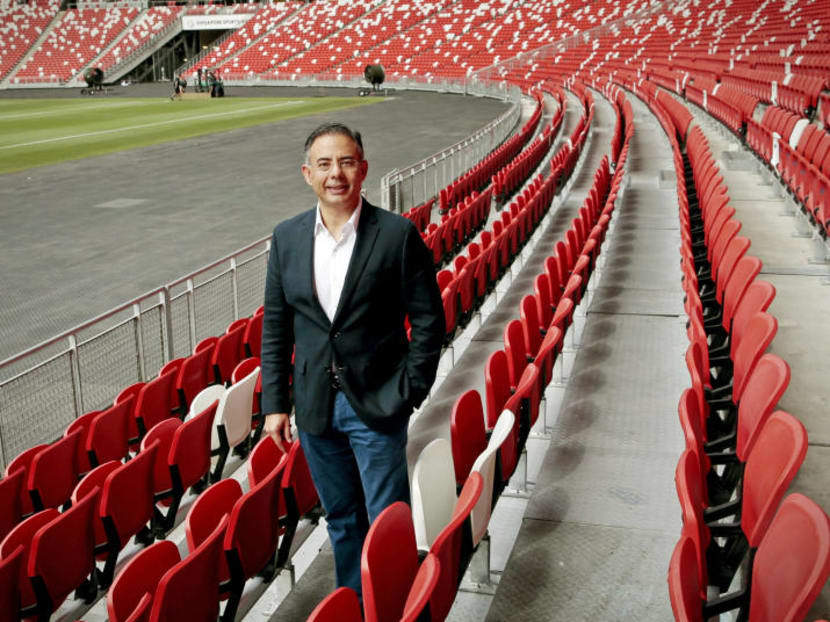 SINGAPORE — Under fire and under investigation over an anonymous complaint, Singapore Sports Hub chief executive Manu Sawhney resigned and stepped down from his position with immediate effect on Thursday (May 25).
The board of Sports Hub Pte Ltd (SHPL), the consortium which runs the venue, announced his departure on , and said that it had investigated the complaint and decided that no action is warranted.
They have also closed the investigation into Mr Sawhney, who went on extended personal leave after the complaint was sent. 
Chief operating officer Oon Jin Teik, who took over Mr Sawhney's duties in his absence, will become acting CEO. 
Mr Bryn Jones, chairman of the SHPL board, said in a media release on Thursday: "On behalf of the board, I would like to thank Manu for his service and contributions during his tenure and wish him the best in his future endeavours. 
"Mr Sawhney has decided that the time has come for a new CEO to take the Singapore Sports Hub to its next level. The board has accepted his resignation." 
Mr Sawhney was told to go on leave last week after an anonymous 26-page letter of complaint about him was sent to InfraRed Capital Partners, one of four equity partners in the SHPL. 
Sources had told TODAY that the complaint contained details of his management style, his treatment of staff, and his commercial decisions.
Former employees who spoke to TODAY described Mr Sawhney as a demanding, vocal and volatile manager. Several also said they witnessed him having heated discussions with their colleagues.
The complaint was investigated by the consortium, and a board meeting was held on Wednesday to discuss the issue.
Addressing the issue for the first time on Thursday, Mr Sawhney said in a separate media statement that the allegations against him "are false and mischievous".
He added: "I'm glad the board has concluded its investigation and decided that no action is warranted. With that conclusion, I feel able to move on."
When contacted for further comment, Mr Sawhney's representative said he felt it was time to move on. 
Sources, however, told TODAY they were not surprised to hear of his resignation after 19 months into the job, as the CEO post was a "hot seat". This was particularly due to the issues and criticism that the Sports Hub had attracted before his appointment in October 2015.
Mr Sawhney, 50, was a former managing director of ESPN Star Sports. He is also an independent director with English Premier League side Manchester United.
Since Mr Sawhney's appointment as Sports Hub CEO in 2015, the SHPL's senior management and staff teams have witnessed a string of resignations. The most notable departures came in December 2015, when two senior management members from equity partner Global Spectrum Pico — managing director Mr Mark Collins and Ms Daphne Letournel, director of contracts and compliance — left SHPL.
Their moves were said to have been sparked by disagreements over the directions taken in discussions with event organisers and partners in staging events at the Sports Hub.
Last February, media reports said that SHPL, led by InfraRed, was proposing to terminate the contract of Global Spectrum, its venue operation partner, as the SHPL board was reportedly unhappy with the commercial deals undertaken or signed by the latter.
The S$1.33 billion facility — touted as the largest public-private partnership project in the world — was initially plagued by a number of issues after opening its doors in June 2014.
These included the National Stadium's initial pitch problems and organisers' complaints about high costs, as well as criticism of its lacklustre events calendar.
But it appears to have resolved its pitch issues since, with the turf drawing praise in recent times for its look and ability to handle heavy usage.
Its calendar of events has also been beefed up, with the National Stadium hosting the sold-out Coldplay concerts in April, next month's Singapore-Argentina international football friendly and the International Champions Cup featuring European football sides Chelsea, Bayern Munich and Inter Milan in July.
While James Walton, Deloitte Singapore's sports business group leader, said Mr Sawhney's departure was a "setback" for SHPL, he believes the facility has made huge strides since 2014. 
"When you consider infrastructure projects like this, there will always be teething problems," he said. 
"But we've seen over the last 18 months that the quality and size of events is picking up. Sport Singapore,  the Singapore Tourism Board and Sports Hub have done an excellent job in attracting world-class events. This is a setback, but if they can get the right leader in, all these ingredients are there. The new CEO will definitely inherit a much better proposition than perhaps a couple of years ago."