Six volleying for success
SINGAPORE — Six of the Republic's top junior tennis players have switched from their respective schools to join the Singapore Sports School's (SSP).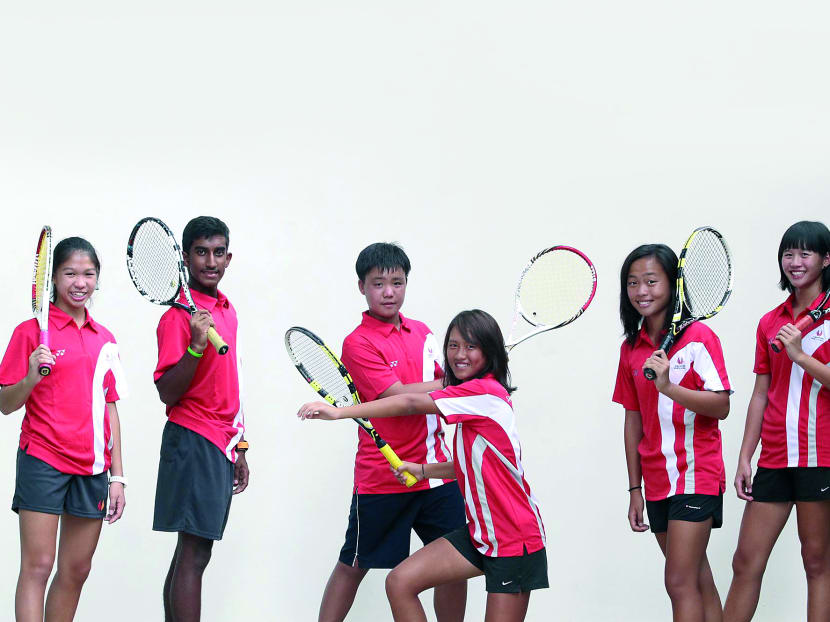 SINGAPORE — Six of the Republic's top junior tennis players have switched from their respective schools to join the Singapore Sports School's (SSP).
Top-ranked boys and girls singles players (14-and-under) Gabriel Chum and Ashley Yim transferred from Anglo-Chinese School (Barker Road) and Methodist Girls' School (MGS) respectively at the beginning of this year, and the duo have since been joined by Shaheed Alam Meqsud Alam (St Andrew's Secondary School), Maxine Ng (Raffles Girls' School), Charmaine Seah (MGS), and Tiffany Wong (Singapore Chinese Girls' School).
The six are part of a group of 13 mid-stream transfer students from tennis, gymnastics, archery, golf and shooting who have joined the SSP for the new academic year.
The SSP's tennis team now boasts 11 players, including 2012 mid-stream transfers Sherwin Foo and Angela Lim who joined from Raffles Institution and RGS two years ago. Gabriel, Ashley, Shaheed, Maxine and Tiffany will be in the SSP's School-Within-A-School (SWS) programme while Charmaine will follow the school's normal timetable.
The SWS allows student-athletes from badminton, table tennis, golf and tennis to follow a different timetable from the rest of their schoolmates. Training sessions are held in the mornings (7.30-10am) and afternoons (2–4pm), while academic lessons are conducted in the evenings.
All five players are also members of the Singapore Tennis Association's (STA) full-time tennis programme, which was launched in April 2010 with a war chest of S$500,000 to groom Singapore's future tennis stars.
Currently the top girls' singles (14-and-under and 16-and-under) player in Singapore, Ashley is hoping her move will reap rewards when the South-east Asian Games are held here in 2015.
"MGS focuses a lot on academics and after discussions with my parents, we felt the Sports School would give a better balance between sports and studies," said the 14-year-old. "I do miss my MGS friends and it is quite hard getting used to a new environment. But I'm making new friends and my teachers are very friendly.
"I hope to represent Singapore at the 2015 SEA Games … and I will try to get in the top 200 for the ITF (International Tennis Federation) junior rankings before I turn 18."
Doubles partner Maxine, also 14, was inspired to join the STA's full-time programme and the Sports School after her stint as Singapore's flag bearer at the handover ceremony for the WTA Championships in Istanbul last October.
"After I got into the STA's full-time programme, they told us we have to compete in 10 overseas competitions a year," said Maxine, who scored an aggregate of 257 in her Primary School Leaving Examination.
"Although RGS tried to support me in my studies and training, I feel the Sports School's academic programme is more flexible. The class size is so much smaller so we get more attention from the teachers. I have no regrets (leaving RGS)."
Secondary 2 student Gabriel, 14, told TODAY that he had decided to transfer from ACS (Barker Road) after struggling with his grades.
He said: "In Sec 1, I was getting 60-plus points in my examinations. I couldn't cope and catch up with my classmates because of my training and competitions. Coming here will help my tennis because the timing for training and school is better."
With Singapore society's focus on academic excellence and penchant for brand-name schools, parents like Clarice Hong — who is Maxine's mother — are happy to buck the trend to give their children their best shot at a different career path.
"We're probably taking the road less travelled … and we will have no regrets if things come to a standstill as we know we gave this a try," said Hong, a psychiatrist with the Raffles Medical Group.
"The Sports School has a very attractive programme with a small student-teacher ratio, and the teachers are very accommodating when they travel to tournaments.
"I also hope their expertise in sports psychology and sports science will give Maxine an all-round progression (as an athlete)."