Urban farming will be allowed at rooftops of 9 HDB multi-storey car parks
SINGAPORE — The rooftops of nine multi-storey car parks managed by the Housing and Development Board (HDB) will soon be made available for urban farmers to rent the space and grow crops, the Singapore Food Agency (SFA) said.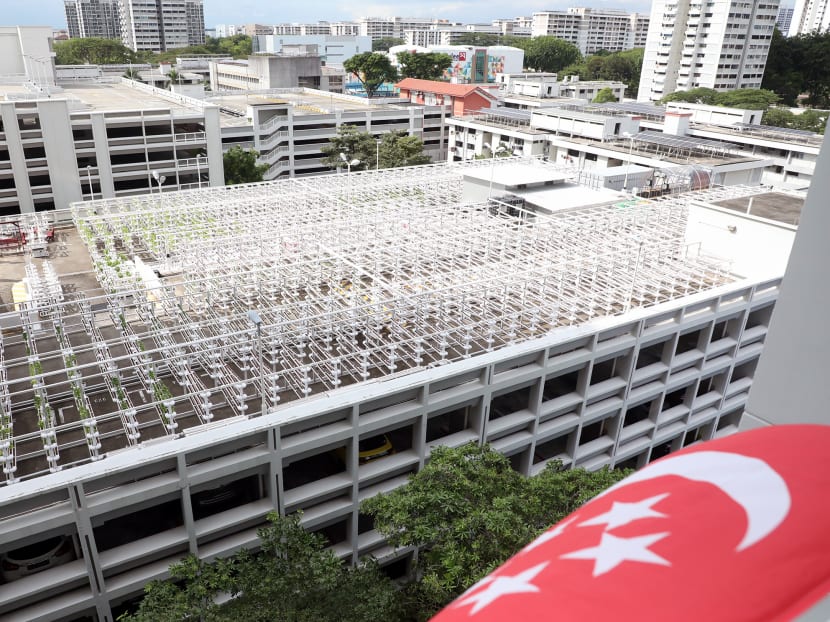 SINGAPORE — The rooftops of nine multi-storey car parks managed by the Housing and Development Board (HDB) will soon be made available for urban farmers to rent the space and grow crops, the Singapore Food Agency (SFA) said.
These are car parks located in housing estates such as Chua Chu Kang, Tampines, Sembawang and Jurong West.
In a news release on Tuesday (May 12), the agency said it is doing this as part of its strategy to achieve Singapore's "30-by-30" goal — to produce 30 per cent of the country's nutritional needs domestically by 2030.
Launching the nine sites for rental by public tender, the agency said these will add to the various alternative sites in land-constrained Singapore that are marked out for commercial farming.
It added that these rooftop spaces are also in line with HDB's Green Towns Programme to "intensify greening" in public housing estates.
"The sites shall be used to farm vegetables and other food crops, as well as for other related purposes, such as the packing or storage of produce," SFA said. 
The single sites available for tender, which SFA said is suitable to testbed ideas, are:
Block 513A Choa Chu Kang Street 51 (1,934 sqm)

Block 723A Tampines Street 72 (2,526 sqm)

Block 946A Hougang Street 92 (1,808 sqm)

Block 352A Ang Mo Kio Street 32 (3,171 sqm)

Block 260 Kim Keat Avenue (2,317 sqm)
There are two cluster sites in Sembawang and Jurong West available for tender. These are meant to enable farms to "derive savings through production at scale", SFA said. 
They are at:
Block 354 Admiralty Drive (2,551 sqm) and Block 316A Sembawang Vista (1,831 sqm)

Block 276 Jurong West Street 25 (2,974 sqm) and Block 273 Jurong West Avenue 3 (3,311 sqm)
Successful bidders of a cluster site will be awarded the combined spaces for the site.
The agency is working with HDB to launch more rooftop sites for urban farming by public tender in the second half of this year. The details will be released at a later date.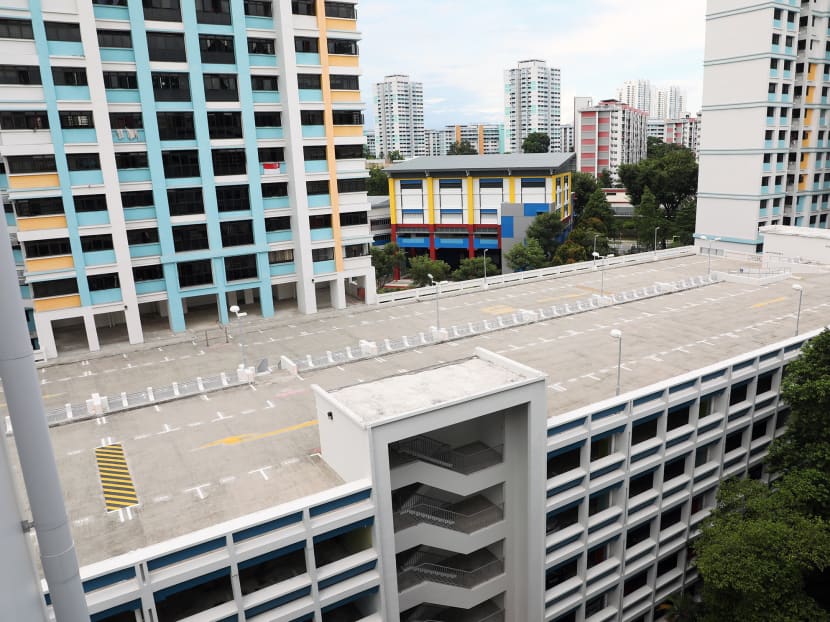 Tuesday's announcement comes slightly over a year after the Citiponics urban vertical farm launched its pilot rooftop plot in February last year.
Located on top of Block 700 Ang Mo Kio Avenue 6, the 1,800-sqm farm was meant to be able to produce about four tonnes of vegetables a month at the height of its production.
While the SFA did not state what crops can be grown at the rooftop farms, Citiponics has grown vegetables such as nai bai (baby bok choy), kai lan (Chinese kale) and cai xin (Chinese flowering cabbage).
Mr Melvin Chow, senior director of SFA's Food Supply Resilience Division, said that he was "heartened by the growing interest" from both the industry and the public towards urban farming in community spaces following the launch of the Citiponics farm.
"Residents in the area have been able to enjoy fresh produce from the farm at nearby supermarkets, and can witness first-hand the hard work involved in bringing our food from farm-to-fork," he said. 
"We hope that consumers will continue to show their appreciation for our local farms by buying their produce."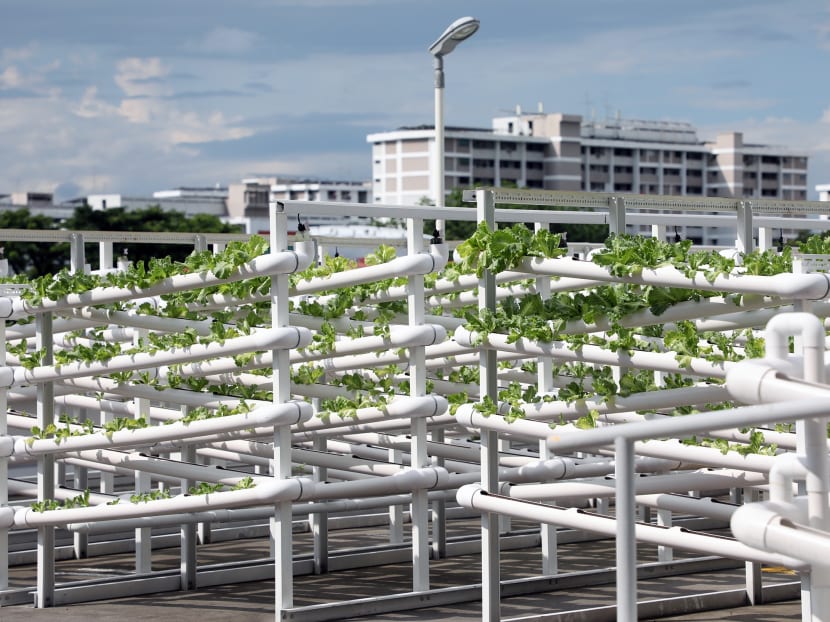 Urban farmers interviewed by TODAY said that they are looking forward to having more opportunities to cultivate crops.
Mr Veera Sekaran, founder of the urban and vertical-greenery firm Greenology, said that it is ideal to make use of any vacant spaces in Singapore for urban farming.
"HDB car parks are usually vacant at the top because many people don't want to park their cars in the sun," he said.
Turning them into commercial spaces is a viable way for "serious players" to make a business out of urban farming, he added.
Mr Veera, who is considering bidding for one of the newly launched sites, said that he foresees rooftop farms to be high-tech in nature — though it could also involve older residents who have a knack for gardening and are looking for part-time work.
Mr Bjorn Low, co-founder of urban farming social enterprise Edible Garden City who has experience running gardens on the rooftops of buildings, said that aside from being under-utilised, car park rooftops have the added benefit of being able to withstand heavy loads.
This is unlike older buildings, which would need to have their structures reinforced in order to accommodate soil and "big bodies of water" on the rooftop, he said.
Both men agreed that having more space for urban farms would go a long way to ensure Singapore's food security.
Mr Low said that apart from producing food, these farms offer other benefits such as providing work within the community for people in need and serving as a community space for educational purposes.
"I think this is a step in the right direction."