Crab 'claw' machine: Animal cruelty or innovative concept?
The House of Seafood restaurant in Punggol drew brickbats this week over a "claw" machine that allowed users to manoeuvre a large claw to catch live crabs. Many TODAY readers derided the restaurant's move as cruel. Others came to the eatery's defence.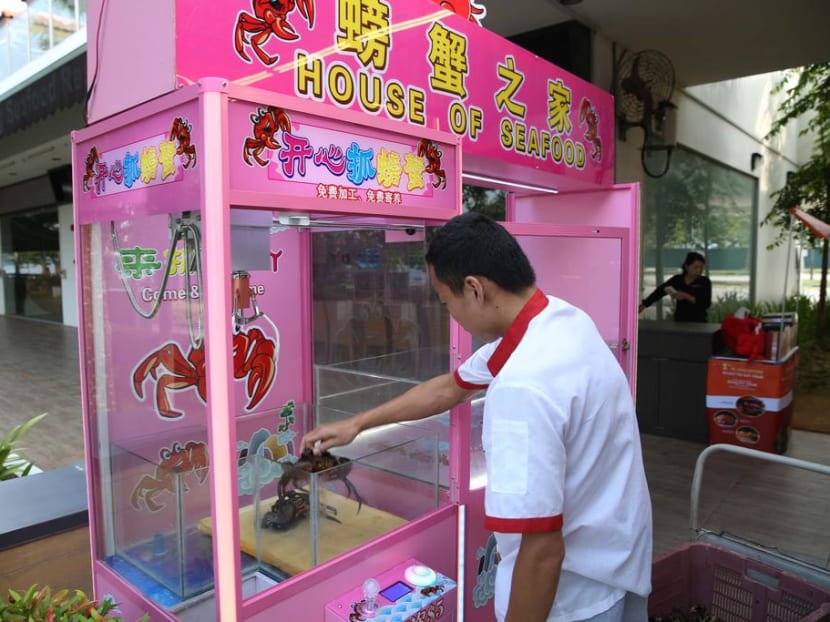 The House of Seafood restaurant in Punggol drew brickbats this week over a "claw" machine that allowed users to manoeuvre a large claw to catch live crabs. It prompted the Society for the Prevention of Cruelty to Animals (SPCA) to lodge a complaint with the Animal and Veterinary Service, a unit of the National Parks Board. It is investigating the case. The restaurant has since apologised, stopped the sale of live crabs in the machine, and replaced them with boxes that users can exchange for crab dishes. 
Over the past week, many TODAY readers condemned the restaurant's move as cruel and a gimmick. Others came to the eatery's defence, arguing that what it did was not different from others which served live seafood, adding that the SPCA's complaint stifled innovation.  
If you want to eat them, you slaughter them as quickly and as painlessly as possible. It is not necessary to prolong their pain and suffering. This is not just for crabs; the same compassion should be applied to all livestock. Please have mercy. XRIS NG 
Fun, but not so fun when lives are involved. Crabs are living creatures that also have feelings and can feel pain. This is ridiculously inhumane and outright animal abuse. STEVEN LIM
Is this supposed to be fun? Innovative? I hope people will not patronise eateries with such strange practices. What are we teaching our kids? MEI LIN WONG
You do not need to be an animal lover. You need only know how to respect life. Crabs already struggle when boiled alive. HAROLD ALCALA
This is stupid. Please show basic respect for food. It is God-given as a blessing, not some toy. Distasteful. EDWARD TAN 
This is a cheap publicity stunt. JESS NG
As long as animals are being fished up by humans — through fishing, prawn-fishing and so on — it is cruel. Switch roles with the animals and get hooked in the mouth, and see if it is funny or not. BOON LIANG CHAN
I hope that other restaurants selling live seafood take note of the conditions of their storage tanks. YONG NGUAN LIM 
It is not just about the possible physical harm to the crabs. Live animals or crustaceans do not belong in an amusement-arcade-style machine for our entertainment. It sends the wrong message, especially to children. SUMATHI SELVARETNAM
The problem is not the idea of catching your own seafood. It is the fact that it has been made into a "game" and there is a high likelihood that crabs are going to be injured from either the claw not grabbing them properly or being dropped from a height. Also, that machine is not meant for crabs to live in and who knows how long they are left there without the proper environment for survival. If they want people to have "fun" catching crabs, then they can build a pond with the proper water conditions, checks and licences, instead of starting this kind of gimmick. JO SIEW
Look carefully: What the restaurant uses is not a generic claw machine. It was modified with a foam base and water-filtration system, which is more than what most coffeeshops use to house their live seafood before they are cooked and eaten. REGINALD ASHTON
Oh, please, they have apologised, so just move on. Everyone makes mistakes. REKHA KRIS
For those who feel sorry for the cruelty to crabs because a machine was used, let us think about it: How much better off are they with or without the machine, tied up and waiting for someone to grab them with a pair of tongs? The only difference was that the claw machine was automated. Those who feel sorry for the crabs but need to eat them should ensure that they do not patronise shops with crabs tied up. ULAGANATHAN KARUMANAN
SPCA, you have caused unnecessary harm to an innovative idea of crab dining. You have also caused harm to creativity among us. FREDDIE KEE 
How is this different from keeping those crabs in a tank, SPCA? MICHAEL FONG
Seriously, what is the big deal? What cruelty? How about fish farms that allow kids to catch fish? Aren't those worse? EUGENE LOO 
So, it is not OK to "claw" them, but it is OK to eat them? What kind of logic do some people have? HENRY CHOO 
It still ends up on the dining table. So, is eating it not cruel? TIMOTHY WU YAOXIN 
Well, they were going to kill the crab anyway. Either you are vegetarian or it is going to be killed for food. I do not see a humane way to kill. JUGNU BHATIA
These comments were first posted to TODAY's Facebook page or sent to Voices. They have been edited for clarity, accuracy and length.