Voices from the Front Lines: My job feels 'incomplete' when I've to handle a Covid-19 death case
He died and was cremated in Singapore. What happened next was that most airlines refused to transport the urn containing his remains home to his grieving family in China.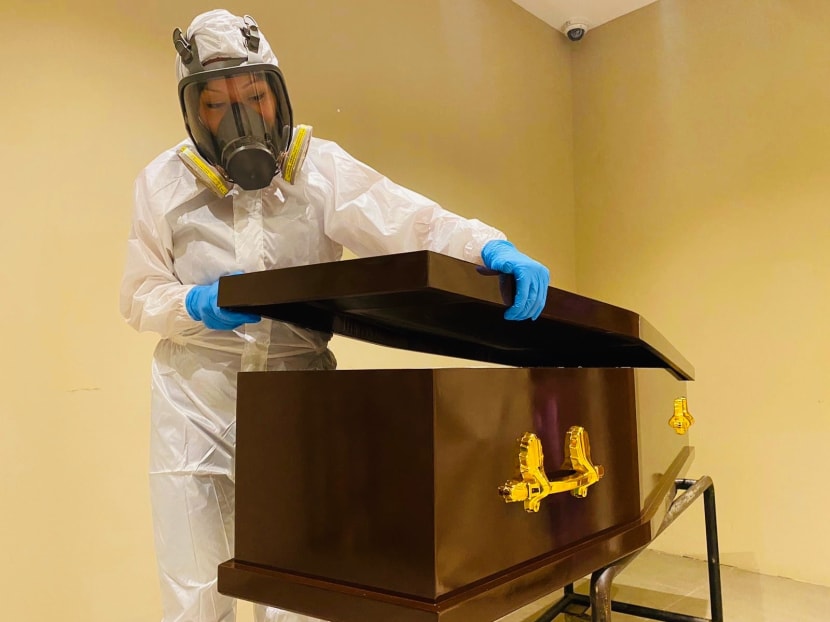 As the fight against Covid-19 will be a long-drawn one, TODAY's Voices section hopes to shine a light on the triumphs and struggles of Singapore's front-line workers by publishing their first-hand accounts.
In this instalment of Voices from the Front Lines, Ms Angjolie Mei, founder of funeral services firm The Life Celebrant, talks about having to fight back tears, feeling a bit helpless, and overcoming greater hurdles to try and bring closure to the families of people who have died from Covid-19.
He died and was cremated in Singapore.
What happened next was that most airlines refused to transport the urn containing his remains home to his grieving family in China.
The man had died of Covid-19 and the fear of the coronavirus was so great, even the bones and ashes of a dead man that emerged from a furnace of more than 1,000°C are suspect.
My team and I had attended to the deaths of two migrant workers from China who died of Covid-19 in Singapore.
Their bodies could not be embalmed, so they could not be repatriated back to their country for a burial.
Their families could not fly to Singapore to bid them a final farewell. Both of the deceased had to be cremated here.
After the major airlines we approached rejected our company's requests to fly their cremated remains, we eventually managed to get the urns on the earliest flights out with other airlines, transiting through other countries.
Once their families received their urns, they sent me phone text messages. "Thank you for your help in sending my father home so quickly," one read.
It is sad that these migrant workers came to Singapore for a dream to earn a better living for their family, only to return home in an urn.
As funeral service providers, we are part of the frontline workers during this pandemic — only that ours is the last stop. In response to Covid-19, I formed a task force trained to handle the infected bodies.
In one case, we also attended to a deceased Singaporean.
His daughter told me, voice quivering, that while he looked fine the day before he died, his condition took a drastic turn overnight.
She was under quarantine and had to seek approval from the Ministry of Health to see her father and attend his funeral.
Thankfully, her request was granted.
Escorted by a Cisco security officer and dressed in personal protective equipment, she looked worn out at the hospital.
As the hospital team beckoned her to go over to her father, who was resting in a body bag zipped down to his chest, she lost her composure and broke down.
She was not allowed to touch her father and could only view him from a distance. All his orifices were closed with a gauze and he did not look his best.
I struggled to hold back my tears as my final moments with my own father, who was properly embalmed and to whom I could properly say goodbye, were very different.
I cannot help but feel that when it comes to attending to the death of a Covid-19 patient, my job is incomplete.
Usually, we bathe and embalm the departed, dress them in their best clothes and present them in the way they looked when they were alive. I cannot do these things for a Covid-19 patient. There is regret on my part and for the family.
Until today, the family has not decided on the Singaporean man's final resting place, but on Father's Day on June 21, they spent some time with his cremated remains.
Covid-19 came so suddenly and it took the world by storm. I am grateful that Singapore has managed to keep the death rate low compared with some other countries.
ABOUT THE WRITER
Ms Angjolie Mei, 39, is the founder and funeral director of The Life Celebrant. She has been in the funeral industry for over 16 years and has written a book, Dying to Meet You, where she gives a behind-the-scenes look at the work in the industry. A second edition of the book will be launching in August 2020. 
Have views on an issue or a news topic you care about? Send your letter to voices [at] mediacorp.com.sg with your full name, address and phone number.