NUS public transport study: Working adults want reliable travel times; seniors, students focus on cost
SINGAPORE — A major study on the way Singaporeans use public transport has found that the reliability of travel time is important for working adults while the cost of fares is a bigger factor for senior citizens, students and children in choosing between travel modes.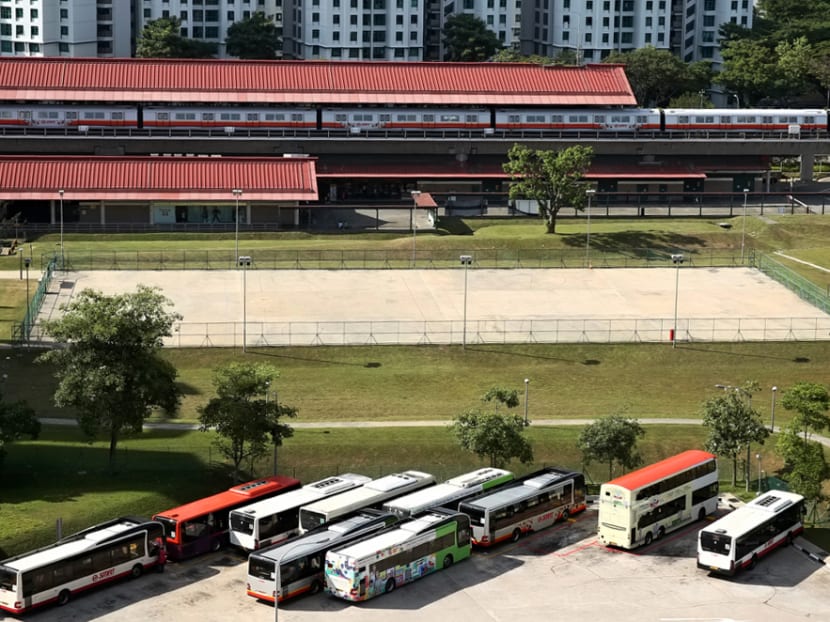 SINGAPORE — A major study on the way Singaporeans use public transport has found that the reliability of travel time is important for working adults while the cost of fares is a bigger factor for senior citizens, students and children in choosing between travel modes.
The authors of the National University of Singapore (NUS) study said these findings have "useful implications" for policy makers, in areas such as dedicated bus lanes that make bus services more reliable. They called into question the value of "early bird" discount fares for working adults, given that they were found to be less motivated by saving money.
The study, published in January, found that working adults are more likely to take the MRT because it is seen as offering more reliability of travel time than buses, which may be subject to variable weather or traffic conditions, even if buses are faster, on average, on a particular route. Working adults are also more likely than other users to switch travel modes.
The study, called "Travel Time Uncertainties and Commuter Behaviour: Evidence from Smart Card Data in Singapore", sifted through a huge amount of public transport data.
It examined all ez-link card holders in Singapore in the month of August 2013 — 3.9 million cards, involving a total of 175 million trips. A person's trip time (from tap in until tap out), their general identity (child, student, adult or senior citizen), and transport mode (bus or train) was recorded.
It found that only about one in 10 trips by working adults (10.6 per cent) were by bus, while nearly three in 10 trips by senior citizens (29.4 per cent) were by bus.
Bus travel tends to be slower and less reliable, the study found. On average, across all journeys for the month, bus trips for the same route where rail was available were about nine minutes slower than rail.
The advantage of bus travel lies in its somewhat cheaper cost — the study found that bus fares are S$0.16 lower than rail fares, on average.
"(Adults will) take a train because (they) don't care if it's expensive or cheap," Professor Sumit Agarwal of the NUS Business School, who led the study, told TODAY.
"(They) care about reliability of reaching where (they) have to reach on time … especially when there are work related issues."
Children, with less money than adults. and the elderly, who may be retired and living off their Central Provident Fund monies, are less conscious of time, said Prof Agarwal. They will tend to save money on transport where they can, he added.
He said that children and the elderly "really don't care about time ... they don't have these firm commitments where (they) need to meet somebody at this time or otherwise lose (their) business".
ADULTS PRIORITISE CERTAINTY OVER DURATION
He said adults will tend to choose consistent, reliable travel options over ones that may be potentially faster, but which may also prove to be less reliable.
"For instance, there could be a (destination) where it takes a shorter time to go by bus than by train," explained Prof Agarwal. "But if the reliability of that bus to reach there on time is not there, you'll still take the train …. It's not just the time, it's the accuracy of that time."
He said that adults here have an in-built expectation that public transport should get them to a location punctually. "In Singapore, when people say I'll meet you at eight, that really means at eight … (for example, they know that) it will take 17 minutes (on public transport), and three minutes (to walk) and (they'll) meet that person precisely at that time."
HOW POLICY CAN BE SHAPED
The study concluded that efforts to enhance the reliability of bus travel to reduce uncertainties for adult commuters could encourage some of them to turn to bus travel and thereby alleviate "overloaded" trains during peak hour.
These efforts included the Land Transport Authority's (LTA's) Bus Services Enhancement Programme (BSEP), which was rolled out in 2012 and completed in 2017.
In all, 1,000 new buses were added to the existing fleet, and boosted the capacity of 218 bus services.
LTA has also added more bus lanes in conjunction with BSEP, and since 2007 had introduced the Real-Time Bus Arrival Information System fitted on panels at some bus stops. These efforts further reduce the uncertainty of bus travel time, the report added.
The study also noted that the LTA has also expanded the capacity for rail travel, with plans to "double the rail transit track length by year 2030".
It added that rail operators could also provide "peak-hour express rail services" that stop only at major subway stations to further reduce travel time and reliability.
The study questioned the effectiveness of policies such as "early bird" MRT fares, designed to encourage commuters to travel earlier than the main peak period.
The Free Pre-Peak Travel scheme — which allowed those who reach any of 18 MRT stations in the city area before 7.45am to have free rides — was "limited" in its effectiveness, as adults were less sensitive to the cost of travel, even if it is free, said the study. The scheme ran from 2013 to 2017.
Prof Sumit also said that adult commuters tend to prioritise productivity at the workplace over the cost of travel. "If they know other people are also going early and then they can organise meetings and be more effective, then it's okay. (But) if I just go early and nobody else shows up, then what's the point?"
In response to these findings, the LTA said in an email to TODAY that the scheme's results were "in line" with its aims, which were to "better distribute travel demand on the rail network and optimise overall rail capacity in the mornings".
The scheme resulted in a 7 per cent shift in rail trips out of the morning peak period, said LTA.
Building off the success of the scheme, LTA said that the Public Transport Council in 2017 introduced lower morning pre-peak fares, allowing commuters a 50 cent discount for tap-ins at all stations across the entire rail network before 7.45am.
This currently benefits about 336,000 commuters daily, a 12 per cent jump from the number who benefitted before it was introduced.
"(LTA) will continue to monitor the effectiveness of the scheme, taking into account rail network enhancements and commuter's travel patterns, and make adjustments if necessary."