Man, 41, won't give up 11-year-old child bride, says he's merely trying to provide for her
GUA MUSANG (Kelantan) — A 41-year-old man in Malaysia's state of Kelantan who married an 11-year-old girl has insisted he would not give up his child bride, despite widespread condemnation.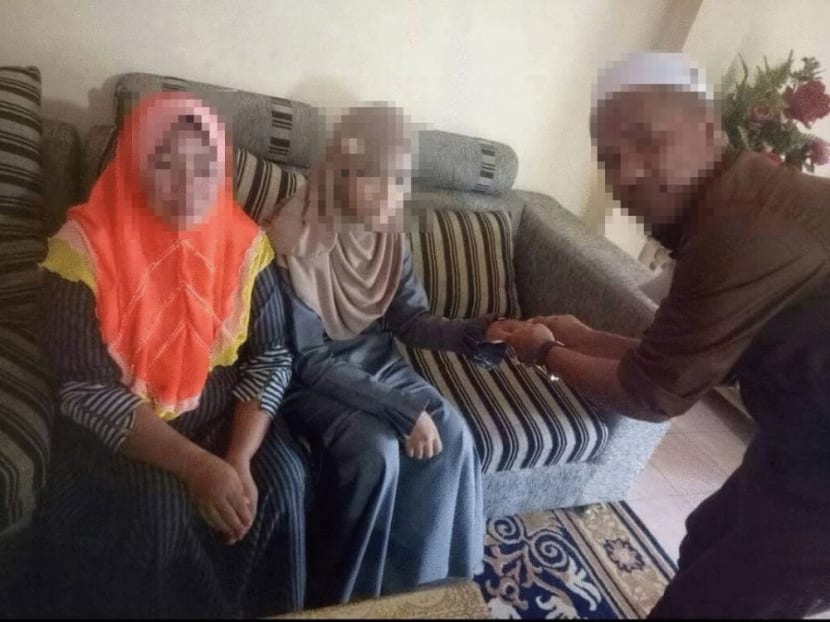 GUA MUSANG (Kelantan) — A 41-year-old man in Malaysia's state of Kelantan who married an 11-year-old girl has insisted he would not give up his child bride, despite widespread condemnation.
National newswire Bernama reported Mr Che Abdul Karim Che Abdul Hamid as saying that his marriage to the Thai minor, who is his third wife, was done in a lawful manner and fully consented to by the girl's parents.
"Although many people are against this marriage, I will not succumb to the pressure and let Ayu go," he said.
"Our marriage is permissible in Islam, even though it is against the law," said Mr Che Abdul Karim when commenting on his marriage to the girl.
"I feel disappointed when I get various assumptions and allegations against me in social media about my marriage to my third wife.
"I am considering taking legal action to cover up the shame caused by the extreme and inaccurate slander," he told Bernama at his home in Gua Musang, Kelantan.
Mr Che Abdul Karim also clarified that the girl's parents were present during their wedding ceremony at Sungai Golok, south Thailand, on June 18.
He also said he had promised to get the girl's certificate of marriage in another five years' time when she reaches 16 years of age before they live together.
Mr Che Abdul Karim said he was aware that his 11-year-old wife did not go to school and has agreed to live with him when she turns 16.
He said he was merely trying to provide for her and her family, adding that their marriage was officiated on paper but had yet to be consummated.
"I had undergone 'nikah gantung' with my third wife. She is still under the care of her parents and I'll take her when she comes of age," he told Astro Awani.
'Nikah gantung' is a term to describe a valid type of Muslim marriage, an official engagement until an agreed-upon time. While the couple can be seen in public and recognised as husband and wife, they cannot engage in sexual activity.
The man said he married the young girl, a Thai national, in Thailand to keep it a secret from his first two wives as he did not want them to "misunderstand".
"I've known my third wife for a long time and I kept my marriage a secret to avoid a misunderstanding in my two other wives," he said.
"The mother to my third wife is a worker at the shop of my first wife. Her daughter was friends with my daughter and studied under me. I taught her, too," the man told Astro Awani.
"I wanted to take care of her, as she is poor, to help and provide for her family, so I made the decision.
"The intention to make her my wife comes from the heart. I made this decision, so that each of us – her family and I – can take care of her."
Both the 11-year-old girl, identified as Ayu, and her parents claim the marriage is consensual.
Since being married to Ayu, he said he had yet to meet his second wife, Siti Nor Azila Zulkifle, 34. This, he said, was to give her space as she was still upset.
"I don't want anything untoward to happen if I meet her now," he added.
However, children's rights activists have demanded that the government step in to investigate the marriage, and to review existing marriage laws to better protect children.
The Child Rights CSO Group (CSCG) called the marriage "totally unacceptable", as it was prejudicial to the rights of the child.
"Child marriage is totally unacceptable anywhere in the world. No exceptions. It is not in the best interests of a child whose rights to health, education, and protection are likely to be jeopardised, as the child's focus shifts from completing school to domestic duties and parenthood," the group said in a statement yesterday.
"We ask that the government take immediate action to ban child marriage by setting the legal minimum age for marriage at 18 and to fulfil what was promised in the Pakatan Harapan manifesto on this issue," it said.
"CSCG is ready and willing to work with the government to address and improve the issue of child rights and protection in Malaysia. Together we can do much more for our children, the future generation, and leaders of our nation." AGENCIES