#trending: Mum's account of how craft kit glue 'exploded' on child's face and bonded her eyes shut for hours draws sympathy, outrage
A mother living in California in the United States bought an advent calendar from Amazon, which consisted of different parts to be assembled into a unicorn night light. One of the items, an unlabelled bottle of glue, "exploded" in her daughter's face.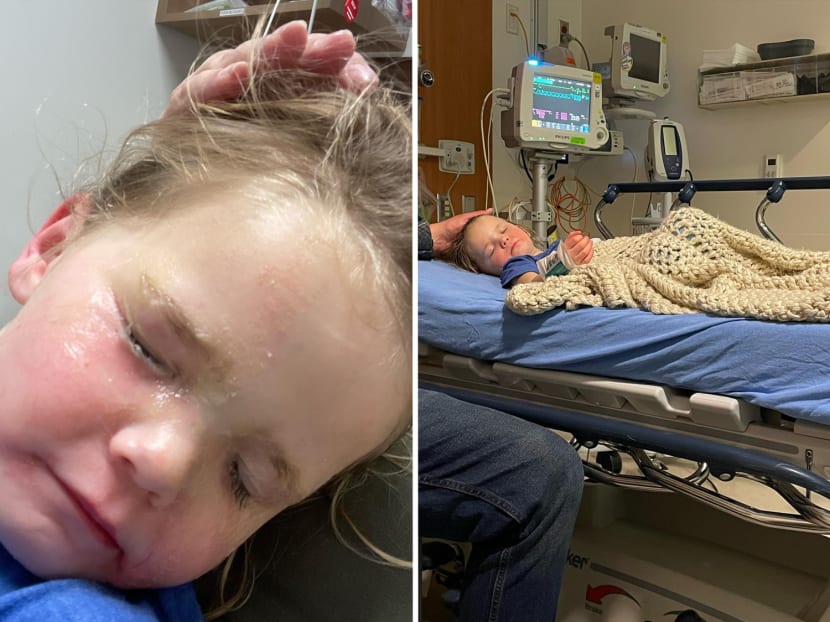 A woman in the US recounted on social media how a glue in a DIY craft kit "exploded" in her child's face, causing her eyelids to stick together
Medical practitioners of a regional medical centre in California apparently took six hours to open her eyelids but to no avail
The girl was then moved to a children's hospital where they had to sedate her before starting treatment
An Amazon listing that appears to advertise the original item features a number of negative reviews, critiquing the "dangerous" glue
Horrified parents thanked the woman for sharing the experience, with many calling for the product to be recalled 
CALIFORNIA, USA — Wanting to do a fun Christmas countdown with her three-year-old daughter, one mother living in La Habra Heights, California bought an advent calendar from Amazon, which consisted of different parts that were eventually meant to be assembled into a unicorn night light.
However, things went awry when one of the items, an unlabelled bottle of glue, "exploded" in her daughter's face end of last year on Dec 26.
In a TikTok video posted three days after the incident, Ms Jeanice Jeanguenat said that she and her daughter Charlotte first unwrapped the bottle of glue on Dec 23, but had put it aside with the other advent calendar items on a shelf so that they "could put it (the DIY night light) together another day".
Referring to a well-known brand of non-toxic, child-friendly glue, Ms Jeanguenat explained: "I assumed it was like an Elmer's glue or at the very least had a child lock on it (the bottle).
"I didn't really think anything of it," she wrote in a separate Facebook post.
However, that quickly changed when Charlotte grabbed the bottle of glue and squeezed it, causing it to "explode all over her face, hands, eyes and cheeks". 
Ms Jeanguenat immediately began to flush Charlotte's eyes with water and baby soap, but that did not help. Her son called the police. 
"Her face was bright red and her eyelids were not budging," she wrote. "The glue sealed both her eyes shut and irritated her skin."
The child was then taken by ambulance to the Corona Regional Medical Center, where medical workers apparently tried for six hours to get her eyes to open.
Finally, they transferred her to the Children's Health of Orange County Hospital, where it was decided that the best course of action would be to sedate her and "basically rip her eyelids back open", the mother said.
In Ms Jeanguenat's TikTok video, Charlotte is shown crying with her eyes glued shut as the caption reads: "Her eyelashes were folded inward and glued to her eyeball."
The traumatised mother said that the scariest part though, was that the bottle was not labelled and there was no way to know what the active ingredients were or whether they would be harmful for a child.
During the emergency, the family tried to contact the original seller to find out what ingredients were in the glue, but got no response. They were also unable to get an emergency contact from Amazon.
Instead, Ms Jeanguenat said: "All (Amazon) did was instantly refund the product, which wasn't asked for."
She added: "I just want to share our story so that others who get craft kits that say they are geared towards kids are aware of the dangers.
"Amazon needs to have emergency contacts for their sellers, in my opinion."
In a TikTok update last month, Ms Jeanguenat said that Charlotte had made a full recovery.
The original TikTok video went viral with 10.9 million views and 6,700 comments, with many viewers empathising with Ms Jeanguenat and sharing her outrage, calling for the product to be recalled.
A top comment read: "Is that even legal to sell without (an) ingredients list?"
Another remarked: "If it dried almost immediately, it has to be some sort of super glue, unfortunately."
Several TikTok users felt that Ms Jeanguenat was partly to blame and should have "put the glue somewhere safer" or kept a closer watch on Charlotte.
In her TikTok video, she had been unloading groceries near the advent calendar items when Charlotte grabbed the bottle.
Fellow parents argued that it was an unexpected situation she could not have prepared for, with some sharing their own similar experiences.
One commented: "This is the exact same advent calendar my daughter had. I had the glue explode all over my hands when I tried to open it."
Many others were thankful for the sharing because they had also bought similar DIY kits from Amazon for their children.
The original Amazon listing by "Summer Fan Store" appears to have since been removed. However, another listing by "Summer Fan Shop" that seems to advertise the original item is still available on the platform.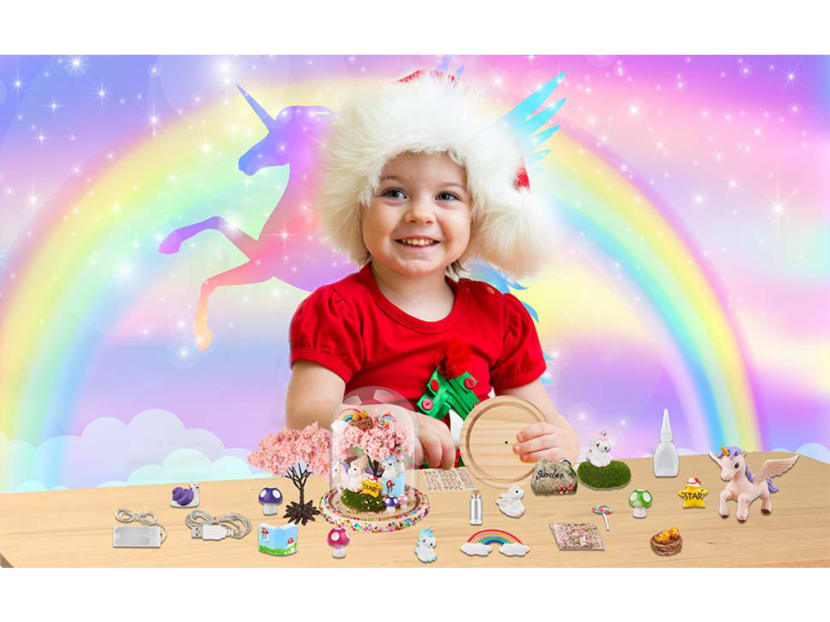 Under the product description on Amazon, a check by TODAY found that the brand is stated as "Outerfan". On Amazon and other e-commerce sites such as eBay, Outerfan retails mainly a variety of portable and ceiling fans.
The current listing on Amazon also features a number of negative reviews in which buyers talked about the "dangerous" glue.
A one-star review, posted before Ms Jeanguenat's incident, read: "The glue provided in this item was dangerous. Won't come off hands, or clothes, or surface we were working on. Had to throw the entire project out. Glue burned our hands and still remains on skin despite frequent scrubbing. Very disappointed!"
Another buyer warned: "The glue looks like water, but it is so much stronger than superglue. Do not let your kids near it. I ended up using a hot glue gun instead of the glue."
Though the images in the listing show an overview of the advent calendar items, including a clear plastic bottle with an applicator tip that presumably contains the glue, there is no mention of any glue or adhesive in the description.
In a TikTok comment, Ms Jeanguenat said: "The box was a generic Christmas box... It had no information on it.
"And as a matter of fact, the included items did not state glue as one of them. I only went back and found these (pictures of glue) after the fact."
The kit is advertised on the platform as being suitable for children aged four and above.