Carbon dating confirms 'Penang Woman' is 5,710 years old
GEORGE TOWN — The human skeleton excavated at Guar Kepah in the north of Seberang Perai in Penang, and dubbed "Penang Woman", is 5,710 years old based on radiocarbon dating, archaeologist Professor Mokhtar Saidin said.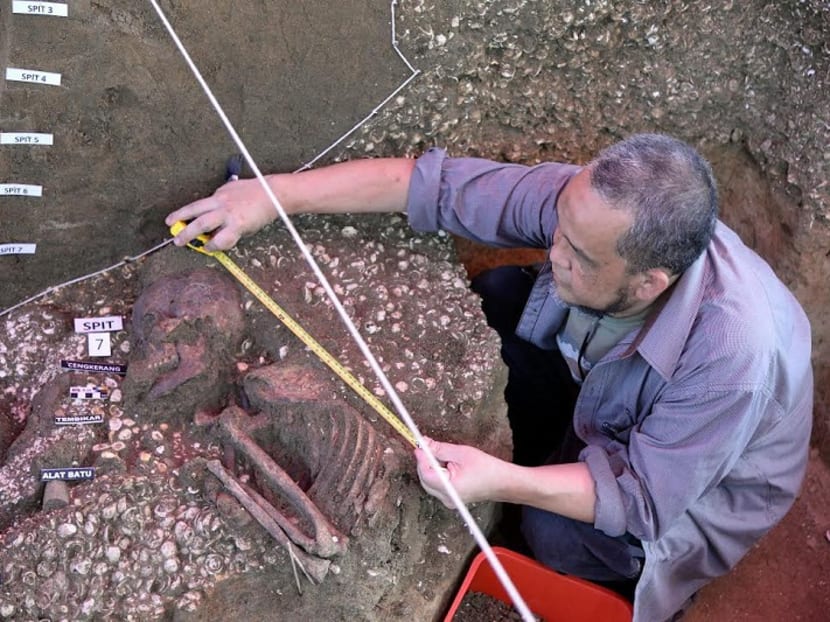 GEORGE TOWN — The human skeleton excavated at Guar Kepah in the north of Seberang Perai in Penang, and dubbed "Penang Woman", is 5,710 years old based on radiocarbon dating, archaeologist Professor Mokhtar Saidin said.
The Universiti Sains Malaysia Centre for Global Archaeological Research (CGAR) director said they received the results from Florida, the US last week.
"The radiocarbon dating confirmed the skeleton is about 5,710 years plus or minus 30 years Before Present, BP," he told Malay Mail Online in an interview on Thursday (May 11).
BP is a time scale in years used mainly in geology and other scientific disciplines to specify when events occurred in the past.
Mokhtar said they still need to conduct more testing on the skeleton to confirm more details, including its gender, though initial observations indicate it is a woman's.
The skeleton, which was found on April 17 at the Guar Kepah Archaeological Gallery site in Seberang Perai near Penaga and Kepala Batas, has been taken to CGAR to preserve it.
"After removing it from the ground, together with the soil, we have to first concentrate on conserving it so that it doesn't disintegrate," Prof Mokhtar said.
Conserving and letting the skeleton acclimatise to its new surroundings and temperature is a tedious task.
"I must brush it every morning, carefully clean it and slowly let it get used to the new temperature," he related.
He said the skeleton must be fully preserved so that it can last for future generations to see it in the planned Guar Kepah Archaeological Gallery.
Once the skeleton has stabilised and acclimatised to the new temperatures and level of humidity, more testing will be done.
"We will be doing more analysis on the skeleton to get the DNA profile, to confirm the gender, the age and the cause of death," Prof Mokhtar said.
Samples of the skeleton will be sent to a geo-genetic laboratory in Denmark for DNA testing.
"This will take about six months before we get results of the DNA testing," he said.
The scientific analysis of the skeleton's gender, age and cause of death will take between three to six months to complete.
"We have collaborations with laboratories all over the world so we will be sending samples to these laboratories for these analyses," said Prof Mokhtar.
The skeleton was found at about 70cm under the land surface due to digging works by a backhoe for the construction of the Guar Kepah Archaeological Gallery.
The construction works have been suspended to allow Mokhtar and his team to continue excavation works on the site.
The skeleton is the first and only remaining Neolithic skeleton found in a shell midden in Malaysia.
A total of 41 skeletons from three shell middens labelled A, B and C in Guar Kepah were excavated by British archaeologists between 1851 and 1934 and those skeletons are now in the National Natuurhistorisch Museum in Leiden, the Netherlands.
Shell middens refer to mounds of kitchen debris consisting mostly of shells and other food remnants. It is indicative of ancient human settlement and were sometimes used as burial sites.
The Penang Woman was discovered almost fully intact though her legs were partially destroyed by the backhoe's digging works. She was found in shell midden C.
Her arms were folded and she was surrounded by pottery, stone tools and several different types of shells.
Prof Mokhtar had said the number of pottery and variety of shells around her was indicative of her somewhat important position in the society then.
"At that time, they were already able to make pottery, plates and bowls, using temperatures of 600 degrees Celsius and we can see evidence of this in the pottery shards we found surrounding the skeleton," he said.
Since it was the Neolithic period, when people were mostly hunter-gatherers, and iron was not discovered yet, stone tools were the main implements used to kill animals and cut meat.
There were considered valuable items at that time so to bury it a deceased showed the important status of the deceased, he explained.
EXCAVATION WORKS TO CONTINUE
Prof Mokhtar's team is still excavating the Guar Kepah site and have made more discoveries.
"In the latest discovery, we found the base of the shell midden, it was really surprising, we thought all was gone already," he said.
The original shell midden was a mound of about 17 metre high but all of it was removed by the British archaeologists so Mokhtar did not expect to make this discovery.
"The 17m shell midden was gone so when we open up this part, we found the base of about one metre, there were so many different types of shells and pottery inside," he said.
"These are beautiful pottery, just imagine the technology of that period, even without any other equipment except for stone tools, no formal education or training, yet they can make these," he added.
His team was excavating a spot very near the Penang Woman's spot when they found the shell midden base.
"I think it will take us another three weeks to finish excavation works on this site," he said.
Prof Mokhtar had previously expressed hope of finding another skeleton at the spot and his team are carefully sifting through the site to ensure nothing was missed.
The USM archaeology team had proposed the setting up of a gallery back in 2010 to preserve the pre-historic findings at the site.
The state government allocated RM800,000 (S$259,135) to build the gallery but now, with the discovery of the skeleton, costs would have climbed to about RM3 million to build an air-conditioned gallery.
"Previously, it was an open-air gallery but now, we have the only Neolithic skeleton in Malaysia, this is an important discovery not only in Malaysia but in the world, so the gallery has to be of world-class standard," Prof Mokhtar said.
The design of the gallery has to be changed to be covered and air-conditioned to preserve the skeleton as it needed to be kept in a constant and cool temperature.
Visitors will be able to see a replica of what the Penang Woman would have looked like when she was alive.
"With technology and software, we will be able to reconstruct what she looked like and create a replica of her exact likeness and size to stand right at the entrance of the gallery to greet visitors," he said.
Construction works on the gallery will not start until excavation works complete. MALAY MAIL ONLINE