Mega projects off Johor hit fishermen livelihood
JOHOR BARU — Mr Firdaus Abdul Rahim drove his boat slowly back to Jetty Pak Ngah in Kampung Pendas, Johor, heaving a sigh of relief that his catch for the day was good.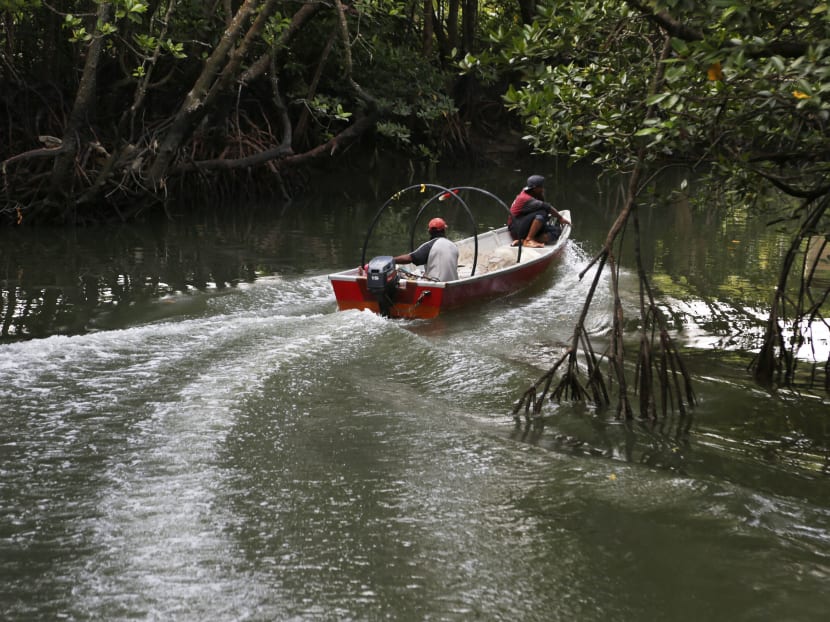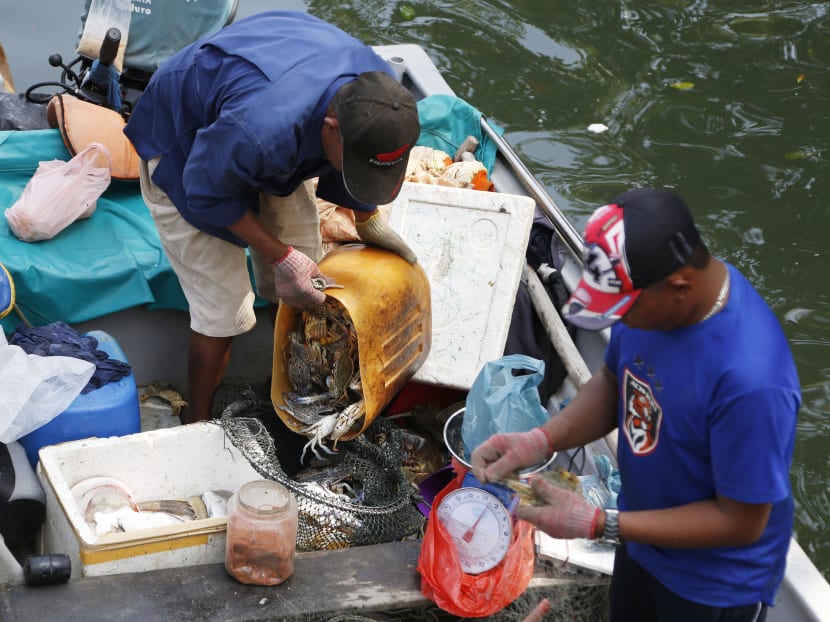 JOHOR BARU — Mr Firdaus Abdul Rahim drove his boat slowly back to Jetty Pak Ngah in Kampung Pendas, Johor, heaving a sigh of relief that his catch for the day was good.
He has been out at sea since 4am and managed to net some 4kg worth of fishes and crabs — a good haul considering that his catch has been affected for the past few years by the numerous real estate projects surrounding the village along Sungai Pendas.
"I am lucky today. Five years ago, the average catch for the day is around 10kg. Now, we are lucky to be able to get 5kg," the tanned rotund 35-year-old said when TODAY visited the idyllic village, located about 30km from Johor Baru.
"As a result, our income has dropped from an average of RM3,000 (S$951) a month to RM1,500."
Fishermen like Mr Firdaus used to fish solely on Sungai Pendas, which spills out into the Johor Strait.
The river is a lifeline to the local community, that includes some 250 licensed fishermen in the Tanjung Kupang sub district in Gelang Patah.
Kampung Pendas is among the nine villages in Tanjung Kupang where most of the inhabitants make a living catching catfish, snapper, groupers, flower crabs, flat head lobsters and barracudas, but their way of life is increasingly threatened by dwindling fishery stocks as a result of a slew of development around the area.
Besides the mega US$100 million (S$135 million) Forest City housing development, there are also other ongoing projects, including the expansion of the Port of Tanjung Pelepas and Tuas Port.
Adding to the locals' concern is the ongoing construction at the mixed township of Sunway Iskandar at Iskandar Malaysia, currently taking place further inland but is expected to expand outwards towards Sungai Pendas in the near future.
Many have been quick to blame Forest City's developer Country Garden Pacific View as the culprit following land reclamation work for the development that will sit on four man-made islands off Johor.
As a result of the ongoing projects, there have been reports of habitat damage as well as increased sedimentation in the waters, leading to extraordinary blooms of green algae that smothered the already-stressed seagrass areas — feeding grounds for various marine life.
This has resulted in less fishery stocks, forcing many fishermen to go further out to sea — including to Johor Strait and the Strait of Malacca — to try their luck.
Middleman Shalan Jum'at, who grew up in Kampung Pendas, buys the catch from fishermen like Mr Firdaus to sell it to customers who come to his wooden dwelling perched right next to Jetty Pak Ngah.
He is a familiar face in the village, as his family has been there for three generations. Mr Shalan pays fishermen RM4 to RM8 per kg more than other middlemen in the area for their catch — in cash — making him one of the more popular middlemen.
"Previously, I can get up to 60kg worth of catch a day from the fishermen, but now it is only about 10kg. Some fishermen even come back with hardly anything," he said as he deals with demands from clients who come to him to buy fresh fish and other marine animals for their restaurant businesses and own consumption.
About 100m away from Mr Shalan's shack sat a group of men in a shaded area, catching up with one another while smoking their cigarettes.
Mr Ridhwan Yazid who was resting with his friends after an early morning start at sea said he has to take an hour's journey to the Strait of Malacca nowadays because of dwindling supplies, as a result of development in the area.
"Life is harder now," he said as he sipped his teh tarik. "I have taken a second job fixing boats to make ends meet."
The job is not permanent and, as a result, the income is not fixed.
Still, the 23-year-old is luckier than his peers. His wife is a teacher and they can still depend on her salary to cover their cost of living.
Further inland, a boat chugging into Sungai Pendas carries Mr Mohd Sharil Shafiee and two of his friends with their catch of the day — fish and crabs — still clinging onto their net.
They have just returned from the Strait of Malacca, where they have strung up a 2km-long net the night before. Mr Mohd Sharil refused to reveal how much they managed to get that day, simply saying the catch was "modest".
He also took a part-time job to repair motorcycles as he can no longer depend solely on his income as a fisherman to support his family of three, which includes his wife and 18-month-old daughter.
"What else can I do but work doubly hard nowadays for my family," he said with a shrug.
Travelling farther out to sea has its dangers, too.
Sometimes the fishermen inadvertently venture into Singapore waters or where the Tuas Mega Port is being built, which would result in the Republic's coast guard chasing them away.
There is also the danger of encountering smuggling boats in the middle of the night, said the fishermen. What these boats do if they are being chased by marine police is that they will ram the fishing boat so that the marine police will go to help them — then the smugglers will get away.
Besides affecting the livelihood of the fishermen, the developments have also affected their living environment. Heavy vehicles passed by the two-lane road leading to the Kampung Pendas, while modest single-storey, semi-concrete and wooden houses along the route have to put up with noise and dust pollution.
Many residents have complained that their houses are full of dust even with the windows and doors shut. They could not hang their freshly laundered clothes outside to dry, as doing so would mean ending up with clothes covered in a layer of dust.
Administrative officer Muhamad Sofi Juhari, whose mother runs a nasi lemak stall in front of their house, said: "There was is a thick layer of dust on the tables every day, which my mum needs to wipe a few times a day."
"The food has to be constantly covered to ensure that it is dust free," he said, although he conceded that it is less dusty now as the lorries do not ply the road as much as before.
He said villagers on motorbikes and bicycles have complained about sore throats and irritated eyes due to dust inhalation and particles in their eyes as they traverse the road.
In response to the local community's concerns, Country Garden's international communications director Wong Chia Peck told TODAY that the company has been taking proactive measures to minimise the impact of the Forest City project on the environment and surrounding waters.
This includes appointing one of Malaysia's top sea grass research teams from University Putra Malaysia (UPM) to replant the seagrass affected by its reclamation work and monitoring the health of flora and fauna in the surrounding areas.
It has also appointed a local environment consultant to perform a quarterly shoreline monitoring to assess any occurrence of sedimentation and erosion.
"We've engaged consultants to set up an Environmental Management Unit, comprising environmental professionals, that is on-site throughout the duration of the project. It is responsible for the daily, weekly and monthly environmental monitoring, in coordination with independent environmental laboratories to ensure that water quality is not compromised during reclamation," she said.
"Full-spectrum analysis of water quality is carried out on a monthly basis within a laboratory environment. It is complemented by daily real-time and continuous monitoring through the Online Monitoring Systems (OMS), where devices are placed at strategic locations to capture water quality and the results are transmitted real-time, via the Internet, to the Department of Environment and other key stakeholders."
She said the company has heard the locals' feedback regarding noise and dust, and pointed out that traffic caused by lorries its contractors operate has reduced by almost 90 per cent.
This is because a 5.8km highway connecting the Port of Tanjung Pelepas (PTP) Highway directly to Forest City has been operational in stages since last October, reducing the need to drive through the village.
"As part of our ongoing CSR (corporate social responsibility) efforts, we have also spent RM2.7 million on village road maintenance and repairs, even though we are not the only company with lorries using these roads," she added.
Meanwhile, Sunway Iskandar management said, while it has not started any development at the Pendas waterfront, it has, however, taken several measures such as conducting detailed Environmental Impact Assessment (EIA) and Social Impact Assessment (SIA) to ensure the impact of its project is minimised.
"To the best of our knowledge, we have taken every step to ensure minimal disruption to the environment especially the waters, within set guidelines," the management said in a statement to TODAY.
Responding to TODAY's queries, a spokesperson from the Maritime and Port Authority of Singapore (MPA) said it is "unlikely that the developments in Tuas have affected the livelihoods of fishermen in Johor".
"In developing our new port in Tuas, we have undertaken Environmental Impact Assessments to ensure minimal impact on the environment. In addition, the Tuas Port development works are carried out under the close monitoring of a stringent Environmental Monitoring and Management Programme, which includes setting spill limits for dredging and reclamation filling works and water-quality monitoring," said the spokesperson.
"MPA has worked in partnership with marine experts and public volunteers to conserve and relocate local coral colonies around the Sultan Shoal Lighthouse during the development of the new Tuas Port. MPA will continue to ensure that Tuas Port has minimal impact on the environment."
On how Singapore responds to Johor fishermen who stray into the area, the spokesperson noted that the developments are located within the Singapore port limits.
"The waters around the project area are well-defined and marked as a working area. Port marine notices are regularly issued to inform the shipping, harbour and pleasure craft communities to keep clear of the area for their safety. Entry of other vessels other than the approved working craft is strictly prohibited within these project areas," the MPA spokesperson added.
As of press time, there was no response from Malaysia's Ministry of Transport. The Port of Tanjung Pelepas comes under its jurisdiction.