Mobile clinic a blessing for villages in rural Malaysia
KOTA KINABALU (SABAH) — An air of serenity envelopes the village of Lirung. Here, nestled between forests and hills, children can be seen swimming and playing in a gorgeous river, their screams of joy heard from a long way off.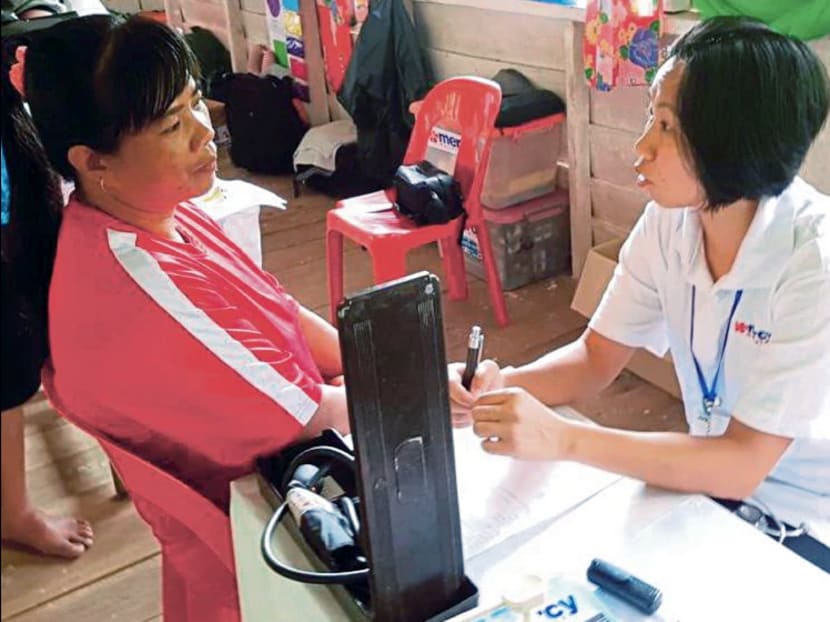 KOTA KINABALU (SABAH) — An air of serenity envelopes the village of Lirung. Here, nestled between forests and hills, children can be seen swimming and playing in a gorgeous river, their screams of joy heard from a long way off.
Life here, however, is not as carefree as it may seem.
Located 270km from Kota Kinabalu in a remote district that edges the Indonesian border, Kampung Lirung is well and truly isolated from society.
Left to their own devices, the villagers are at the mercy of diseases and health problems.
"In case of medical emergencies, we need to drive through muddy, uneven roads to the nearest clinic in Nabawan, which takes three to four hours," said village head Ajil Urin, referring to the nearest town.
He said the journey, which also included a boat ride, was so long and uncomfortable, that patients sometimes died along the way.
"Last year, two people from neighbouring villages didn't make it... They died from their illness as they were being transported," he said, heaving a heavy sigh as he revealed the grim reality faced by those living in rural areas.
On a recent Friday night, the same children who made the river their playground flocked to the other side of the bank, attracted and excited by the deafening roar of four-wheel-drive engines.
It signalled the arrival of non-governmental organisation Medical Relief Society Malaysia (Mercy), a team of medical professionals and volunteers who had made it their mission to help the less fortunate communities of the world.
Joined by volunteers from conglomerate UMW Malaysia as well as a media entourage, the convoy had made the gruelling eight-hour trip from the state capital of Kota Kinabalu, with at least three hours of tumbling around muddy roads.
Things had taken a turn for the worst when monsoon rain pelted the district that evening, forcing the convoy's vehicles to brave low visibility and wet conditions.
The last stretch of road to the village proved inhospitable, with rain having made deep muddy holes along the route. Fortunately, Lirung's villagers had prepared motorboats to ferry the convoy over.
Here, even the children help out in any way they can. They sat at the helm of the boats, shining flashlights ahead to guide the ferrymen and their passengers to the village.
Such long and challenging trips, according to Mercy Sabah convoy leader David Wong, were routine for his organisation, which regularly participated in welfare missions to remote areas.
"For most rural communities, the primary challenge has always been accessibility — the lack of proper or well-maintained roads."
Mercy, however, was single-minded in its goal. As soon as they set foot in the village, fatigue became a secondary issue as they set up a mobile clinic in a village hall.
By Saturday morning, scores of villagers had lined up to engage the clinic's services. They were joined by people from nearby villages, such as Kampung Sikalaban, Kampung Murik, Kampung Sumabi and Kampung Siwalor.
These villagers had either walked a fair distance or travelled by boat to get to the clinic.
Medical services are so rare and valuable, here, that many were willing to make the journey.
Aside from standard health screenings and tests, the villagers were treated to Pap smears, dental aid, health talks and general healthcare services.
Mercy's healthcare professionals, which comprised four doctors, a dentist, and nurses and pharmacists, worked tirelessly.
It is a feat made even more impressive by the fact that they were government workers. They had volunteered to spend their vacation time helping these villagers.
As the day passed, many of the camera-shy locals began to warm up to their visitors, even offering an insight into their lives deep in the jungles.
One villager, who declined to be named, said even though there was a clinic nearby, its equipment and medicine were too basic to deal with anything more than simple illnesses. So, having a mobile clinic right at their doorstep was a blessing.
"If we had good roads that would help with most of our problems."
While the government is slowly making in-roads to help rural folks, Kampung Lirung and many other communities are still facing a lack of basic development, including poor accessibility, little to no electricity and bad mobile network reception.
In light of this, organisations, such as Mercy, have taken it upon themselves to take aid to these communities, with companies like UMW Malaysia spearheading these efforts with their sponsoring and joint CSR work.
"It is important that we do what we can to help others," said UMW group corporate communications general manager Badrul Rahman, adding that UMW and Mercy had worked together since 2009 and would continue to do so as long as there were communities in need of dire aid. NEW STRAITS TIMES