#trending: Aussie explains why she converted to eating rice with spoon instead of fork
KUALA LUMPUR, MALAYSIA — An Australian TikToker, who lives in Malaysia, surprised many when she said that Australians usually eat rice with a fork and find it unusual to eat it with a spoon.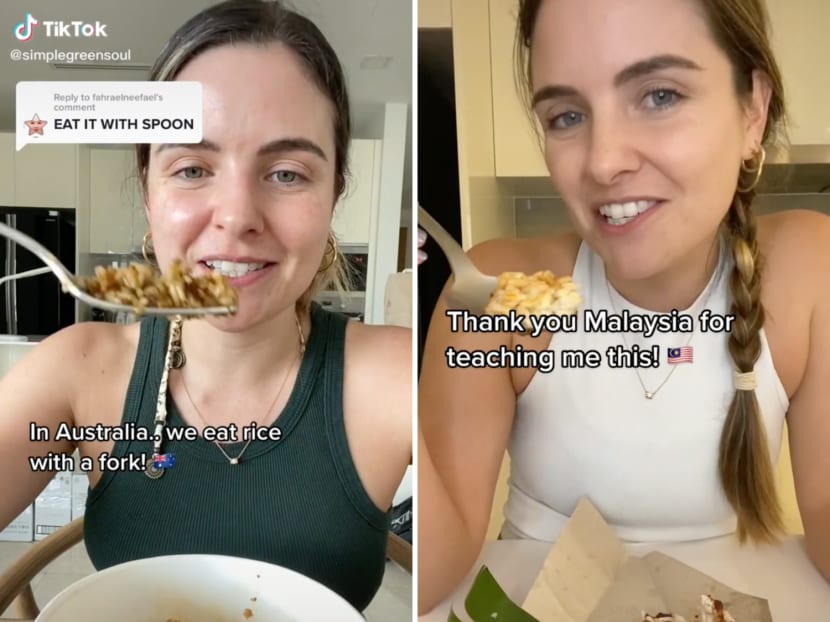 KUALA LUMPUR, MALAYSIA — An Australian TikToker known as Georgia, who lives in Kuala Lumpur, surprised many when she said in a video posted last Saturday (July 2) that people back in her home country usually eat rice with a fork.
"If you were to eat it with a spoon, we would think that you're really weird," Georgia says in the video as she scoops up a forkful of rice.
However, after moving five years ago — first to Singapore, then to Malaysia — she now proudly declares that she has "definitely converted to using a spoon".
She even begins to question her past methods, observing: "All the bits of rice fall through (the fork)... (the spoon) makes so much more sense."
The video has been viewed more than 104,200 times since last Saturday. It was first posted in response to a TikTok comment on a previous food video of hers, which advised her to: "EAT IT (rice) WITH SPOON".
Georgia's video on her countrymen using forks to eat rice ignited a light-hearted discussion on the various ways that people across the world consume the staple food.
One Malaysian viewer noted: "Sometimes, we pair rice with lots of gravy/sauce... so (we) definitely have to eat (it) with a spoon."
"So do we!!" Georgia replied. "We still use a fork though with our gravy."
Referring to a popular online meme on how situations are normally the other way round Down Under, the top comment quipped: "Australia is really upside-down."
Despite Georgia's comments, eating rice with a spoon has become a fairly common sight in Australia in recent years, especially in suburban areas in major cities that have become home to large numbers of immigrants from Southeast Asia.
Other comments responding to Georgia's video mentioned that they have also witnessed people eating rice with a fork in the United States, the United Kingdom, and several European countries.
Georgia, who is a vegan lifestyle TikToker, remarked that in Australia, "no one really uses a spoon, lah".
"You get a knife and fork for everything except soup and ice cream," she said.
One viewer had a serious question for the former fork user: "How do you finish the remaining few bits of rice with (a) fork?"
To this, she explained: "You would lay the fork flat on the plate and use the knife to scrape the remaining rice into it.
"Keep repeating until it's all gone!"
Another comment joked: "If I was on a diet, I'd eat with a fork because it takes longer to finish a serving and I'd be full before finishing the bowl."
Some people then encouraged her to try using chopsticks or her bare hands instead, as is also common in Malaysia, Singapore and many other countries.
In a follow-up video published on Wednesday, Georgia took up the challenge with a fresh serving of "Malaysia's national dish" nasi lemak, wrapped in brown paper and banana leaf.
Her verdict? "Anyone who eats rice with chopsticks is clearly a magician."
Eating with her hands was certainly more successful — "but so messy", she wrote in the video.
"I must agree, it does taste better," she remarked in wonder, referencing comments left on her previous video. "I don't know why. How does that work?"
Malaysian TikTok users have again congregated in the comments of this video to offer their input: For nasi putih (white rice) use your hand, for nasi goreng (fried rice), use a spoon.
One even corrected Georgia's technique of eating with hands: "Use your thumb to push (it) into your mouth."
Another jumped in: "The back of your thumb to be exact."
Some well-meaning viewers encouraged her to try using chopsticks again "with rice that is a bit sticky or cooked with extra water" or it does not work otherwise.
Georgia concluded that she has decided to stick with the spoon for now, but is keen to "try a whole banana leaf with (her) hands" next.
In March this year, social media users were similarly tickled by a TikTok video posted by "British etiquette expert" Lucy Challenger, in which she set out to educate viewers on how to eat rice in "formal Western dining".
Holding a fork in her right hand with the convex side up, she uses a knife in her left hand to demonstrate "pushing the rice onto the top of the fork".
Though the video was taken down after a backlash, it has since been reposted online. One repost on Facebook is captioned: "Thank God I was born in Southeast Asia..."
Lucy Challenger's video also made its rounds here in Singapore, with stand-up comedian Fakkah Fuzz posting a video response on Twitter.
Mimicking the original video, he says: "See, in (a) Malay formal setting, it's a bit different when we eat rice with knife and fork.
"First, we put the fork down...
"And we take the knife and stab ourselves in the neck before we eat rice like that."
He then proceeds to enjoy his meal with his hands.
His parody video, posted on March 22, garnered more than 49,500 views and 1,000 retweets on Twitter.
Whatever your preference, Georgia reminds us, "it really is just what you're used to!"