#trending: 'Birthing makeup' trend sees mums-to-be going 'full glam' for delivery but some call it superficial, embarrassing
A growing number of women are choosing to give birth with a full face of makeup on, sparking discussion on whether it is appropriate to do so.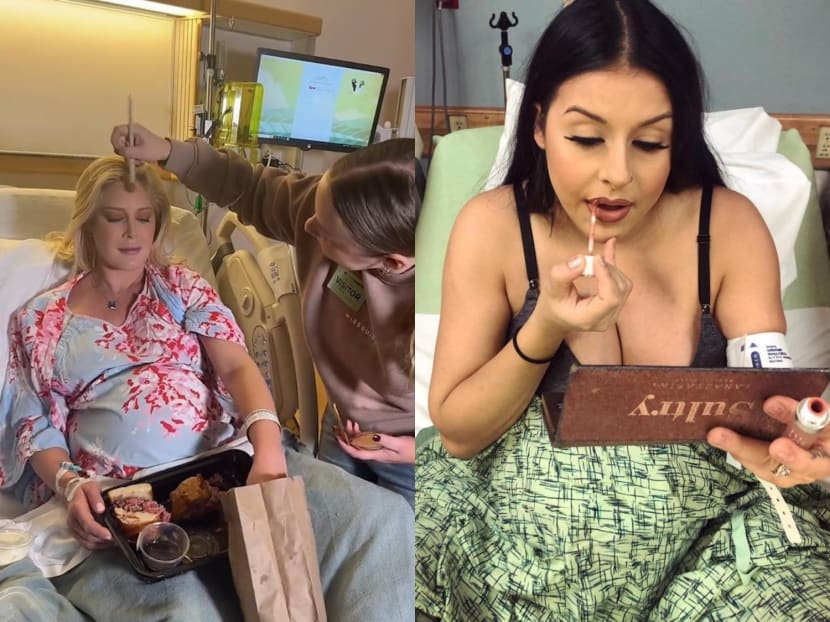 A growing number of women are choosing to give birth with a full face of makeup on
This birthing makeup trend has sparked a heated discussion as to whether the practice is appropriate or "too much"
While some mums-to-be did it to look good for their newborns, others said doing their makeup helped to keep their mind off the labour pains
Many people claim that the trend is "superficial" and "dystopian"
It has also raised concerns over unrealistic beauty standards
SINGAPORE — A growing number of mums-to-be are choosing to greet their new bubs with a full face of makeup on, sparking a heated discussion among online users as to whether the practice is appropriate or just "too much".
A search for terms such as "birthing makeup", "birthing glam" and "labour makeup" on TikTok produces scores of videos showing women dolling themselves up on their hospital beds while waiting for their babies to be born.
And it's not just a dash of blush or some lip gloss. Many of these women are putting on what is referred to as a "full glam", complete with contouring, highlighter and perfectly-placed false eyelashes.
An American media personality named Heidi Montag recently took it a step further by hiring a professional makeup artist to help her look her best for the birth of her son in November last year.
Her viral TikTok video, which chalked up over 6.9 million views, shows the 36-year-old comfortably eating on the hospital bed while waiting to go into labour.
She is surrounded by her makeup artist who does the final touches on her fully made-up face, a photographer, as well as her husband who seems to be live-streaming the whole experience.
Ms Montag's video attracted more than 8,000 comments, with TikTok users sharing divided opinions.
Many people slammed Ms Montag for being "superficial" and called the situation "embarrassing", "dystopian" and "too much".
"Me as a nurse walking into this and just turning around and walking out," read one top comment which received more than 15,600 likes.
However, a fellow healthcare worker argued: "As a nurse, if I walked into this I'd be so happy my patient was calm, relaxed and in good spirits!"
Others defended Ms Montag's choice to pamper herself before childbirth.
One supportive user said: "She's about to push a whole human out. If she wanted rose petals all over the floor, she should get it."
Another wrote: "Love this. I looked like the girl from The Exorcist, green puke included."
Some women jumping on the birthing makeup trend are not just powdering their faces before or after delivery, but in between contractions.
TikTok content creator Lae Harris shared that her cervix was 8.5cm dilated when she recorded a video of herself doing her own makeup.
"I did my makeup before birthing my baby. I wanted her to meet the queen (Ms Harris herself) in full face," Ms Harris wrote in a text overlay.
Her video has amassed close to 13 million views since it was posted on Oct 2, 2021, with users leaving overwhelmingly positive comments.
While some of the mums-to-be wanted to look good for their newborns, others said doing their makeup helped to keep their mind off the pain. 
Southern California-based makeup artist @mua_passion shared a photograph of herself on Instagram applying lipstick in her hospital bed.
"Getting my lips right in between some of my most painful contractions I've ever felt. Makeup helped me stay distracted," she wrote in the caption.
A British makeup artist called Sarah Stillenberg told Glamour magazine that her Instagram inbox is full of women wanting to book her for their upcoming delivery.
"Lots are women having planned Caesarean-sections who know the exact date and time and so feel they have the time to book an appointment with me. I also get women asking what the most enduring foundation for labour is or which waterproof mascara is the best so that they can still look good in those post-birth selfies," said Ms Stillenberg.
IS BIRTHING MAKEUP PERPETUATING UNREALISTIC BEAUTY STANDARDS?
While the concept of a post-birth makeover is not new — with celebrities often sharing birth announcement photos looking perfectly primped and polished — the rise in birthing makeup among ordinary women has raised concerns over whether it promotes unrealistic beauty standards.
Last December, Singaporean beauty influencer Yeoh Mongchin, otherwise known as Mongabong, was harshly criticised by online users after she posted photos of herself cradling her newborn son with a face full of makeup seemingly just after labour.
One user accused Ms Yeoh of "painting an extremely unrealistic picture" for other mothers and mothers-to-be.
The person wrote: "Full makeup throughout labour and even during confinement period and your lactation massage sessions, the super luxurious confinement stay which majority cannot afford and fully sponsored products."
More recently in January, Ms Yeoh apologised for being "insensitive" after she posted photos of herself looking slim and fit just a week postpartum.
Although some followers were impressed by how quickly Ms Yeoh was able to bounce back and achieve her pre-pregnancy body, many pointed out that it may not be that easy for most mothers.
"It's honestly quite distasteful what you're doing," read one comment.
Following the backlash, Ms Yeoh apologised via an Instagram story: "It was very insensitive of me and I definitely can see how it can give off unrealistic expectations of how a woman's body should bounce back or the amount of time one takes after giving birth — it's never my intention to do so."
Ms Yeoh's post was subsequently removed.