China coronavirus: With travel ban issued for Wuhan, many in city rush to escape
HONG KONG — Officials in Wuhan announced a complete travel ban on its residents amid a coronavirus outbreak that has killed 17 people and infected more than 550 others throughout China, state media outlet CCTV said on Wednesday (Jan 22).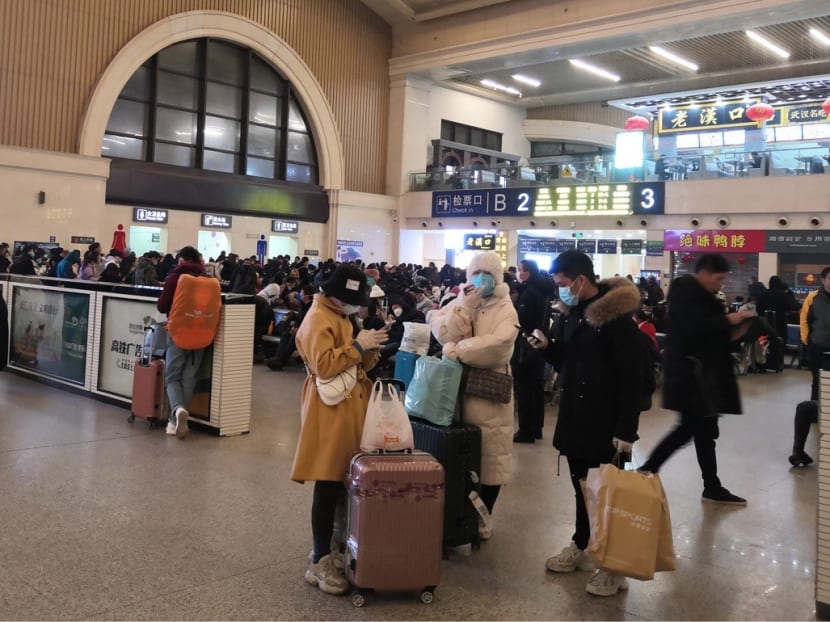 HONG KONG — Officials in Wuhan announced a complete travel ban on its residents amid a coronavirus outbreak that has killed 17 people and infected more than 550 others throughout China, state media outlet CCTV said on Wednesday (Jan 22).
The ban, which was issued by the outbreak command authority in Wuhan, the epicentre of the virus, said that from 10am on Thursday, urban buses, subways, ferries and long-distance passenger transport would be suspended in the city.
Flights and trains departing from Wuhan will also be temporarily suspended. The notice did not say when the services would resume. Wuhan is one of the four major railway hubs in China.
The notice did not mention private cars but said "citizens should not leave the city unless there are special conditions".
With a population of 11 million, Wuhan is bigger than London or New York. The virus has now spread to the United States, Thailand, Japan and South Korea.
The city's ban is to "best prevent and control the epidemic of the new type of coronavirus infection, effectively cut off the transmission of the virus, and curb the spread of the epidemic" to "ensure the safety and health of the people", the notice said.
Some residents began rushing to Wuhan's Hankou Railway Station and airport soon after the government announcement. A man surnamed Cui, who works in Wuhan and declined to give his first name, was among the crowd desperately trying to get out of the city before the ban took effect at 10am.
"Train tickets are not available on travel apps after 11:30pm, so I rushed to the train station and managed to buy a ticket to my hometown in Henan at the ticket window. I don't want to be locked in this city for one or two months after the ban," Mr Cui told the South China Morning Post.
Mr Cui said that even in the middle of the night, the train station was as packed as anywhere in China during the Spring Festival travel rush, with the difference being that most people were wearing masks and all look "pretty worried".
Mr Li, who also works in Wuhan and gave only his surname, immediately changed his airline ticket after he learned of the travel ban, and said the airport in Wuhan was overcrowded. "I can't see where the airport staff are," he said. "We are waiting to check our baggage, I don't even know whether my flight can depart on time."
"God bless that I can manage to take my family out of this city!" Mr Li posted on WeChat, the Chinese equivalent of Facebook.
The Wuhan municipal government also issued a notice mandating that everyone wear masks in public places, and that staff of state departments and public institutions wear masks while they are on duty.
Before Wuhan's announcement, Jiangsu province posted an order banning buses departing from any of its cities to Wuhan, and it set up special lanes in airport and train stations to inspect passengers from Wuhan.
On social media, the travel ban was welcomed by some, but others questioned why the authority didn't issue it earlier.
Concerns have also been raised about the "one size fits all" solution in Wuhan. "How can patients go to hospital if they don't have private cars, and how can journalists leave the city if they want to leave?" one person wrote on Weibo.
Most of the infections and all of the deaths have occurred in Hubei province, where Wuhan is located, including 440 cases in the province itself. Many of those sickened work or live near the city's Huanan Wholesale Seafood Market, which experts believe is the source of the outbreak, with the virus jumping from animals on sale there.
Details of the Wuhan outbreak came to light after an urgent notice from the city's health department, instructing hospitals to report further cases of "pneumonia of unknown origin", started circulating on social media on December 30. The World Heath Organisation has maintained contact with authorities in China about the situation since that time.
The Foreign and Commonwealth Office in Britain on Wednesday advised its citizens against all but essential travel to Wuhan.
The city's government has struggled to treat suspected patients because of limited resources.
On Wednesday, Beijing News reported that hospitals in Wuhan have been overcrowded with feverish patients queuing up on winter nights. The transfusion rooms were full of patients, with some sitting in corridors to be treated with intravenous drips.
The outbreak is occurring just as millions of people in China are travelling for the upcoming Lunar New Year holiday, including migrant workers returning home to their families.
The travel rush over the holiday period, which can last up to 40 days, is considered the largest annual human migration in the world. SOUTH CHINA MORNING POST