China threatens to retaliate if US sanctions the officials responsible for banning Hong Kong opposition legislators
HONG KONG — China has warned the US that it will retaliate if Washington imposes sanctions on the officials responsible for the disqualification of Hong Kong opposition legislators.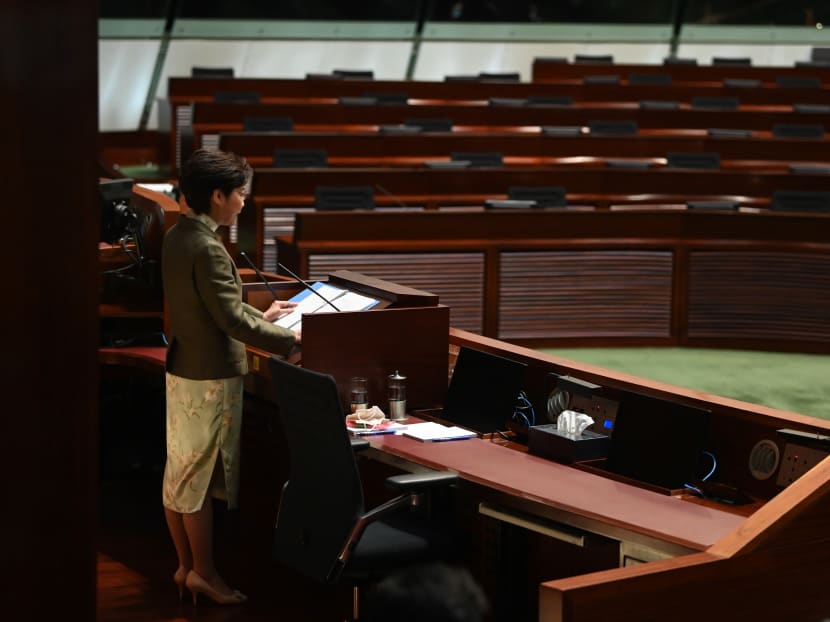 HONG KONG — China has warned the US that it will retaliate if Washington imposes sanctions on the officials responsible for the disqualification of Hong Kong opposition legislators.
Ms Hua Chunying, a spokeswoman for the foreign ministry, told a press conference in Beijing on Monday (Dec 7) that China would "take the necessary countermeasures" if the reports are confirmed.
Citing unnamed US government sources, Reuters reported that the US was preparing to sanction 14 people — including officials from the National People's Congress (NPC), the top legislative body, and senior members of the Communist Party — with measures such as asset freezes and financial penalties.
"China has repeatedly stated that we firmly oppose and strongly condemn the US for interfering in China's internal affairs by meddling in the Hong Kong issue and imposing so-called sanctions on Chinese personnel," Ms Hua said.
She said a resolution by the NPC's Standing Committee — which led to the disqualification of four Hong Kong legislators on the grounds that they had violated their oath or endangered national security — was "in accordance with the constitution, Hong Kong Basic Law and Hong Kong National Security Law."
The decision prompted a mass walkout by other opposition legislators.
"Hong Kong is China's Hong Kong," Ms Hua continued. "Hong Kong affairs are a purely internal affair for China. No foreign country has the right to make irresponsible remarks and intervene arbitrarily."
She also hit out at the US visa ban on officials from the United Front Work Department, an organisation that aims to strengthen ties to the Communist Party inside and outside China, and the decision to end five cultural exchange programmes.
Ms Hua said this was a vain attempt by "some anti-China forces in the US who stubbornly adhere to the Cold War mentality", to further undermine relations between the two countries.
China "firmly opposes and strongly condemns vicious attacks by (Secretary of State Mike) Pompeo and his like on China's political system and the further US restrictions on Sino-US cultural exchanges", she added.
Ms Hua said the US had "shown their double standards fully" as no country will turn a blind eye to the violation of oaths and treason by public officials.
"In fact, as far as I know, in the history of the US Congress and the British House of Commons, there were more than 20 and more than 50 members respectively who were disqualified because of violation of parliamentary rules, dual nationality or treason," she said.
Mr Tam Yiu-chung, Hong Kong's sole representative on the NPC Standing Committee, said he "has not received any notice" about sanctions and declined to comment about the prospect he would be targeted because "the media report is not yet confirmed".
But observers in Hong Kong and China expected such sanctions to have a very limited impact and warned it was not in China's interests to engage in tit-for-tat retaliation to every measure.
Dr Wu Junfei, deputy director of the Hong Kong-based think tank the Tianda Institute, said the sanctions were an attempt by US President Donald Trump to limit his successor's room for manoeuvre before he leaves the White House.
"Trump has to rely on the State Department under Pompeo, who is probably one of the few still loyal to him, to pump out sanction after sanction to solidify his legacy in US-China policy," Dr Wu said.
Dr Wu said there is no need for China to dance to Mr Trump's tune and should "wait for a more opportune moment to strike, there will be plenty of such opportunities given how divided the US is now".
"Freezing assets and financial sanctions are going to have very limited impact on the officials as the US cannot touch their assets in China and the Communist Party has enforced strict discipline requiring cadres to disclose assets or family members overseas," said Dr Wu.
Mr He Wen, a Hong Kong affairs specialist at the Shanghai Institute for East Asia Studies, a semi-official think tank, said: "This would not be the first time Chinese officials faced such sanctions from the US. We know what to expect."
He accepted that the financial sanctions might have more impact on those in Hong Kong, but "there are still ways for them to carry on living".
Hong Kong Chief Executive Carrie Lam, who has already been sanctioned by the US after the introduction of the National Security Law, recently said she could no longer access financial services and now has "piles of cash at home… because I don't have a bank account". SOUTH CHINA MORNING POST