China's private school sector put on detention
BEIJING — Mr Liang Yimei, who runs several private schools and kindergartens for rural migrant children in the eastern industrial hub of Suzhou, looks pensive when he talks about a new government rule that threatens to put him out of business.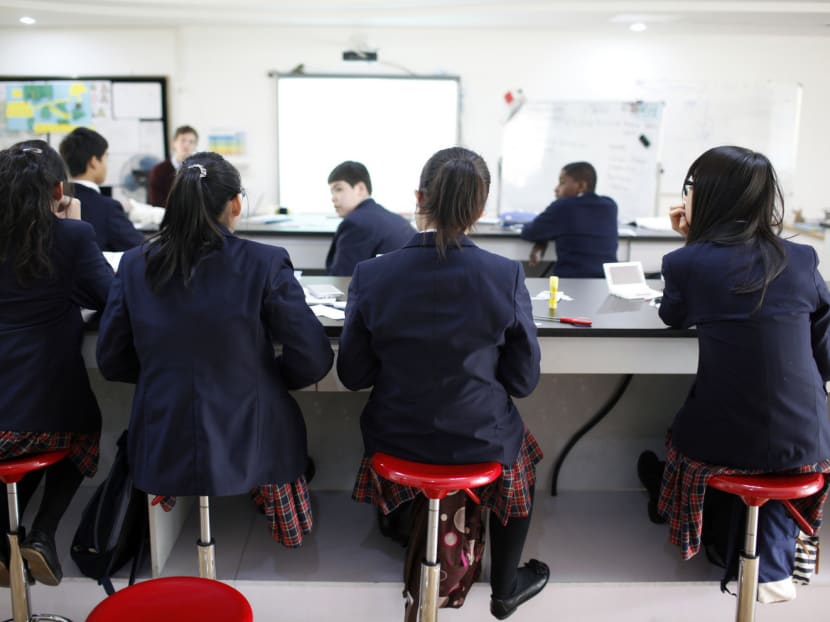 BEIJING — Mr Liang Yimei, who runs several private schools and kindergartens for rural migrant children in the eastern industrial hub of Suzhou, looks pensive when he talks about a new government rule that threatens to put him out of business.
The 60-year-old Liang (not his real name) had already bought a tract of land and invested 13 million yuan (S$2.68 million) with two partners to build another school in central China's Hubei province — this time targeting more-affluent middle-class children — when a sudden rule change threw his plans in limbo.
Earlier last month, China's legislature banned private, for-profit schools from teaching first- to ninth-graders, as lawmakers moved to tighten oversight of the country's fast-growing but poorly regulated private-school sector.
The revision to the 2002 education act — The Law on the Promotion of Non-Public Schools — that the Standing Committee of the National People's Congress approved on Nov 7 states that private, for-profit primary and junior high schools must shut down or re-register as non-profits before the new rule comes into effect on Sep 1.
It forces all schools offering the first nine years of schooling, compulsory under Chinese law, to raise funds only through donations instead of by selling equity. But it allows for-profit schools to operate kindergartens and classes for students in senior high school, or grades 10 through 12.
Mr Liang, who spoke to Caixin only on the condition that his real name not be used, said he was considering whether to shut down his schools and shelve the new project, or try to skirt the ban by splitting each school into two entities: A non-profit that offers classes from grades one through nine, and a for-profit to manage the kindergartens and classes for 10th-through-12th-graders. Other school operators interviewed by Caixin said they were also considering such a move.
But school owners would divert more investments to the for-profit operations, leading to a drop in teaching quality in non-profit units, several industry analysts said.
Mr Liang also brushed aside the idea of turning into a philanthropist and sinking money into non-profit schools. "If we can't make money, why should we invest in a school in the first place?" he said.
This controversial piece of legislation could disrupt the education of one in 10 seven to 15-year-old children in the country. Over 12 million students were enrolled in over 10,700 private schools in 2015, according to data from the Ministry of Education.
The worst affected would be rural children, half of whom attend private elementary and middle schools because their already underfunded schools could shutter if the few investors pulled out, said Professor Chu Zhaohui, a researcher at the National Institute of Education Sciences in Beijing.
Because China's rigid household-registration rules have barred village children from attending public schools in cities, many who migrate with their parents are forced to study in cramped, dimly lit private institutions with barely qualified teachers. Most rural children left behind in their villages also attended private boarding schools because parents living afar preferred the closer supervision they offered.
Children from upper-middle-class families attending schools that use both English and Chinese as mediums of instruction or that follow an international curriculum could also see their teaching quality drop when private funding dries up.
Although policymakers touted the law as "an embodiment of (the government's) attempts to promote equal access to basic education and make it affordable for all," its disproportionate effect on groups such as poor migrant children left some of them with cold feet when called upon to vote for it.
One-fifth of the delegates at China's top legislature, which usually passes laws unanimously, opposed the ban after a weeklong deliberation by either voting against it or abstaining.
SANITISING TEXTBOOKS
The selective ban comes as some influential voices in the government warned against certain foreign ideas creeping into classrooms and undermining values promoted by the party-run school system.
Last year, Education Minister Yuan Guiren caused a stir when he vowed to ban university textbooks that promote "Western values" or that "smear socialism".
Education authorities have been pushing private schools that follow international curricula to adopt the state-sanctioned syllabus when teaching Chinese history, and its constitution, law and morals. Last month, the Shanghai government told principals from 21 international and bilingual schools in the city to add China-specific subjects to their respective curricula.
Although the government was jittery, only about 6 per cent of all private schools in the country used an imported curriculum, said Mr Zou Hongyu, CEO of Shanghai Yuanbo Education Information and Consulting Company Limited, which operates a chain of elementary schools and kindergartens in the prosperous Yangtze River delta that are modelled after schools in Canada, Germany and Taiwan.
Several owners of international schools and parents, however, said they fear the rule change, which forces them to spin off a part of the school and register it as a non-profit, will create a backdoor that authorities could use to clamp down on operations at international schools.
Demand for private schools has surged in recent years as affluent Chinese parents opt to send their children abroad to high school and universities. Private education also offered an alternative to the rigid public school system that emphasises rote learning, according to many parents.
If educational authorities push private schools to adopt larger chunks of the government-designed curricula for grades one to nine, students will have to take extra lessons to complete the international textbooks they were already following, an administrator at Beijing International Bilingual Academy said. This would be a huge burden on pupils, the administrator said.
Students would struggle to adapt to this abrupt change, and it may prompt some families to send their children abroad at a much younger age, an operator of an international school in Shanghai said.
One parent in Shanghai told Caixin that he was thinking of sending his 13-year-old to a British boarding school. He complained that his son's school was keeping parents in the dark about how they are adjusting to the new rule curbing private funding and the crackdown on foreign curricula.
TIGHTER PURSE STRINGS
Some fear the era when private education served as a magnet for investment is slowly coming to an end.
The market for international schools in the country was valued at over 78 billion yuan last year and was expected to grow 8 per cent to 15 per cent in the next few years, according to Industrial Securities Company Limited. But that was before the ban.
Many for-profit schools have seen their asset values grow from several hundred thousand to several hundred million yuan over the past two decades, according to Mr Wu Guanxiong, a partner at Tianyuan Law Firm in Beijing who advises several top private schools in the country.
Several private school operators interviewed by Caixin said their profits have soared from 20 per cent and 50 per cent each year in the past after factoring in government subsidies they received.
This "wild growth" allowed them to spend big on improving teaching quality and offer a wide range of extracurricular programmes as diverse as drama clubs and astronomical societies. The country's private schools spent 400 billion yuan in 2014 on teachers and facilities, said Prof Wu Hua, head of the Research Centre of Private Education at Zhejiang University. A quarter of that 400 billion yuan went to grades one through nine.
But these premium services came with a heavy price. This put private-school operators at odds with a previous rule that said private schools could earn "reasonable returns", prompting a government shakeup of the sector. But this fuzzy regulation did not offer any guidelines on setting fees or curriculum standards.
The push to turn all private schools offering the mandatory nine years of schooling into non-profits will give the government a greater say when setting fees. Any tuition increase will now need prior approval from the local education authority. Non-profit schools will also get larger tax breaks and preferential rates when buying state land.
The measure was inspired by similar legislation in Japan, South Korea and Taiwan, one school operator said. But legislators have ignored a major bottleneck to the development of non-profit schools: Chinese entrepreneurs and public were more tight-fisted when donating to non-profit education compared with their counterparts in most developed countries and regions.
China cannot rely on donations to fund schools catering to first- to ninth-graders, said Mr Zhang Jieting, chairman of Siwa Enterprises & Investment Group, which owns Beijing 21st Century International School. It would kill diversity and innovation in the education sector, he said.
Although the government spent 3.6 trillion yuan on education last year, "private schools have offered a level of teaching that most public schools were unable to match," said Prof Yan Fengqiao at Peking University's Graduate School of Education.
What regulators should do is to ensure a level playing field for all instead of clamping down on one segment, he said. CAIXIN ONLINE