Climate refugees possibly the next wave of refugees in Germany – but is it ready?
Germany has become home to many types of refugees and migrants, such as those who fled from conflict, religious or ethnic persecution back home.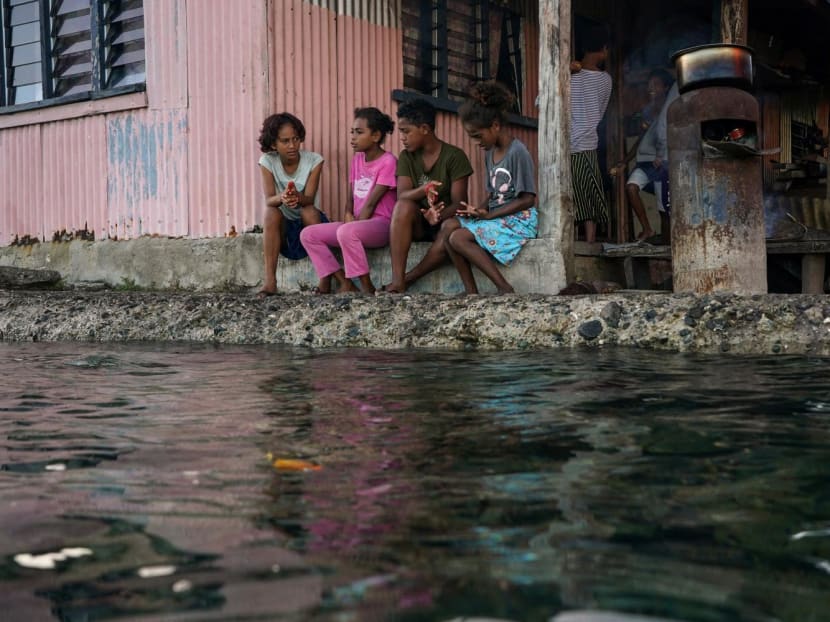 Under NTU's Go-Far programme, journalism students from the Wee Kim Wee School of Communication and Information traditionally get to go abroad to report on issues overseas. This year, 14 of them visited Berlin, Germany to understand the impact of migrants and refugees, and whether the country is prepared for more to come. In this story, climate change experts and activists discuss the possibility of climate refugees arriving in Germany and whether the country is ready for them.
Germany has become home to many types of refugees and migrants, such as those who fled from conflict, religious or ethnic persecution back home.
And climate change activists and experts say a new group is expected to raise the number of refugees in the years to come – climate refugees - though there's divided opinion on how prepared Germany is in welcoming them.
According to the 2022 Intergovernmental Panel on Climate Change (IPCC) report, up to 72 million people from sub-Saharan Africa, islands in the Pacific Ocean and South Asia are predicted to be displaced from their homes by 2050 due to extreme weather events like droughts, monsoons or rising sea levels
"The latest IPCC report puts climate change as the driver of migration, which was not the case beforehand," said Professor Felicitas Hillmann at Technical University Berlin's Institute of Urban and Regional Planning.
CLIMATE PASSPORT
To mitigate and prepare for those effects of climate change, a climate passport was among the recommendations made in a proposal by the German Advisory Council on Global Change (WBGU), an independent scientific advisory body to the German Federal Government.
Proposed in 2018, the "Just & In-Time Climate Policy" highlighted four initiatives to the Federal Government to offer global aid to those affected by climate change.
The other three recommendations include decarbonisation, legal protection and action for people harmed by climate change and setting up a state fund to encourage investment in sustainable industries.
The passport would grant climate-induced migrants access to and rights equivalent to citizens' rights in countries with the highest greenhouse gas emissions, which include the United States, China, Russia and countries in the European Union, such as Germany.
Residents from small island states, such as low-lying islands of Tuvalu or Dominica will be the first to be able to apply for the passport should it be implemented and move to host countries, said Ms Ulrike Jurschik, a research associate for environmental law at the University of Greifswald.
These countries have already been red-flagged given their high susceptibility to climate change.
It's predicted that through a combination of rising sea-levels, land erosion and saltwater intrusion into the groundwater, up to 2.2 million people could lose their homes on islands in the Pacific and Indian Oceans, as well as in the Caribbean in the next 50 years.
Residents would no longer be able to relocate within the island and be forced to cross borders.
Ms Jurschik, who's also one of the contributors of the WBGU report, said: "This passport was thought of as the instrument of international law, which would be granted to people who are affected by climate change the most.
"It should be a symbol of solidarity and acknowledgement of the losses and damages that are already happening in the face of climate change."
Recipients of the passport would also be granted language courses for a smoother transition into their host country.
GERMANY A POPULAR CHOICE FOR REFUGEES
Should the proposal come to fruition, it would be of little surprise if Germany, the biggest host country for refugees in Europe, remains a popular choice for those who are escaping climate change.
Before the Ukraine war, Germany housed at least 3.3 million refugees who were fleeing from their home countries of Afghanistan, Iraq and Syria - which makes up the largest proportion.
Enshrined in the country's Constitution as a fundamental right, Germany offers asylum to "persons persecuted on political grounds". 
Back in 2015, then-German Chancellor Angela Merkel even implemented an open door policy that allowed as many refugees to enter the country without a legal limit.
That year, Germany took in thousands of refugees from Syria and this influx may not solely be due to the civil war.
Mr Dennis Tanzler, director and head of programme (climate policy) at think-tank adelphi, said there is often a strong link between countries that are vulnerable to climate change and conflict.
He said: "What our research indicated is that part of the conflict, or what accelerated it in Syria was a drought. A seven-year drought in the rural areas caused people to move more and more to the capital of Damascus."
The environmental factor, coupled with the move of close to 1.5 million people to the cities, as well as the socio-economic stress and the repressive government, finally culminated into the mass exodus of the Syrian people, he added.
THE CHALLENGES AHEAD
But experts say that while Germany has taken steps to help other countries cope with the effects of climate change, it is not prepared yet for the potential influx of climate refugees.
For instance, since 2009, the German Development Cooperation has tried to play its part by offering support structures and advice to Small Island Developing States (SIDS) that are vulnerable to the rising sea levels.
Also, in the Caribbean, Germany supports the regional NDC Finance Initiative, which promotes investment in low-carbon infrastructure projects.
And in 2020, Germany and the European Union put in USD$1.2 million into a pilot Relocation Fund in Fiji to help those living in the coastal areas move into storm-resilient housing on higher ground within the island.
But Mr Tanzler said the initiative came with a hefty price tag and is a projection for other small island states that will require relocation within the country.
"Millions of US dollars are needed in order to move only a few villages. The science shows that many more low lying areas of small island states will be impacted, so we can anticipate how expensive relocation in the future is going to be," he said.
Also, while the climate passport garnered interest among some members of political party Green Party, it has yet to convince German policymakers.
There is insufficient data and resources being pumped into the research of climate migrants in Germany, said Professor Hillmann. "We have limited data so there's difficulties in combining climate change with migration."
German political scientist and senior environmental analyst Arne Jungjohann added that there lacks a political will to spend time and money on this issue.
"I don't think it's taken seriously yet. With good analysis showing that climate induced migration will increase a lot, we're not putting that knowledge into formulating policies," he said.
Mr Jan-Phillip Graf, an associate researcher at the German Institute for International Law of Peace and Armed Conflict at Ruhr-University Bochum, said: "A refugee has to demonstrate that he or he has fled their home country because of a well-founded fear of persecution.
The term "refugees", defined during the 1951 Geneva Refugee convention does not include those who have fled their country due to climate change.
He added: "How can the climate persecute you? It affects everyone, some more than others."  
Climate migrants who have fled to another country therefore risk deportation as they are unable to claim refugee status.
Instead, Mr Graf said the situation should be dealt with according to international human rights law.
"You would have to argue that the person cannot be deported from the country that they have moved to because their home country is simply uninhabitable and it would be cruel treatment to send them back," he added.
But he believes the German government might adopt a more liberal immigration policy to allow climate-induced migrants into Germany with greater ease. 
Earlier this year, Germany's Economy Minister Robert Habeck announced the need for Germany to increase immigration in order to prevent labour shortages in all areas.
A recent report in March this year by the German Economic Institute and Competence Centre for Skilled Workers reported that there were around 558,000 job vacancies across all sectors.  
Mr Graf said: "I can assure you over the next couple of years, our politicians will realise that this gap can only be filled by large-scale migration. And that would be in adopting a smart immigration policy that favours climate migrants."