Elite police 'raptor' squad went undercover to target radical Hong Kong protesters, insiders say
HONG KONG — An elite squad of police officers went undercover as anti-government protesters, infiltrating the ranks of radicals to perform arrests in a first move of its kind amid weeks of civil unrest that have rocked Hong Kong, according to force insiders.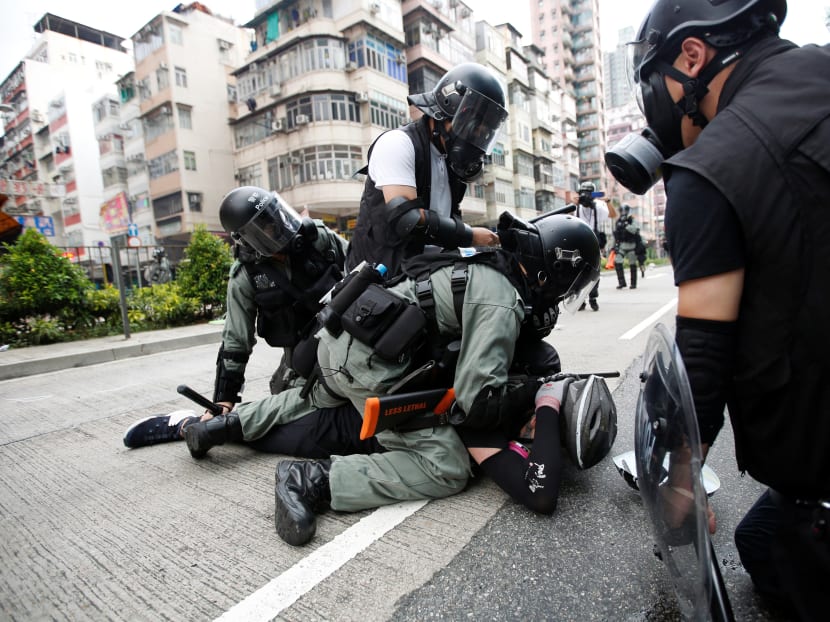 HONG KONG — An elite squad of police officers went undercover as anti-government protesters, infiltrating the ranks of radicals to perform arrests in a first move of its kind amid weeks of civil unrest that have rocked Hong Kong, according to force insiders.
The decision came with another change in tactics following arrests, where suspects were brought to a holding centre near the border with mainland China to "prevent other police stations being besieged".
Sources said police launched the undercover operation on Sunday (Aug 11) to target radicals called martyrs or the pink team. The agents are members of the Special Tactical Squad, known as raptors, who comprise officers from the counterterrorism division and airport security unit.
Deputy Commissioner of Police (Operations) Chris Tang Ping-keung said 15 protesters were arrested in a decoy operation in Causeway Bay on Sunday night.
Mr Tang, who refused to say undercover police were disguised as protesters, said the officers involved were impersonating different characters and he did not reveal how many agents were involved.
He said it was an operation that targeted extremely violent rioters.
"The decoy operation is not targeting ordinary protesters. We use it against violent rioters who use deadly force such as petrol bombs," he said on Monday, adding that in such an operation officers would not initiate any disturbance and would not carry out any illegal acts.
The Post reported last month there were 200 to 300 hardcore protesters on front lines of clashes who charged police cordons. A source said that in the past most of the core protesters escaped before police moved in during clearance operations.
Undercover operations are routinely carried out by police forces around the world.
The Post was told that agents from the force's Criminal Intelligence Bureau had been deployed to mingle with protesters to collect information since June.
On Sunday night, more than 10 masked men in black, thought to be undercover officers, scuffled with protesters who occupied Hennessy Road near the junction with Percival Street in Causeway Bay.
Media outlets filmed their actions, as they pinned down protesters before a wave of riot police swooped in. Asked by reporters whether they were police, the men refused to answer and left in an unmarked van.
The raptors, also known as the blue team, were set up during the 2014 Occupy movement to disperse and arrest protesters.
On Friday, former senior police officer Alan Lau Yip-shing reported for work as deputy commissioner (special duties), after he was brought back from retirement to help tackle the city's escalating crisis.
Meanwhile, arrested protesters were brought to San Uk Ling Holding Centre near the Man Kam To border control point. Another source said the move was to avoid other police stations being besieged, a recurring pattern in recent weeks.
"We don't need to spend extra manpower for station defence," he added.
Sunday marked another weekend of protest violence for Hong Kong, with flash mobs and police turning parts of the city — including MTR stations — into battlefields. The clashes were sparked by the now-shelved extradition bill, which would have allowed the transfer of criminal suspects to jurisdictions with which Hong Kong has no such agreement, including the mainland.
Mr Clement Lai Ka-chi, founder of security consultant firm Clement Shield, said police might have resorted to the tactics because they realised they could not catch up with suspects.
The former police superintendent noticed the force's strategy had been to engage suspects from a distance. "When your equipment is heavy and rioters are not carrying anything, how can you outrun them?" Mr Lai said.
The new tactics also served a more preventive purpose because the more radical protesters would now worry about further infiltration and face a "discouraging effect".
He said police involved would still have to abide by the law just as in any other undercover operation.
"But as to how they can gain others' trust without having to hurl a brick, it will be a question for police to answer," he said.
But Mr Lai also said the officer who was captured shooting pepper balls at fleeing protesters at close range would have to justify his actions.
Former director of public prosecutions Grenville Cross said the court had found the issue involving undercover agents and possible "entrapment" a difficult one.
While it was not a substantial defence, the court sometimes suspended proceedings as a result, he said. Other times, it could be taken into account in mitigation.
"The question is whether police conduct was so improper as to bring the administration of justice into disrepute," he said. "If the undercover officers did not actively encourage the suspects to commit crimes they would not otherwise have committed, then their activities do not affect either the trial or sentencing."
Mr Icarus Wong Ho-yin of Civil Rights Observer said police should officially clarify whether they had launched the undercover operation.
"The most important point is what were the officers doing at that time. Did those officers do anything to incite the crowd's emotions? If yes, it is a total violation of police duty guidelines," Mr Wong told a radio programme. "Police must have a thorough explanation on why there were officers dressed as protesters while on duty at the scene."
News footage by broadcaster TVB showed two men in black helping an officer tie the hands of a suspect. One of the men wore a yellow helmet, gear commonly used by protesters.
A few men in black clothes and gas or face masks were seen holding batons and standing behind riot police. Asked by journalists in the video if they were officers, a man's voice is heard saying: "The Police Public Relations Branch will get back to you later."
A man in a black cap and mask said in front of cameras: "We are working now. Do not disturb us."
When journalists continued to press him on whether he was an officer and asked for his warrant card, he said: "My warrant card doesn't have to be shown to the entire world."
In separate footage by RTHK, two men dressed as protesters, one of them holding a baton, were approached by journalists and asked if they were plain-clothes police. The pair did not answer and boarded a white minibus.
The man who spoke in the TVB footage was also heard telling journalists to "use your professional knowledge" when repeatedly asked about his identity.
"You judge by yourself. Aren't you a professional?" he added.
Mr Tang, when asked why the undercover officers did not produce warrant cards during the arrest operation, said it all depended on circumstances whether they had a chance to do so.
The deputy commissioner pledged the force would review the situation and handling and see how police could improve.
Principal law lecturer Eric Cheung Tat-ming of the University of Hong Kong said things could get tricky if police intended to charge suspects with obstruction or assaulting officers. These charges require those arrested to be aware they were dealing with law enforcement officers.
Veteran criminal barrister Cheng Huan SC said the force's approach was acceptable. He said the use of entrapment was not illegal under the common law, and it would be treated merely as a mitigating factor.
"The tactic of masquerading as protesters or other lawbreakers to obtain evidence against them is widespread throughout the Western world, including Britain, France and the USA," he said. SOUTH CHINA MORNING POST