Explainer: Hong Kong's wet market Covid-19 clusters and how they compare to Wuhan or Beijing
HONG KONG — Hong Kong has seen its daily number of Covid-19 cases fall below 100 for three straight days, but just as the city shows signs of reining in a resurgent third wave of infections, an unfolding health crisis at two wet markets has threatened to derail those efforts and raised the spectre of a wider outbreak similar to the ones in Wuhan and Beijing.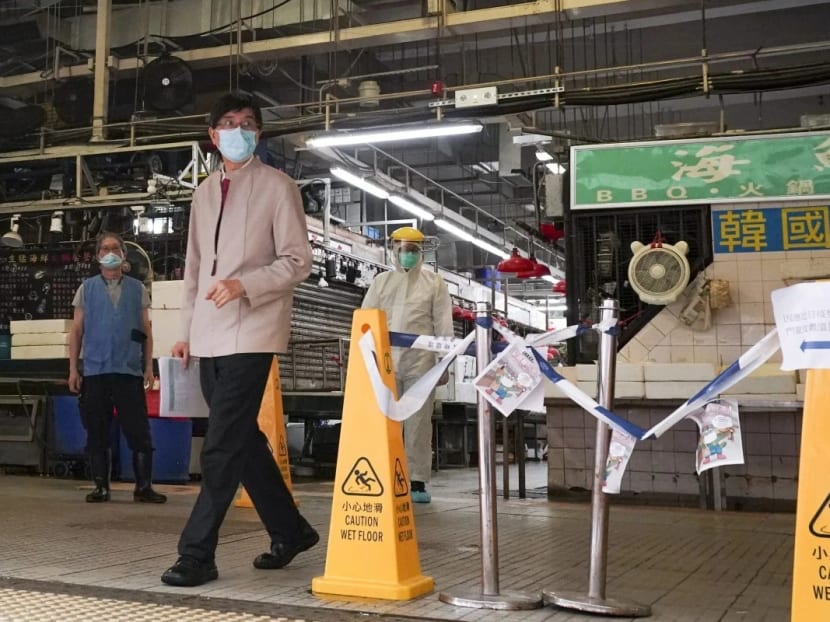 HONG KONG — Hong Kong has seen its daily number of Covid-19 cases fall below 100 for three straight days, but just as the city shows signs of reining in a resurgent third wave of infections, an unfolding health crisis at two wet markets has threatened to derail those efforts and raised the spectre of a wider outbreak similar to the ones in Wuhan and Beijing.
On Monday (Aug 3), three more fish stall operators were added to the growing cluster of infections tied to the Hung Hom and To Kwa Wan markets, which combined now total 15 patients, prompting health officials and infectious disease experts to warn of risks similar to those at the Huanan Seafood Wholesale market in Wuhan and Beijing's Xinfadi food market, both previous coronavirus hotspots.
Below we look at what has happened in the city's wet markets, whether comparisons to the mainland markets are valid, and how authorities and residents should be coping with it.
What has happened in Hong Kong's wet markets?
Two markets barely 15 minutes' walk from each other in Kowloon's Hung Hom and To Kwa Wan neighbourhoods emerged as new centres of infections this week when a number of fish stall operators — four at Hung Hom and two in To Kwa Wan — were confirmed as Covid-19 patients.
Altogether, there have been 15 infections tied to the two sites, including cleaners and workers at frozen meat and dry goods stores.
"We are worried whether a similar situation of transmission has occurred in Hong Kong," said Dr Chuang Shuk-kwan, head of the Centre for Health Protection's communicable disease branch on Monday, when asked about a possible outbreak on the scale of the mainland wet markets.
A day later, the situation seemed to be under control, as officials reported just one more case tied to the Hung Hom market had tested preliminarily positive on Monday. The Food and Environmental Hygiene Department, meanwhile, said all the environmental samples collected from the chopping boards, ice and water, measuring scales and drainage pipes had tested negative for the virus.
But University of Hong Kong (HKU) microbiologist Dr Ho Pak-leung said the threat could not be dismissed, pointing out that 11 of 73 markets managed by the government department have reported infections.
Markets in coronavirus-hit Tsz Wan Shan and on Sham Shui Po's Pei Ho street are among those hit by the third wave of Covid-19, which has pushed the city's infection count to 3,754, with 43 related deaths, and saw 12 straight days of triple digit infections.
"Wet markets are a ticking time bomb, there could be a super cluster anytime. Just because it hasn't happened yet doesn't mean it won't," Leung said.
Professor Yuen Kwok-yung, the HKU infectious disease expert who advises the government on its coronavirus response, reckons the three most likely explanations were that; the virus was brought into the market via the saliva of an infected customer, by stall owners who gather for afternoon food and beer on the third floor of the Hung Hom market, or by rats and cats that can transfer it between surfaces while wandering in search of food.
Airborne transmission, however, was thought unlikely because of the air flow provided by fans, as was seafood, because cold-blooded animals are believed less likely to carry the virus.
And while the nearby To Kwa Wan market was a bit tidier, Prof Yuen said, the common risk factors remain. "The virus can survive in these wet environments in 4°C in the ice for seven days or more," he said.
Another government adviser, Professor David Hui Shu-cheong, believes the mode of purchase and payment in those markets could have compounded the problem.
The Chinese University respiratory medicine specialist told the Post the use of cash made matters worse.
"Many people there might have touched many objects when choosing and buying, making [the market] prone to contamination," he said.
Prof Hui also said remnants of the virus could have stayed on surfaces such as the bags used for seafood, or the stainless steel tables found in many fish stalls, for as long as three to four days.
How similar are the outbreaks to those in Wuhan and Beijing?
The Huanan Seafood wholesale market in Wuhan was the epicentre of the pandemic when it first emerged, with most of the original 27 reported coronavirus cases tied to it.
Xinfadi wholesale food market, meanwhile, is believed to have led to a resurgence of the epidemic in the capital, when a 55-day run without a locally transmitted case ended abruptly on June 11, with a new wave of 335 local cases that continued through July 6.
The first patient in that new outbreak was a resident who had bought fish from the market, where the coronavirus had been found on a chopping board used for salmon.
"Seafood involves water and frozen products – the low temperature and high humidity is suitable for the virus to survive," Dr Wu Zunyou, chief epidemiologist at the Chinese Centre for Disease Control and Prevention, said at the time.
But while temperature, humidity and a few other factors are similar, most experts said the comparisons with the two Hong Kong markets ended there.
Infectious disease expert Dr Leung Chi-chiu noted the two mainland hotspots were massive wholesale markets spanning more than 100 hectares each, boasting thousands of stalls with huge refrigerators and other frozen cabinets for seafood storage.
"There are many more people going in and out of those places every day, enabling human-to-human transmission in places perfect for the survival of the virus," he said.
"Most of the fish stalls in Hong Kong markets have fish in small boxes with ice, which would hardly be kept at 4°C"
But Dr Leung said local markets could also be very crowded, and not all stall owners would necessarily have observed perfect hand hygiene and worn their masks properly at all times, because of the hot and humid weather indoors.
Prof Hui said the biggest difference between the Hong Kong and mainland markets was, of course, that the one in Wuhan sold game meat.
"The risk is higher because the intermediate source for the novel coronavirus is usually wildlife animals," he said.
"The scale [in Hong Kong markets] is much smaller, and the mainland markets are much larger. The Wuhan market, when the coronavirus first broke out there, there were already some 40 cases reported on The Lancet, not just some 20."
So, is it safe to eat seafood?
Yes, according to Prof Yuen, if they are thoroughly cooked.
"If so, then there needn't be any worries, even if they are contaminated by the virus when sold to you," he said.
Private specialist Dr Joseph Tsang Kay-yan, co-chairman of the Hong Kong Medical Association's advisory committee on communicable diseases, said steaming or frying a fish for a normal length of time would be sufficient to kill the virus, citing an HKU study that showed the coronavirus would be killed if kept at 70°C for five minutes.
But he warned against the consumption of raw fish, such as sashimi, as the virus could survive on the surface, not just the packaging of the food.
He also suggested ordering seafood online could lower the risks, as consumers could avoid crowded markets and public transport.
The two markets in the city were closed for disinfection on Wednesday and Thursday, but experts want more to be done. Dr Leung pointed out that the mainland markets were closed for months, with lockdowns being imposed on nearby districts while universal testing was carried out.
He also said crowd controls should be introduced if the markets were to be reopened.
Ho agreed, saying there were some simple steps people could take to prevent outbreaks, such as buying more groceries per trip.
"Young people should also do the shopping instead of letting the elderly do it, because if (the elderly) get infected, the consequences are worse," he said. SOUTH CHINA MORNING POST