Explainer: South Korea's raging debate over military exemption for boyband BTS and the potential impact on its economy
SINGAPORE — South Korea's Culture, Sports and Tourism Minister Hwang Hee said that "it would be a cultural loss for mankind" on May 4, lamenting the potential impact of South Korean pop group BTS being conscripted into the country's mandatory military service obligations.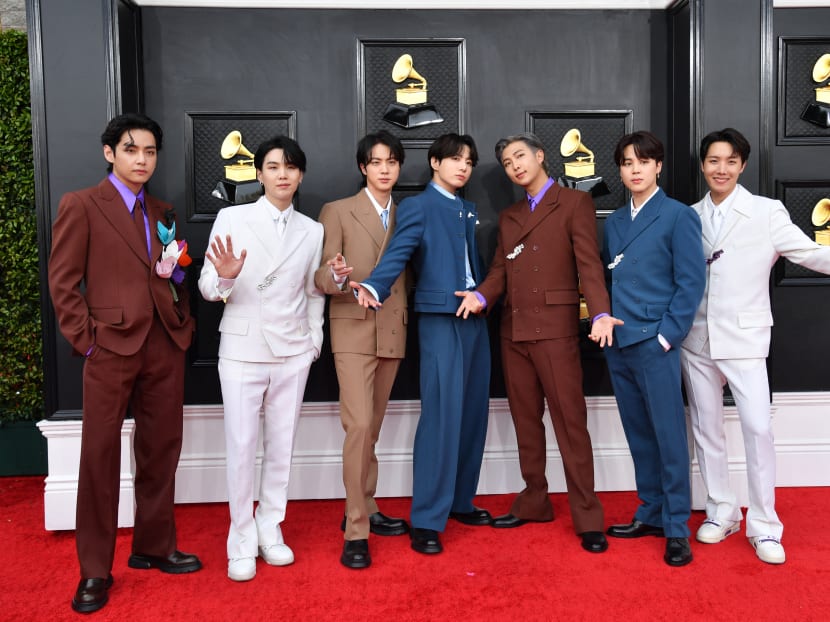 A debate is ongoing on exempting South Korean pop group BTS and other major cultural ambassadors from mandatory military service 
The band are the first to be considered for such an exemption as they are special cultural envoys for the country
They contributed US$5 billion to the Korean economy in 2019
Their record label Hybe is listed on the stock market
Some critics are against an exemption, saying a change in the law could be abused by others and deepen inequality in South Korea
SINGAPORE — South Korea's Culture, Sports and Tourism Minister Hwang Hee said that "it would be a cultural loss for mankind" on May 4, lamenting the potential impact of South Korean pop group BTS being conscripted into the country's mandatory military service obligations.
Mr Hwang was proposing during a press briefing that day that the boyband be exempted from South Korea's version of National Service altogether, two years after the government raised the age limit for conscription from 28 to 30, a move that had also been prompted by the fact that BTS member Kim Seok-Jin was turning 28 in 2020. 
Now the band's oldest member, who is also known as Jin, will turn 30 in December and the country is embroiled in a debate about whether he and his fellow pop stars should be allowed to skip military service so that they can continue being cultural ambassadors for their nation. 
How is it that BTS are such a big deal that they are the first pop stars to spark a debate about a major change in the country's laws, and what is the likelihood of such a change? TODAY spoke with experts to find out.
WHY IS SOUTH KOREA DEBATING THIS? 
So far in South Korea's history, the only celebrities who have been granted military exemption had reasons that were already provided for in the law, such as mental illness, health issues, family circumstances or a failure to meet academic requirements. 
Athletes have also been granted exemptions, including medal-winners in the Olympic Games and Asian Games, who are required to serve only four weeks of basic military training. 
This is the first time, though, that non-athletes are being considered for an exemption because of their cultural contributions to the country. 
WHY BTS?
Plenty of K-pop fans over the past few decades have certainly wished for their favourite boybands to be granted exemption from military service, a milestone that has typically signalled a big shift for the bands or even a break-up.
BTS are the first to set off such a heated debate in government about their possible military exemption because, simply put, the band is special.
BTS, made up of seven members — Kim Namjoon, Park Jimin, Jung Ho-Seok, Jeon Jungkook, Kim Taehyung, Min Yoon-gi and Jin — are the first Korean music act to have made huge waves internationally.
They were the first Korean music act to win at the Billboard Music Awards in the United States, the first to be nominated for a Grammy Award and received two Grammy nominations. 
The Korea Culture and Tourism Institute said that BTS contributed close to US$5 billion (about S$7 billion) to the country's economy in 2019. 
They were awarded the Order of Cultural Merit by the South Korean government in 2018 and last year appointed as "special presidential envoys for future generations and culture" by former South Korean president Moon Jae-in. 
All seven members of the group were given diplomatic passports and accompanied Mr Moon to the United Nations (UN) General Assembly Hall, where they spoke about the UN's sustainable development goals and the role that youth play in issues such as climate change. 
WHY ARE SOME CRITICS AGAINST THE EXEMPTION?
Criticisms against the move boil down to two reasons: South Korea's dwindling birth rate, which affects military enlistment rates, and ill-defined criteria for exemption. 
The country's vice-defence minister Park Jae-min told the National Assembly of the Republic of Korea in November that it was difficult to set clear standards for pop celebrities because their achievements cannot be weighed by the same metrics as that of Olympic medals for athletes, Hong Kong daily South China Morning Post reported. 
Dr Lim Tai Wei, adjunct senior research fellow from the East Asian Institute at the National University of Singapore (NUS), said: "Reduced terms, lifting of age limits or service exemptions are sensitive topics and may apply to top Olympians and top traditional cultural performers in addition to megastars (and not just boybands)." 
Some South Koreans worry that a change in the laws could be exploited by other celebrities and that it would worsen inequality in their society.
ASIDE FROM FANS, WHO WOULD SUFFER FROM BTS JOINING THE ARMY?
Mr Nicholas Lee, senior associate at Global Counsel, a public policy advisory firm, noted that BTS are the backbone of record label Hybe, generating 85 per cent of its 796.3 billion won (S$861.5 million) revenue in 2020.
While Hybe, which is traded on the South Korean stock market, has started diversifying its portfolio of artistes, through partnerships with Universal Music Group on a US-based boyband talent show and managing new K-pop acts. Investors are sceptical that it is moving quickly enough to reduce its reliance on BTS.
So important is BTS to Hybe's financials that its share price has been fluctuating in line with speculation over the military exemption.
Billboard magazine reported that South Korean financial analysts have predicted that the company might get all seven members, whose ages range between 24 and 29, to enlist in the military at the same time if they do not get an exemption.
Such a move, they said, would have a smaller financial impact than having each member enlist once they hit 30, which would prolong the period of time during which BTS would be missing members.
Mr Lee said: "The popularity of BTS globally is unprecedented in terms of duration and magnitude. The same cannot be said for other K-pop artistes, however, and the lower level of market interest in the other K-pop entertainment agencies reflects this."
SO HOW LIKELY IS THE EXEMPTION? 
Researchers said that it depends largely on the new South Korean government that was sworn in on Tuesday. 
Dr Liew Kai Khiun, an independent cultural and media researcher, said that despite just days in office, there have already been signals that the new administration does not support a change in the conscription laws.
"Given developments in the Ukraine war and the chillier relations with North Korea expected under President Yoon (Suk-yeol), it is highly possible that Jin would be the first member of BTS to follow the path of his male seniors in other K-pop groups." 
However, given BTS' major contributions to the country's economy, "this decision would not be easily taken," Dr Liew added.
Dr Lim from NUS said it is likely that there will be more consultations with different interest groups as well as the electorate before a decision is made.
"It remains to be seen whether there is a preponderance of support for this initiative."