Explainer: Who could become Malaysia's next PM?
SINGAPORE — The stage has been set: After days of political tumult that peaked with the resignation of Malaysia's prime minister Mahathir Mohamad, lawmakers will meet in parliament next Monday (March 2) to decide on who will lead the country next.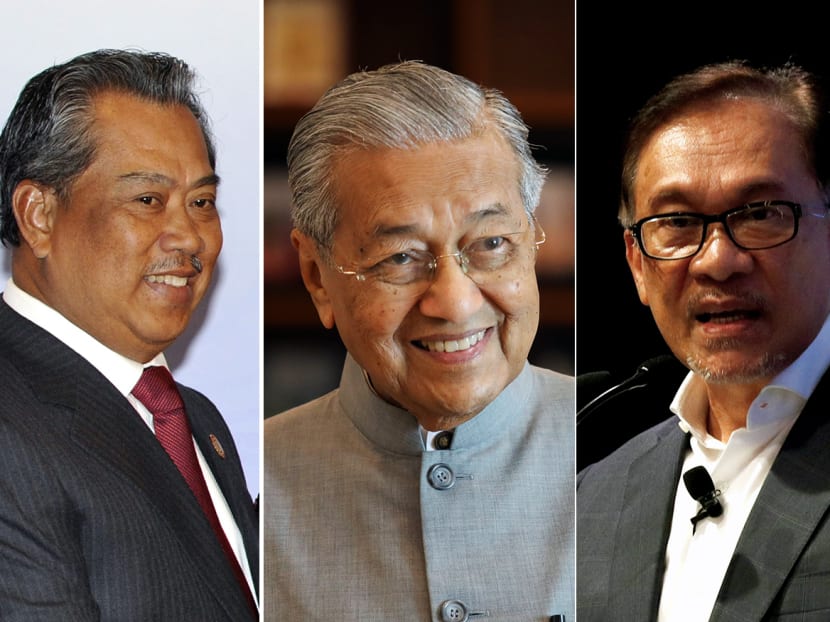 SINGAPORE — The stage has been set: After days of political tumult that peaked with the resignation of Malaysia's prime minister Mahathir Mohamad, lawmakers will meet in parliament next Monday (March 2) to decide on who will lead the country next.
This came after the Malaysian King interviewed members of parliament (MPs) to try to ascertain who should helm the country, but found no distinct majority for any candidate.
If a clear frontrunner fails to emerge in Monday's session, Malaysia is set to head into a snap election — less than two years after the Pakatan Harapan (PH) coalition swept to power in a surprise victory.
TODAY looks at the three possible candidates for prime minister, and the prospect of a snap poll.
MAHATHIR MOHAMAD
Dr Mahathir, 94, is Malaysia's interim prime minister and the world's oldest leader.
He resigned as prime minister on Monday, three months shy of two years in the top post, after the collapse of a delicate four-party coalition that he led to power with former nemesis Anwar Ibrahim.
Malaysia's King has named him to the interim position, in line with the federal constitution, until a new prime minister is appointed.
Dr Mahathir — who was also Malaysia's longest-serving prime minister from 1981 to 2003 — has the backing of 64 MPs in the country's 222-seat federal parliament. To form a government, he needs to command a simple majority of 112 seats.
The 64 lawmakers who back him comprise those from his party, the Parti Pribumi Bersatu Malaysia (PPBM); former members of Parti Keadilan Rakyat (PKR) who have now formed an independent bloc headed by Mr Azmin Ali, the former economic affairs minister; the Coalition of Sarawak Parties; and Sabah state's ruling party Warisan.
He is far from securing a simple majority.
Dr Cassey Lee, a senior fellow with the Malaysia studies programme at research centre Iseas-Yusof Ishak Institute, said Dr Mahathir could cobble together a majority if he joins hands, at the eleventh hour, with the United Malays National Organisation (Umno) and Parti Islam Se-Malaysia (PAS) — parties that the PH coalition defeated in the 2018 polls.
Together, Umno and PAS have 57 members in the federal parliament. If Dr Mahathir does take those MPs under his wing, he would garner a comfortable majority of 121 members.
But Dr Mahathir has repeatedly made clear that he would not accept Umno — of which he was a member for much of his political career until 2016, when he joined PPBM — as part of a ruling government.
Dr Mahathir resigned as prime minister and PPBM chairman on Monday after the party's president Muhyiddin Yassin pulled PPBM out of the PH coalition, resulting in the collapse of the government. Dr Mahathir said the impact of PPBM leaving PH was that the party would then support PAS and Umno in forming a pact.
Dr Mahathir quit Umno in 2016 as he said the party was dedicated to shielding former prime minister Najib Razak, who is facing a corruption trial in Malaysia's High Court over state fund 1MDB.
Dr Lee said: "Dr Mahathir seems to have burned his bridge with Umno and PAS, so it's difficult for his group to work with Umno. If they join, they would immediately have enough for a majority."
Still, Dr Mahathir has signalled that he would be open to accepting Umno members who leave the party and join other parties.
Dr Oh Ei Sun, a senior fellow at the Singapore Institute of International Affairs, said Dr Mahathir could work with individual members of Umno to make up the shortfall.
"You really don't know what Dr Mahathir has up his sleeves," he said. "I think he must be plotting something these few days, to such an extent that Anwar is still deprived of the 112 (seats)," he said.
ANWAR IBRAHIM
Mr Anwar, 72, was meant to succeed Dr Mahathir as prime minister by May as part of a succession pact — but the upheaval this past week threw those plans into disarray.
Even so, Mr Anwar appears to be the closest to winning a simple majority in parliament, with 92 MPs from the PH coalition's three remaining parties behind him.
The three parties are the Democratic Action Party (DAP), PKR, of which Mr Anwar is president, and Parti Amanah Negara.
Political analysts told TODAY that Mr Anwar could secure a breakthrough if he received the backing of the Coalition of Sarawak Parties, which has 18 seats, and Warisan, which has nine. This would take his support past the simple majority needed, at 119 members.
Analysts have previously dubbed the parties in East Malaysia as "kingmakers" in the formation of a new federal government, with some believing that the Sabah and Sarawak MPs should capitalise on the opportunity to make demands for the two states. 
It is not the first time that the East Malaysian parties have found themselves in such a role. Sabah and Sarawak helped the then Barisan Nasional (BN) government retain power in the 2008 and 2013 general elections. In the 2018 polls, unhappiness over the 1963 Malaysia Agreement, which outlined the terms for the country's formation, and rising state nationalism saw BN lose heavily in the two states, which had been its "fixed deposits". The results played a significant role in the fall of the BN government.
But Dr Lee of the Iseas-Yusof Ishak Institute noted the longstanding enmity between the Coalition of Sarawak Parties and the DAP.
"If Anwar can smooth the relationship between the two parties, that would be the only clear breakthrough," said Dr Lee.
Alternatively, Dr Lee said Mr Anwar could round up members from fringe parties, and persuade Warisan and some PPBM members to defect so as to scrape together a majority.
MUHYIDDIN YASSIN
PPBM president and former home affairs minister Muhyiddin, 72, is the third prospective candidate. He was deputy prime minister and Umno's deputy president from 2009 to 2015.
Dr Mahathir confirmed on Thursday that the party was considering Mr Muhyiddin as one of the candidates for the top job, adding he was "okay" with that outcome if everybody wanted it.
But the analysts said that the likelihood of Mr Muhyiddin becoming prime minister was low.
Dr Lee argued that it is unlikely Mr Muhyiddin would have the support to form a government, unless the party tied up with Umno and PAS, which both on Thursday refuted a news report that they were backing Mr Muhyiddin as prime minister.
And with Dr Mahathir agreeing to return as chairman of PPBM according to a report by state news agency Bernama, the prospect of PPBM working with Umno and PAS is unclear, given Dr Mahathir's indication that he would not work with Umno.
Dr Serina Abdul Rahman, a visiting fellow with the Iseas-Yusof Ishak Institute, agreed: "Muhyiddin… seems like a long shot in terms of support."
Dr Lee added that Mr Muhyiddin's health may also be a stumbling block. In 2018, he received treatment for pancreatic cancer.
SNAP POLL LIKELY?
Professor James Chin, director of the Asia Institute Tasmania, said the dissolution of parliament for snap polls was very unlikely, as this would be fraught with uncertainties and prolong the leadership crisis.
Already, the political stalemate has caused a dent in Malaysia's economy, Prof Chin added.
Even so, Dr Lee said a snap election would benefit the Umno-PAS alliance because they are a strong Malay outfit.
Prof Chin said previously that sections of the Malay electorate who perceived the now-shattered PH government as controlled by the Chinese would be happy to see a new Malay unity government in power.
Dr Serina agreed: "For Umno to win (support), they would need snap elections."