Former Malaysian PM Najib arrested by graft-busters, to be charged on Wednesday
KUALA LUMPUR — Malaysia's former prime minister Najib Razak is expected to be charged on Wednesday (July 4) morning, after he was arrested by anti-graft officers at his home around 2.45pm on Tuesday (July 3).
KUALA LUMPUR — Malaysia's former prime minister Najib Razak is expected to be charged on Wednesday (July 4), after he was arrested by anti-graft officers at his home around 2.45pm on Tuesday.
Mr Najib, who is being investigated for how money went missing from a state fund he founded almost a decade ago, was picked up after being served with a remand order, two sources close to the family told Reuters.
He will be charged with more than 10 counts of criminal breach of trust, according to a report by Bernama national news agency.
Other media outlets reported that Mr Najib will face several charges under the Penal Code, and the Anti-Money Laundering and Anti-Terrorism Financing Act.
Mr Tommy Thomas, the new Attorney General, will lead the prosecution team.
Mr Najib is being detained overnight and is expected to turn up at 8.30 am at the Kuala Lumpur Court Complex, just a couple of kilometres from his Jalan Langgak Duta private residence where he was arrested.
The authorities said Mr Najib was arrested in relation to a probe into SRC International, a former unit of the scandal-hit state fund 1Malaysia Development Berhad (1MDB) that pursued overseas investments in energy resources. 
Founded by Mr Najib in 2009, 1MDB is being investigated in at least six countries for alleged money laundering and graft. Mr Najib has consistently denied wrongdoing.
In an interview last week with Malaysiakini that was published on Tuesday evening, he predicted that he would be arrested soon as the government had "no choice" after falsely painting him as a thief.
"The Pakatan Harapan government's current political storyline is simple: 'Najib stole billions'. Hence, the country is close to bankruptcy and (Pakatan Harapan) cannot deliver their manifesto promises and may have to sell off or privatise state assets such as Petronas," he told the news outlet.
"Already, the Japanese newspapers have reported that The Philippines' San Miguel conglomerate is eyeing our state oil and gas assets," he said, reiterating that the government's claim that the national debt was RM1 trillion (S$338 billion) was "misleading".
"This situation and what they have said before means that the new government simply has no choice but to eventually arrest or charge me even though I did not steal. I maintain that I am innocent as I am not a thief."
Civil lawsuits filed by the US Department of Justice allege that nearly US$4.5 billion (S$6.15 billion) from 1MDB was laundered through a complex web of transactions and shell companies.
But the initial focus of the Malaysian Anti-Corruption Commission (MACC) investigation focused on how 42 million ringgit went from SRC International to Mr Najib's account.
MACC had called up Mr Najib for questioning on May 22 and 24 over the matter.
SRC was created in 2011 by Najib's government to pursue overseas investments in energy resources, and was a unit of 1MDB until it was moved to the finance ministry in 2012.
MACC has been able to track the money trail from SRC more easily because transactions were made through Malaysian entities, whereas most other transfers of 1MDB funds went through foreign banks and companies.
Malaysian police say they have seized nearly US$275 million worth of jewellery, handbags, watches and cash from premises linked to Mr Najib, while authorities have frozen more than 400 bank accounts as part of the 1MDB probe.
Mr Najib's wife, Rosmah, has also been quizzed by anti-graft investigators in relation to 1MDB and Mr Najib's stepson, Riza Aziz, was giving a statement to the MACC when news broke of Mr Najib's arrest.
Mr Riza is the co-founder of Red Granite Pictures, a company that US prosecutors say financed three Hollywood films, including the 2013 Martin Scorsese movie "The Wolf of Wall Street", with funds misappropriated by 1MDB.
​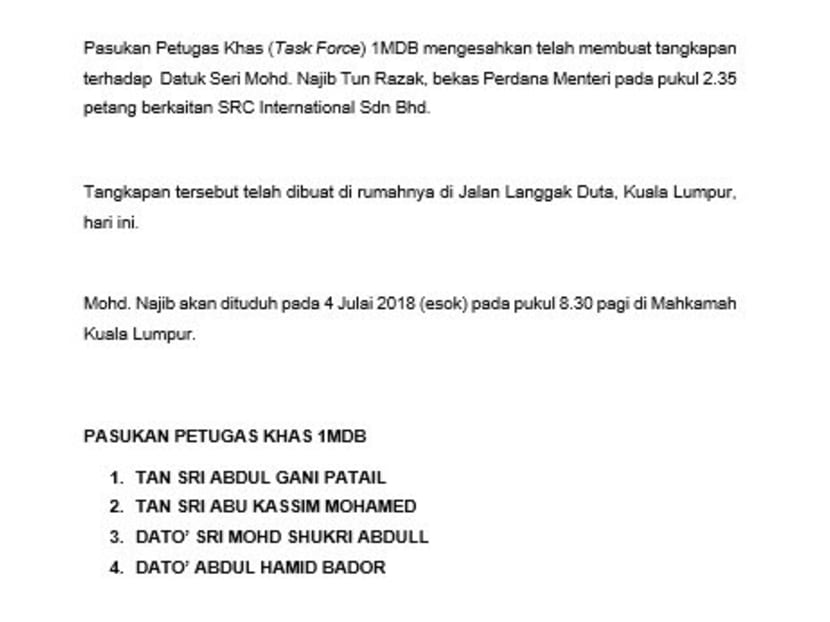 Hours after Mr Najib's arrest, his former deputy Datuk Seri Ahmad Zahid Hamid emerged from a second day of questioning at MACC and said he "respected the rule of law" in the matter.
"I am confident that what is going to happen is done to 'clean-up' this (1MDB) case. And I respect that," Mr Zahid, the newly elected United Malays National Organisation (Umno) president, told reporters.
"If there are investigations to be carried out, some evidence or witnesses have to appear to clear the image and perceptions of public. Because now, the judgement, the court of public (opinion) has played an important role in creating negative perceptions."
Mr Zahid was questioned over the 1MDB case on Monday. Anti-graft officers queried him on a family-owned welfare foundation, Yayasan Akal Budi, on Tuesday.
Later on Tuesday evening, dozens of supporters of Mr Najib gathered outside the MACC headquarters in Putrajaya to protest against his arrest.
Umno Supreme Council member Lokman Nor Adam, a former aide to Mr Najib, had earlier called on Malaysians to turn up in a show of solidarity with the former prime minister.
Speaking at the gathering, Mr Lokman claimed that Mr Najib is a victim of propaganda, and that he has been falsely arrested for his alleged involvement in 1MDB.
"Najib has cooperated with MACC twice, and yet, they arrested him. Do they need to arrest him? No. They just want to break his spirit," he told the small but energetic crowd.
Mr Najib's supporters chanted "Bebas Najib" (Free Najib) and "Fitnah Najib" (Najib falsely accused) in between short speeches by those present. AGENCIES
Najib goes from PM to detainee in less under two months
KUALA LUMPUR - Former Prime Minister Najib Razak's arrest comes just 55 days after a crushing electoral defeat in the May 9 polls, demonstrating the speed at which the new Mahathir government is moving in its probe of alleged wrongdoing in state fund 1MDB.  
Since his unexpected win in the general election, Prime Minister Dr Mahathir Mohamad has acted swiftly and decisively on the 1MDB investigations.
On May 11, his first day back in office after being sworn in by the King the night before, he announced full investigations into various agencies such as the Attorney-General (AG and the Malaysian Anti-Corruption Commission (MACC) for suspected misconduct.
He also accused then Attorney-General Mohamed Apandi Ali of breaking the law by hiding evidence on the alleged misappropriation of funds from 1MDB, before sacking Mr Apandi shortly after.
The next day, Dr Mahathir gave orders to bar Datuk Seri Najib and his wife Rosmah Mansor from leaving the country after the couple tried to take a private jet for a week-long holiday overseas. On the same day, police raided a deluxe Kuala Lumpur apartment block at which relatives of Datuk Seri Najib had been staying as they searched for sensitive documents.
On May 15, Dr Mahathir said that Mr Najib could be charged soon over graft allegations linked to state fund 1MDB, adding that he will not strike a deal with his immediate predecessor.
"We are slowly getting to the bottom of things and many of our senior officers are volunteering information accompanied, of course, by documents," Dr Mahathir said via video conference to The Wall Street Journal CEO Council Meeting in Tokyo.
"We think that within a short while we will have a case against him, we will be able to charge him."
Meanwhile, Malaysian police widened their searches of properties linked to and belonging to the ousted premier, seizing documents, cash, jewellery and hundreds of designer bags that authorities subsequently said came up to over RM1.1 billion.
The probe intensified when Malaysia set up a taskforce on May 21 to look into possible criminal conduct of individuals involved in 1MDB transactions, and when Malaysian Anti-Corruption Commission (MACC) questioned Mr Najib on May 22 and 24 over the transfer of RM42 million (S$14.2 million) from a 1MDB unit to his personal account.
Dr Mahathir, who was once Mr Najib's mentor and ally and who is back in power after a prior stint as premier from 1981 to 2003, had accused him repeatedly on the campaign trail of being a "thief" over alleged graft at 1MDB.
Mr Najib has denied any wrongdoing and said the current government's probe was "political revenge".
As Dr Mahathir's administration entered into its second month, the signs were there that authorities were closing in on arresting Mr Najib.
Dr Mahathir said on June 19 that the government is looking to bring charges of embezzlement and bribery against Mr Najib.
A week later, speaking to Malaysians in Indonesia while on an official visit, he said that he expects authorities to arrest Mr Najib soon.
"I think (it will happen) soon. To bring such case to court, we need to find sufficient evidence that will stand up in court," he said, reiterating a point he had made on previous occasions. AGENCIES
Sign up for TODAY's WhatsApp service. Click here: