Gas mask sales soar in Taiwan as Hong Kong protesters seek fresh supplies
HONG KONG — Sales of gas masks have soared in Taiwan, with some shops reportedly running out of stock in the past month as Hongkongers snap up supplies on the island to protect themselves during extradition bill protests.
HONG KONG — Sales of gas masks have soared in Taiwan, with some shops reportedly running out of stock in the past month as Hongkongers snap up supplies on the island to protect themselves during extradition bill protests. 
A sales manager at Taipei-based Ceachain Enterprise, a wholesale and online supplier of protective equipment, said the company had triple-digit growth in sales of gas masks and filters compared with the same time last year.
"We are running out of stock of (one model) and it will take three months to get more from the manufacturer," she said, adding that other models that were just as effective were still in stock.
Since June, police in Hong Kong have fired more than 1,800 rounds of tear gas during protests triggered by the now-shelved extradition bill.
Health experts warn that improper use of the crowd-control agent could turn it into a deadly weapon.
Supplies of gas masks ran out in Hong Kong last month and courier companies have reportedly stopped delivering the products from the mainland, prompting some protesters to turn to Taiwan.
"Because demand is growing daily, we finally decided to allow individual buyers to purchase and pick up the products from our company as long as they make their orders by phone a day in advance," the Ceachain manager said.
Another wholesaler in Taipei said that not many people bought the respiratory equipment before the protests started but sales at his company had skyrocketed in recent weeks.
"We sold out of more than 3,000 units in just one month — that's already three times more than we ordered from manufacturers for all of last year," he said.
At Fusheng Chemicals and Instruments, also in Taipei, a sales employee said that almost everybody who went to the shop bought multiple sets of the equipment, with each set including a face mask, two filter cartridges and a pack of filter pads.
"They told me they need to take them back to Hong Kong for their friends and themselves because they couldn't find new supplies there," the employee said, adding that the company did not send orders to Hong Kong.
"We have prepared 10 sets for a Hong Kong customer who is supposed to come to get them soon."
One customer, a 27-year-old office worker from Hong Kong, said he was buying the equipment for his friends.
"No tear gas was used in the last protest but (Hong Kong Chief Executive] Carrie Lam and the police have not guaranteed they won't use it on the August 31 protest, so it might be safer for us to buy them here to prepare in advance," he said.
He said he was not on the front line of the protests and so had not encountered tear gas, but some of his friends who scuffled with police came away with severe coughs and eye inflammations.
"We tried to buy or order the gear locally, but couldn't find supplies in Hong Kong," he said.
Mr Huang Chun-sheng, head pastor of the Che-Lam Presbyterian Church in Taiwan, said the congregation had started collecting supplies of respiratory equipment for the protesters after hearing reports that none were available in Hong Kong.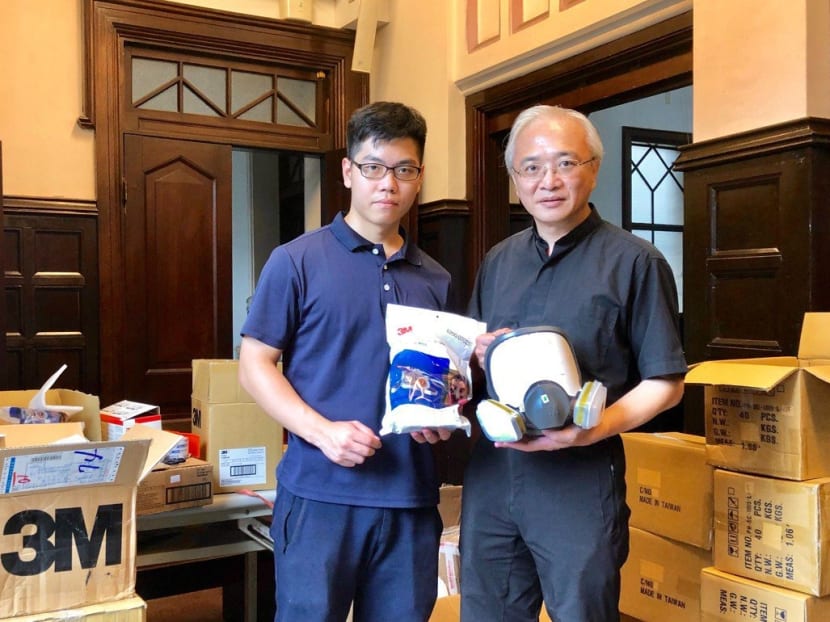 "We have been told online stores like (mainland online shopping website) Taobao and couriers like SF Express have faced mounting pressure for selling or shipping those products to Hong Kong and have stopped the services," Mr Huang said.
"Some enthusiastic supporters in Taiwan started to donate the products and asked us to arrange to have the equipment sent to those in need in Hong Kong."
Taobao is owned by Alibaba, which owns the South China Morning Post.
So far, his church had sent more than 1,000 sets of the equipment to Hong Kong, either through the post or via personal couriers.
"We do this out of humanitarian concern, especially after reports that many innocent people were injured during the protests," Mr Huang said.
Beijing has accused Taipei of fanning the unrest in Hong Kong by supplying protective gear to Hong Kong protesters.
Earlier this week, Mr Ma Xiaoguang, spokesman for Beijing's Taiwan Affairs Office, lashed out at Taiwanese President Tsai Ing-wen and her government, accusing them of "playing an extremely disgraceful role" in Hong Kong's unrest and demanding they "withdraw their black hands from Hong Kong".
Mr Ma also warned Taiwan against offering asylum to Hong Kong protesters, saying Beijing would not tolerate any attempt by Taipei to meddle in Hong Kong's affairs.
Beijing considers Taiwan a wayward province awaiting unification by force if necessary. It has suspended official exchanges with the self-ruled island since Ms Tsai took office in 2016 and refused to accept the one-China principle. SOUTH CHINA MORNING POST