Hong Kong to phase out fossil fuel cars and go all electric over next 20 years, says environment chief
HONG KONG — Hong Kong plans to phase out all fossil fuel vehicles over the next 10 to 20 years and switch to electric modes of commercial and public transport to improve air quality, according to the city's environment chief.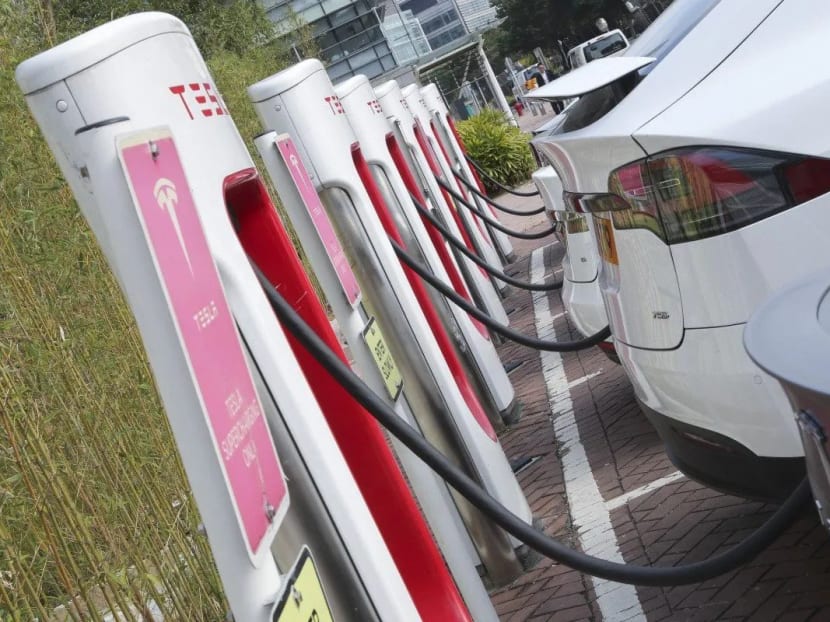 HONG KONG — Hong Kong plans to phase out all fossil fuel vehicles over the next 10 to 20 years and switch to electric modes of commercial and public transport to improve air quality, according to the city's environment chief.
Secretary for the Environment Wong Kam-sing's commitment to the city's electric vehicle (EV) transition came just a week after he announced that the government would provide HK$2 billion (S$347 million) to old private estates to upgrade parking facilities to EV charging.
"It's about readiness. When the EV market is more mature, we will be prepared. We will not be able to meet the demands if we don't take action now," he said in an interview with the South China Morning Post.
The government's plan is expected to cover 60,000 car spaces across the city. Combined with 100 per cent gross floor area concessions for electric vehicle chargers granted by the Building Authority since 2011 to private developers, a quarter of all parking spaces in Hong Kong should be compatible with electric vehicle charging in three years, Mr Wong said.
As of August, there were 12,195 electric vehicles approved for road use in Hong Kong, up from fewer than 100 at the end of 2010. EVs make up about 1.8 per cent of private cars in the city, putting it just behind Beijing's 2 per cent.
Mr Wong said the government still needed to consult the public on the exact time frame to ban all fossil fuel vehicles, but doing it in the next decade or two was reasonable given the experiences of other jurisdictions.
In Norway, where 52 per cent of all new car sales in 2017 were electric, diesel and gas vehicle sales have been forecast to end by 2025. Ireland has planned to ban sales by 2030. And the United Kingdom has said it hopes to stop the sale of gas vehicles by 2040, cutting the country's vehicle emissions to zero by 2050.
In Asia, Taiwan has announced a ban on all sales of non-electric motorcycles by 2035 and four-wheel vehicles by 2040, while mainland China has said it is developing a long-term plan to phase out combustion engines but has not set a date.
Official statistics show roadside concentrations of major pollutants, including respirable suspended particulates, fine suspended particulates, sulphur dioxides and nitrogen dioxides decreased by 57 per cent, 54 per cent, 74 per cent and 17 per cent respectively in 2018 compared to 1999. But the concentration of nitrogen oxides, which can cause lung disease, has remained high.
After offering incentives to increase charging facilities for private cars, Mr Wong said the government was now formulating plans to help taxis and commercial trucks to switch to electric. For taxis, it would require a network of quick-charging stations, which can charge a car in less than two hours.
"The Environmental Protection Department has engaged a contract service starting in mid-October to identify suitable sites for the development of quick-charging stations to upgrade its taxi fleets, in order to promote e-taxis," the department said.
Mr Wong added the pilot Green Transport Fund, which subsidised public transport and commercial vehicles to switch to lower-emission models, would be scaled up and could fund 200 to 1,000 small electric trucks.
"We will also make the transition to electric minibuses, which are a Hong Kong icon," Mr Wong said.
On water vessels, the environment secretary said the government was in negotiations with ferry operators, and a pilot scheme for new-energy ferries would be developed.
Mr Jeffrey Hung Oi-shing, a senior programme manager at Friends of the Earth (HK), said increasing charging facilities would encourage people to switch to more sustainable cars, but the government also needed to consider capping the number of private vehicles on Hong Kong's roads.
"EVs are not the most optimal solution. On busy roads where there is both private and public transport, which still uses fossil fuels, congestion will cause more pollutants to be emitted," he said.
However, the minister dismissed his concerns and said 90 per cent of new EVs registered in Hong Kong had been bought under a "one-for-one" scheme, which gives buyers a HK$250,000 tax break for replacing an old car with an electric one.
"It balances out the number of new cars on the road since weekend cars cannot be bought under the scheme."
According to Mr Wong, an average of 20 new EVs were registered every day this month alone, compared with just one per day in October last year.
Locky Law, director of education at ChargedHK, a non-profit that promotes clean air by adopting EVs, agreed with the new policies but said the government should provide bigger tax breaks to encourage more people to make the switch to electric cars.
"People who care about their emissions would have made the switch years ago," Law said. "The point now is to convince less conscious consumers to buy EVs." SOUTH CHINA MORNING POST