Hong Kong protests: How the city's Reddit-like forum LIHKG has become the leading platform for organising demonstrations
HONG KONG — A post on the popular Hong Kong forum LIHKG calls on residents to skip work and classes to support a strike by civil servants and MTR staff and put pressure on the city's embattled leader Carrie Lam Cheng Yuet-ngor.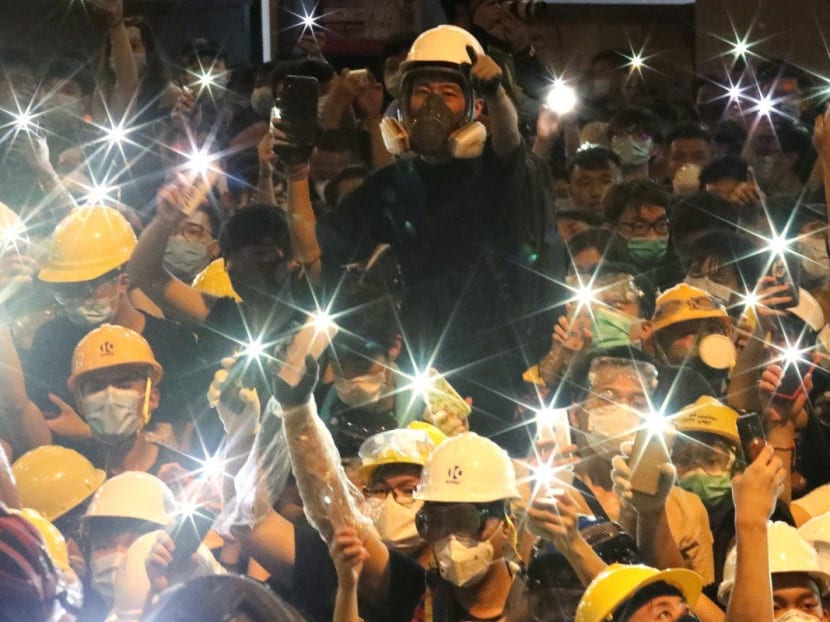 HONG KONG — A post on the popular Hong Kong forum LIHKG calls on residents to skip work and classes to support a strike by civil servants and MTR staff and put pressure on the city's embattled leader Carrie Lam Cheng Yuet-ngor.
Written in Cantonese by an extradition bill protester last Monday, the post quickly garnered more than 11,000 upvotes from netizens supporting the movement that has been shaking Hong Kong for two months.
Another post appeared to call for a citywide strike on Monday (Aug 5).
"Skip work, you may lose your job. But if you don't skip work, you will lose Hong Kong and your home! Freedom is not free, I beg you, let's recover Hong Kong," it read.
The forum, dubbed 'Hong Kong Reddit', has emerged as one of the virtual command centres of the apparently leaderless movement against the now-shelved bill that would have allowed the transfer of fugitives from Hong Kong to jurisdictions it lacks an existing arrangement with, including mainland China.
Ongoing discussions on the forum include where to buy equipment for protests and messages of encouragement to keep fighting.
City Weekend explores why LIHKG is so popular in Hong Kong, how the online platform has evolved over the years and how it ended up becoming one of the leading social media platforms for Hong Kong's protests.
WHAT IS LIHKG?
Established in 2016, LIHKG is a news forum site based in Hong Kong. The site was formed by the creators of the now-defunct forum HKG+, which used to be affiliated as a third-party application with another local forum site HKGolden.
After HKG+ was banned by HKGolden in the same year, LIHKG surged in popularity and replaced HKGolden as the go-to site for Hongkongers to discuss political content.
LIHKG is often compared to Reddit, an American forum site where users create threads and submit a variety of content through relevant subreddits that categorise the posts into different sections.
LIHKG has similar subforums with specific topics related to food, technology, dating and more.
Unlike Reddit, Hongkongers generally prefer to stick to LIHKG as posts are predominantly in their native tongue, Cantonese.
The city's subreddit, r/HongKong consists of about 90,000 subscribers who are mainly expatriates, tourists or locals comfortable in English. Since the extradition bill crisis, the sub-reddit sometimes reposts translated information from LIHKG for non-Chinese speakers.
HOW DID LIHKG BECOME THE MAIN PLATFORM FOR THE ANTI-EXTRADITION MOVEMENT?
Protesters are able to use LIHKG to call more people to the streets and request supplies to aid those on the front lines.
"If I get there at 7pm, will it be too late?" asks one poster to the rallying call.
"No it won't, we really need people on the streets," another replies.
Threads can be voted up or down by other community members. They can potentially gain hundreds or thousands of upvotes and comments, making them more likely to appear on the forum's front page.
Although LIHKG is mainly local, users may try to spread what they have shared through LIHKG to international audiences. A user once created a thread which urged others to translate memes and share them on popular Reddit meme channels. Some of these memes appeared on highly frequented subreddits such as r/dankmemes and r/funny.
The forum is also used for crowdfunding, such as backing a bid for world leaders to address the extradition bill crisis during the G20 Summit.
On June 25, open letters written by protesters were advertised in newspapers including the Financial Times and The New York Times. Thanks to the influence of LIHKG, almost HK$5.5 million was raised by 22,066 activists, 82 per cent more than the targeted amount.
HOW CAN USERS STAY ANONYMOUS ON LIHKG?
LIHKG is a safe haven for people who may fear speaking up in real life, but still want to call for freedoms and remain politically active.
An account can only be created with an email address provided by an internet service provider or higher education institution, meaning the user cannot hide their identity from LIHKG. However, the forum does not require users to reveal any personal information, including their names, so they can remain anonymous. The authorities could still try and get this information through a search warrant.
Many still feel this is a safer alternative to HKGolden, especially after its site administrators were forced to hand over the IP address of a 23-year-old user to the authorities. The user had made posts encouraging people to attack police and block MTR stations during the pro-democracy Occupy movement of 2014.
While HKGolden was the main forum used during Occupy, it has since limited political content on its site, causing users to gravitate to LIHKG.
ARE THERE ANY RISKS TO USING LIHKG?
Many popular websites supported by Cloudflare, including LIHKG, shut down mysteriously on July 2, a day after Hong Kong's legislature was stormed and trashed by protesters.
Cyberattacks from mainland China were initially thought to be behind the outages, but Cloudflare has since clarified they were due to an internal issue. Administrators created a Twitter account the day after as an alternative way for users to access LIHKG content.
More radical methods of protest can also divide LIHKG users. Before a 15-hour siege of police headquarters in Wan Chai on June 21, there were arguments against storming into the station.
"We could lose everything if we storm in. Let's protect ourselves and not create rifts between us. Stay calm," one post read.
Another said: "We need to minimise the impact on civilians to avoid losing public support."
LIHKG is also fertile ground for doxxing people not supportive of the movement against the extradition bill. One police officer found himself a target of public mockery when his name and picture were leaked, along with private Tinder conversations requesting sexual favours in a police station.
Printouts of the conversations were later displayed on multiple so-called Lennon Walls, colourful collages of Post-it notes with messages that have sprung up all over Hong Kong.
LIHKG has also enhanced a sense of community among Hongkongers. For example, the phrase "Be water, my friend", originally said by martial arts legend Bruce Lee, has become a mantra for protesters, who have taken a fluid approach to their rallies.
The phrase has been popularised on LIHKG as a way to provide encouragement and unite citizens. SOUTH CHINA MORNING POST