How Snapchat is helping one doctor transform medical training
NEW YORK ― Shafi Ahmed dons a pair of digital sunglasses and explains how the tiny lenses built into its black plastic frame, which can capture high-resolution images, are transforming how doctors get trained in operating rooms.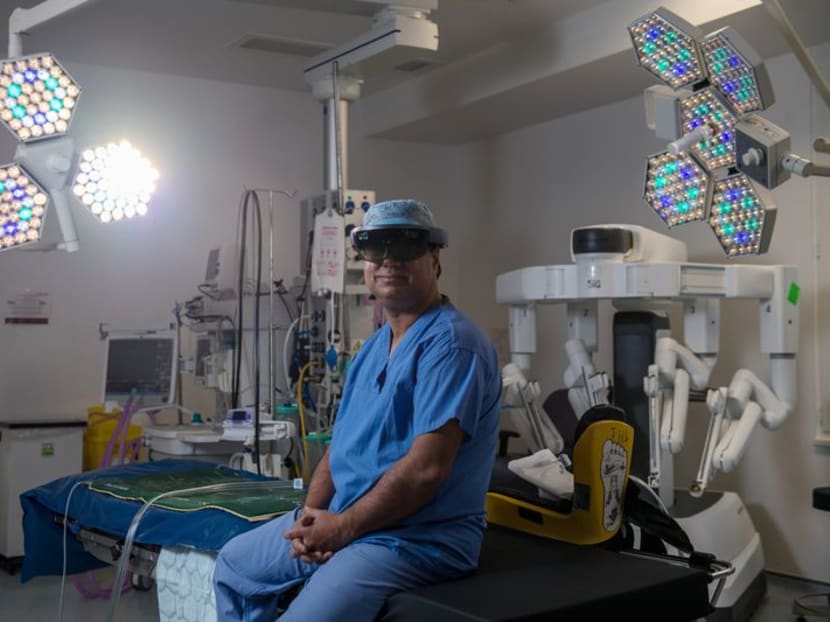 NEW YORK ― Shafi Ahmed dons a pair of digital sunglasses and explains how the tiny lenses built into its black plastic frame, which can capture high-resolution images, are transforming how doctors get trained in operating rooms.
The British colorectal surgeon used Snap's high-tech spectacles a year ago to walk rookie physicians and millions of curious viewers through a hernia operation using the Snapchat photo-sharing app.
In 2018, he plans to beam his avatar into operating rooms with so-called immersive technology, which spans everything from military training to adult entertainment, and promises to support the next generation of doctors with real-time supervision and tutelage.
"Doctors do not need to feel out of their depth, and this technology will allow them to get help whenever required," says Dr Ahmed, whose early adoption of digital technology and social media has seen him recognized as the planet's most-watched surgeon, with more than two million views and 50 million Twitter posts for the Snapchat surgery alone.
"We all need support and help when faced with a tricky situation."
Dr Ahmed's well-publicized, public approach rankles some members of a very conservative profession.
Yet he says it represents one of the best ways to meet the World Health Organization's call to "scale up transformative, high-quality education" and plug a predicted global shortfall of 15 million health workers by 2030.
A report by the Lancet Commission on Global Surgery estimated in 2015 that five billion people lack access to safe, affordable surgical and anesthesia care, leading to about 17 million deaths annually.
Saving lives will require a doubling of the surgical workforce, or an extra 2.2 million surgeons, anesthetists and obstetricians over 15 years, the report said.
'Great interest' 
"It's not just that we have a shortage of health professionals, we also, as a consequence, have a shortage of teachers," said Josip Car, an associate professor of health services outcomes research at Singapore's Nanyang Technological University's Lee Kong Chian School of Medicine.
Associate Professor Car is working in collaboration with the WHO on the world's largest systematic review of evidence on the effectiveness of digital learning.
It's a field, he says, that is attracting "great interest," but which requires careful evaluation.
"The evidence appears to suggest that, on the whole, these technologies are likely to be equivalent to traditional modes of education," Associate Professor Car said in a telephone interview. "If this turns out to be so, that's very good news because many of them allow scalability and flexibility of learning."
Already, technological innovations are increasing the automation of diagnoses and personalized treatments, and medical schools are incorporating them into their teaching.
For example, California's Stanford Medicine is combining imaging from MRIs, CT scans, and angiograms with a new software system to create a three-dimensional model that physicians and patients can see and manipulate.
'Ripe for disruption'
"Medical education is ripe for disruption," said Marc M Triola, associate dean for educational informatics at NYU Langone Health in New York.
"Cutting-edge technologies such as virtual and augmented reality may quickly become standard-of-care and mainstream."
Dr Ahmed used Microsoft Corp.'s HoloLens headsets to virtually bring together surgeons from the BMI London Independent Hospital and Tata Memorial Hospital in Mumbai to operate together on a bowel-cancer patient in October. Each colleague was able to view tumor scans that appeared as 3D holograms, and could "see" each other as graphic avatars, standing and speaking as if together in the operating room at the Royal London Hospital.
Connecting people 
"My story is about connecting people globally," Ahmed, 48, said in his office at the London Independent Hospital.
An associate dean of Barts and the London School of Medicine and Dentistry, the Bangladesh-born surgeon performed the world's first virtual reality operation recorded and streamed live in 360-degree, or immersive, video in 2016.
It was viewed live by 55,000 people in 142 countries and downloaded 200,000 times on YouTube, he said. Ahmed co-founded Medical Realities, which began last April offering a free virtual reality interactive learning module for surgical trainees.
While virtual reality isn't new in health-care, its affordability is: Medical headsets have traditionally cost from US$30,000 to US$300,000, according to a World Economic Forum report on emerging technologies. Facebook's Oculus Go wireless headset, meant to be the company's most accessible VR device, will cost US$199 when it's released in early 2018.
Rapid growth 
That's helping to stoke a market for virtual reality hardware and software that's poised to expand 54 percent annually over the next five years, reaching almost US$27 billion by 2022, Sarasota, Florida-based Zion Market Research said in a report in October.
The global digital health market, which includes everything from fitness apps and wearable devices to consultations over the Internet, will reach US$537 billion by 2025 from US$196 billion in 2017, Transparency Market Research said in September.
Philips Healthcare, McKesson, Allscripts Healthcare Solutions Inc, Cerner, and Agfa-Gevaert NV are among companies benefiting from the growth, the Albany, New York-based firm said.
Continuous innovations are needed to meet the changing demands and future challenges of medicine, said Luke Slawomirski, a health economist and policy analyst with the Organisation for Economic Co-operation and Development in Paris.
'Hero physician' 
"The skills and attributes needed by health-care providers will be very different in the future," said Mr Slawomirski, who trained as a doctor.
"Soft skills like communication, teamwork, and adaptability to complex environments will be essential. The days of the hero physician are over: Healthcare is now all about teamwork, relationships, and trust."
Watching operations online won't provide essential surgical training, and nothing can replace the experience of interacting with real patients, said John Quinn, a vascular surgeon in Brisbane, Australia, and the executive director of surgical affairs with the Royal Australasian College of Surgeons.
"Just watching a picture of something being done doesn't teach you terribly much," said Dr Quinn, who completed his surgical training in the early 1980s. "You have got to be able to touch and feel and do all sorts of other things."
Privacy concern
The Australasian College isn't in favor of live-streaming surgeries because of privacy concerns and the potential to distract and pressure the surgeon, he said.
"It's treating surgery more as entertainment," Dr Quinn said. "It's almost voyeuristic and putting people's privacy greatly at risk, while they are showing things around the world to all sorts of people."
Dr Ahmed says that, besides the training function of his online operations, engaging with and educating the public helps to demystify surgery and make it more transparent.
"We have to challenge dogma and tradition in health," said Dr Ahmed, who won a national training award in 2015 and is on the council of the Royal College of Surgeons of England. "Unless you challenge, you will settle with mediocrity, stuck in the Dark Ages."