#trending: Indonesian bride gets coveted Coldplay concert tickets as dowry, netizens laud groom's efforts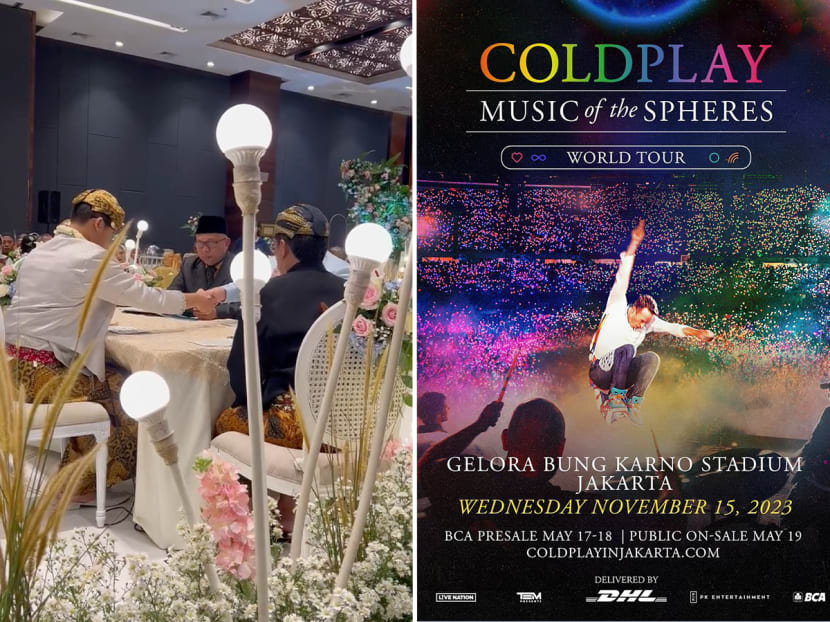 An Indonesian bridegroom presented tickets to popular rock band Coldplay as part of the dowry given to the bride during his wedding
The video of the wedding ceremony later went viral, with Coldplay fans praising the groom for obtaining the highly sought-after tickets
Tickets to the concert are in high demand in Indonesia
INDONESIA — An Indonesian couple has gone viral for their unique dowry: Tickets to the highly sought-after British band Coldplay's concert.
On Twitter, the groom's brother posted last Sunday (May 21) a moment during the couple's solemnisation with a caption stating that his "brother got married with Coldplay tickets dowry". 
The groom's family gave a dowry of gold, a set of prayer wear and perhaps the most valuable of all — Coldplay concert tickets. 
It is not known how many tickets were gifted and the value of each of them.
Coldplay's first-ever concert in Jakarta is scheduled for Nov 15 at Gelora Bung Karno Main Stadium, with tickets ranging from Rp 800,000 (S$72) to Rp 11 million (S$995).
In the video, the groom and bride's father clasp their hands as the bride's father declares: "I betroth you, my daughter Anastasya Ayu Widiadana, with a dowry of 21g of gold, a set of prayer clothes and Coldplay's concert tickets."
In response, the groom acknowledges the older man's words. 
In Islamic weddings, a dowry is usually given from the groom or groom's father to the bride. The dowry usually consist of money or possessions such as jewellery, which the couple typically would discuss and agree on the gifts.
During the wedding ceremony, the dowry is read out as part of the marriage contract when consent for the marriage from the bride's father is granted.
The video, later reposted on Coldplay fan account "idwantscoldplay" on Instagram, trended on social media, boasting more than 172,000 views within two days. 
Social media users saluted the man for obtaining the coveted Coldplay tickets as dowry.
One commented: "(This man's) battle is cool, because the ticket war is not easy."
Some fans suggested online that the couple might be invited on stage during the concert.
Coldplay's first concert in Jakarta is highly anticipated in the region, leading to intense ticket demand and subsequent ticket scalping. 
TEM Presents, one of the concert's promoters on Instagram, said that pre-sale tickets exclusively available to Indonesia's Bank Central Asia cardholders were reportedly sold out within 30 minutes, followed by general ticket sales being completely sold out as well.
A similar ticket frenzy occurred in Malaysia, where Coldplay will also be performing for the first time on Nov 22 at Bukit Jalil National Stadium in Kuala Lumpur. 
General tickets were sold out within hours of the tickets being released, with pre-sale tickets exclusive to CIMB cardholders quickly being snapped up as well. 
Due to complaints from fans who were unable to secure tickets due to bulk purchases by scalpers, the Malaysian authorities announced a meeting with the concert organiser to address the issue, news agency Bernama reported.