Jack Ma heads toward retirement with another Singles' Day record
HONG KONG — As Mr Jack Ma prepares to step down as chairman of Alibaba Group Holding, he does so after the online sales promotion he has championed for a decade notched another record.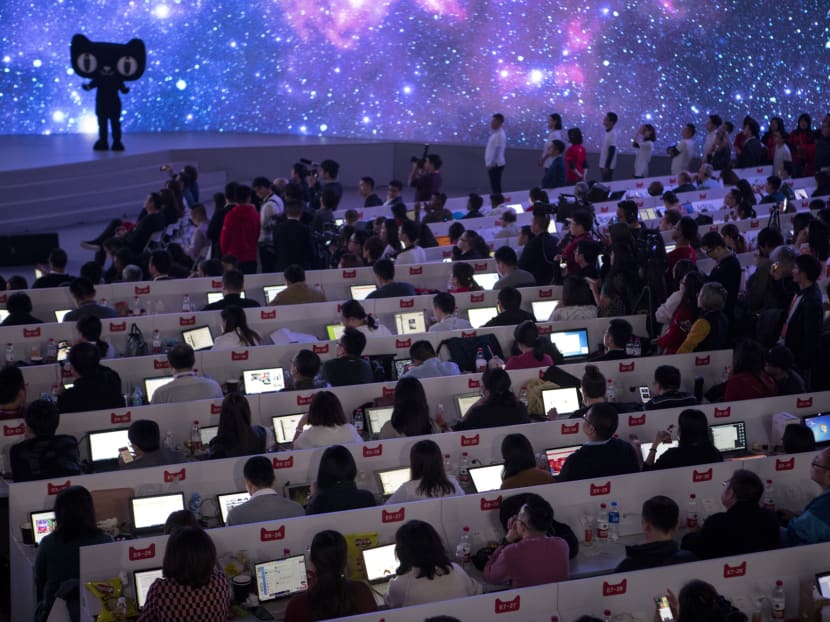 HONG KONG — As Mr Jack Ma prepares to step down as chairman of Alibaba Group Holding, he does so after the online sales promotion he has championed for a decade notched another record.
In its 10th iteration, the annual Singles' Day event on Nov 11 notched 213.5 billion yuan (S$42.3 billion) in merchandise sales, an increase of 27 per cent, according to a tally posted at the event's media center in Shanghai. The final number compares with 39 per cent growth last year.
Mr Ma will hand the chairman's role to Chief Executive Officer Daniel Zhang next year, passing along one of China's highest profile corporate roles at a time when the country is embroiled in a trade spat with the US. Concerns about the impact of those tensions on a slowing economy have contributed to a 16 per cent slump in Alibaba's share price this year.
"I think a lot of investors get it wrong," Vice-Chairman Joseph Tsai said on Sunday. "No. 1 China is not as bad as people think, No. 2 Alibaba has some unique aspects, we're really riding that cyclical trend, and when you talk about digitizing the economy, Alibaba is uniquely positioned with technology and knowhow."
Mr Tsai, a co-founder of the company, said he has no plans to follow Mr Ma into retirement and will continue to look after investment strategy with a team of more than 100 people.
This year's Singles' Day continued the trend of lavish showcases to drum up interest. The Hangzhou-based company used a televised entertainment spectacle featuring Cirque du Soleil and Mariah Carey and said some of its top-selling products came from Xiaomi, Apple and Dyson.
Big ticket items, such as flat-screen TVs and refrigerators, showed weaker growth this year, possible reflecting the slowing Chinese property market, Mr Tsai said.
Singles' Day hasn't always been about shopping and has its origins as an unofficial holiday on Chinese university campuses in the 1990s. The date, when written numerically as 11/11, looks like the Chinese expression for "bare branches," a term to describe the unattached in a nation that emphasises relationships.
It was Mr Ma and Mr Zhang who latched onto the idea of turning it into a consumer event, getting a boost from China's expanding middle class and a massive online population. This year's event stood out from the nine that came before it for a few key reasons.
Mr Ma's announcement in September that he would step down marked it as the last with him as chairman. Another is that it comes amid the trade dispute, offering important insight into the impact on consumer spending in the world's second-largest economy.
A third factor is that Alibaba is facing some of the stiffest competition in its history. Pinduoduo, which is backed by archrival Tencent Holdings, and other smaller platforms are gaining traction with consumers and other companies have latched on to making Nov 11 a key promotional event with discounts on the day.
To maintain its edge, Alibaba has invested heavily in traditional retail outlets, such as its Hema supermarkets, and expanded in other online services, such as food delivery. It's also made some key steps overseas, including taking control of Lazada to bring South-east Asian consumers in on the Singles' Day shopfest.
In the first hour of this year's event, the top countries selling to China were Japan, the US and South Korea, and the most popular items purchased overseas were dresses, wool coats, pants and hoodies.
"Alibaba is making use of all of its platforms to make Singles' Day a holiday that also includes dining and entertainment," Mr Jet Jing, president of Tmall, one of the company's main sites, said at the Singles' Day event. "We're connecting online shopping with offline physical outlets."
With Mr Ma set to exit, it will be up to Mr Zhang to prove he can carry on the chairman's legacy, including fulfilling a goal of creating a global company that gets half of its sales from overseas.
"For sure every year the number is getting bigger and bigger, and people are always asking Daniel what is the ceiling of this and can you still grow so fast," Mr Zhang said.
"But I say today if you look at the traditional online piece, the online piece is only 20 per cent of total consumption. But when we start with the new retail, it greatly helps us extend the total addressable market." BLOOMBERG