#trending: After 800 job applications and 30 failed interviews, woman in China questions point of having a university degree
HUNAN, CHINA — A university graduate in China submitted more than 800 job applications but only heard back from 30 companies for an interview.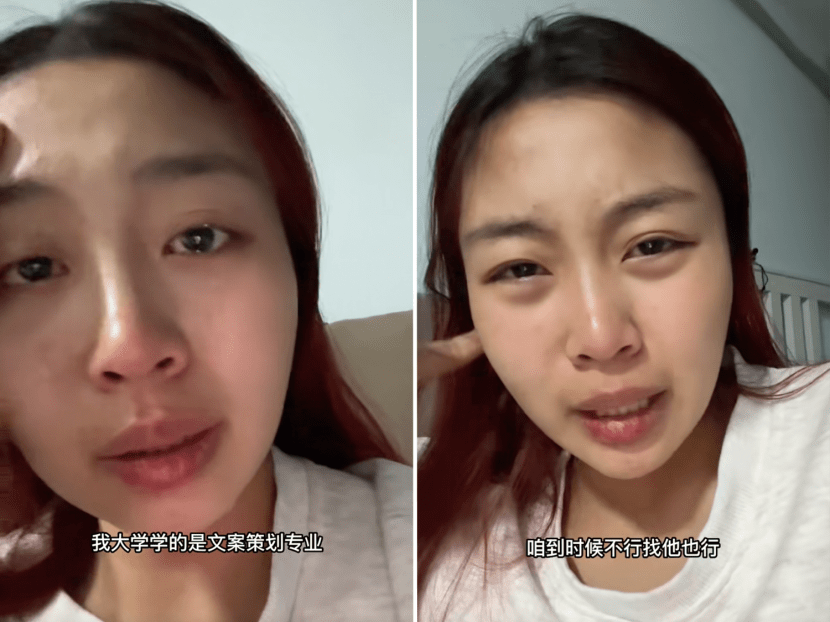 In a Douyin video that has gone viral, a woman in China questioned the validity of her university degree after she failed 30 job interviews
The 22-year-old said she felt like she was not good at anything and compared herself to her peers who seemed to be more successful
She also faces pressure from her family to score jobs in teaching or the civil service 
Her video has shed light on the struggles faced by fresh graduates in China
Many online users sympathised with the woman and encouraged her not to give up
HUNAN, CHINA — A university graduate in China submitted more than 800 job applications but only heard back from 30 companies for an interview.
Unfortunately, the woman was unsuccessful in securing any job offers, prompting her to film a tearful rant that has sparked a discussion on the hyper-competitive job market, as well as challenges faced by fresh graduates in the country.
In a video posted on Chinese social media platform Douyin, the unnamed woman from Hunan in southern China began by questioning the validity of her degree, as well as the point of going to university.
Although she majored in copywriting, the 22-year-old said that she also took a variety of classes on subjects such as social studies, programming and entrepreneurship.
"So I know a bit of everything but in the end, it's, like, I'm not good at anything," she lamented, adding that she later found out that people who did not attend university had the same skills as well.
The woman said that of the 30 companies that interviewed her, some offered her unpaid internships that did not guarantee a full-time position at the end of the stint.
She then talked about a close friend who found a job at a big firm in Beijing with a monthly salary of 7,500 yuan (about S$1,450).
Although it was a decent wage for a graduate, she said that her friend has to set aside 2,000 yuan to rent a small space every month and constantly works until the wee hours of the morning. Even on rest days, her friend can be called in to work at a moment's notice.
The woman goes on to compare herself to her younger peers who seem to have advanced in their careers since they started working at a younger age.
"Even my supervisors (are younger). They entered the workforce earlier and got to network and gain experience, but what about me?" she cried.
The woman admitted that she was brought up to believe that a respectable job would fall on her lap as long as she graduated from a university.
"But the difference (between expectations and) reality is so great that I feel like I'm going to become depressed."
She also said that she did not even dare to return home for Chinese New Year because her family would constantly pressure her to find a job and urge her to become a teacher or civil servant.
Her video, which has about 397,000 likes and 91,000 comments on Douyin, sheds light on the struggles of young Chinese graduates who are entering the workforce. 
Her situation seemed to resonate with many online users who encouraged her not to give up.
One person claimed that many university courses do not equip their students with the necessary social skills. 
Another online user wrote: "Since I started working, the first lesson that society taught me was to admit that I'm mediocre."
Someone remarked: "I realised more than 10 years ago that it is better to learn a hard skill rather than go to university."
Some people argued that the problem was with the type of degree she held, which presumably is in the liberal arts, but there were others who also argued that those who held degrees in the sciences face similar difficulties in the highly competitive job market.
There were fellow university graduates who said that they have ventured into setting up small food stalls, which is nothing to be ashamed of because it is still a job that brings in income.
A record number of 11.5 million students are expected to graduate from universities and colleges in China this year, adding more pressure on the nation's youth unemployment that is already near an all-time high, news agency Bloomberg reported.
The Chinese government has rolled out various measures to help the labour market absorb all the new entrants, including incentives for businesses to retain jobs as well as assistance for graduates who want to start their own business.