Karaoke, selfies and heart-to-heart talks: My 72 hours in North Korea
PYONGYANG — It certainly did not help to dispel my preconceptions about North Korea when I was handed a 10-page document soon after my arrival, telling me that I would be sent for "reform through labour" for at least five years if I committed acts of propaganda, espionage or sabotage against the country.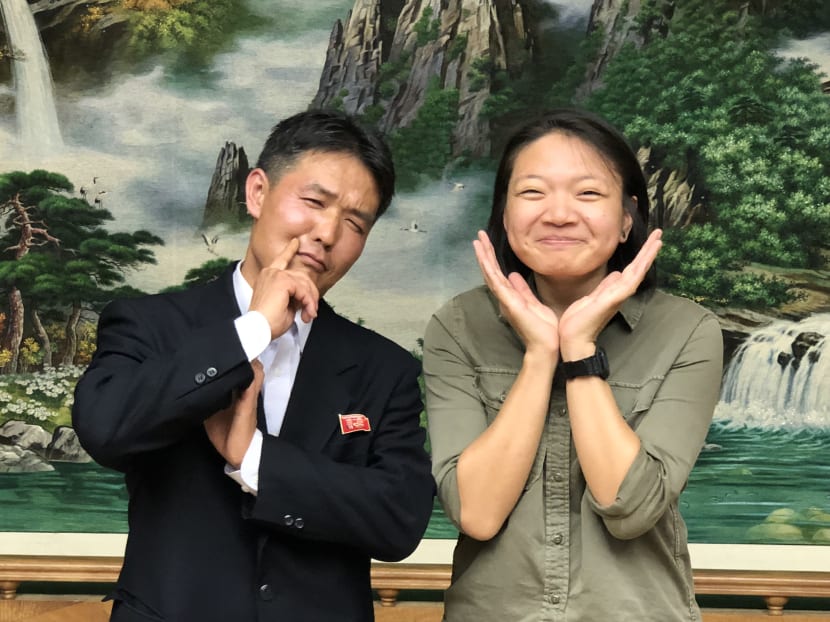 PYONGYANG — It certainly did not help to dispel my preconceptions about North Korea when I was handed a 10-page document soon after my arrival, telling me that I would be sent for "reform through labour" for at least five years if I committed acts of propaganda, espionage or sabotage against the country.
Or that my mobile phone and passport were temporarily seized at the airport, leaving me alone and aghast as I hastily gathered my ransacked luggage in order to track down the North Korean official who took off with them.
The next moment, I found myself wandering down the aisle with nary a belonging (I was not allowed to wheel my luggage freely around the airport), my sense of being in control all gone, and having my privacy violated as I had to unlock my phone so that a security personnel could sift through its contents.
Nothing was lost, but there I was, in a mood so foul that I let out an expletive under my breath — naively thinking that the Koreans wouldn't understand it — as I reorganised all my scattered belongings once again on the airport floor.
I looked up to find a smartly-dressed Korean woman towering over me. And I could not have felt more embarrassed after she introduced herself — in impeccable English and Mandarin — as Ms Kim Jong-a, secretary-general of the Korea-Singapore Friendship Society (a subdivision of the North Korea's Committee for Cultural Relations with Foreign Countries).
Ms Kim probably heard me cursing but she kept smiling.
The 28-year-old is no ordinary figure, I later found out. She had spent three months in Singapore in 2015, was schooled in Singapore politics, and her family dined with their leader, Mr Kim Jong-un, as he hosted South Korean President Moon Jae-in when he was in Pyongyang on Sept 19.
And Ms Kim knew all about me, my age and my occupation. I did not really have to introduce myself.
Later, she handed me a blue armband declaring to her countrymen my status as a "press man" in bold Korean letters. I was to put it on at all times.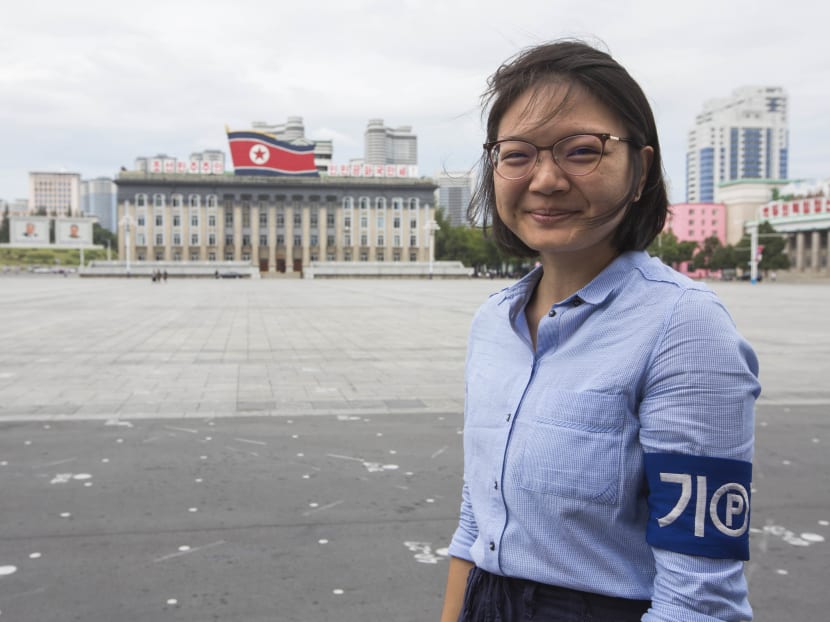 But despite the off-putting measures and protocols, I detected, during my 72 hours in North Korea, a refreshing sense of openness which I had not seen captured in the various reportage on the hermit kingdom.
So much so that on the final day, I found myself in a karaoke bar guffawing at the goofy dancing of one of our North Korean hosts, Korea Committee for the Promotion of International Trade desk officer Kim Yong-sok, who initially would only greet us with a stern look.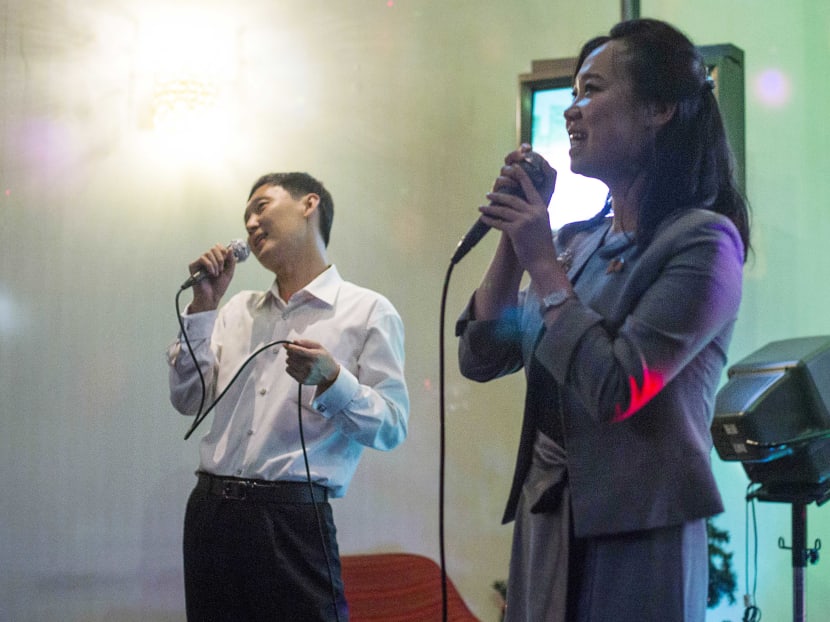 He was trying to get the Singaporean businessmen I was travelling with — as part of a business mission — to loosen up and have a good time, as a friend would. And we thought the North Koreans were the stiff and rigid ones.
They had Vengaboys' Sha La La La La and Wakin Chau's Peng You (Friends) in their arsenal of favourites, and the North Koreans seemed to love funky disco lights so much that we were bathed in them at every dinner reception.
The Singaporeans looked relatively out of place as they grappled with Wi-Fi withdrawal symptoms (Internet was sold at US$2 for 10 minutes, but only during office hours at the hotel's reception area) and reconciled themselves with the fact that the sight before them was a familiar scene out of the 80s or 90s. There were the waitresses in vest suits, men in wide-cut trousers, and women with their hair pulled back with barrettes to complete the set.
Our North Korean hosts were also comfortable enough to move our conversations beyond mere pleasantries.
For instance, over dinner, one of them said: "US and the Western media are always talking about human rights here. But actually, you see, everything is provided for by the government – the very basic essentials for the lives of people here, (such as) education, healthcare and a residential apartment. They don't talk about this."
When I commented that reports on North Korea could be one-sided because reporters simply couldn't get access, the North Korean who declined to be named said: "Nowadays, we are open to anyone here. From my perspective, it is not that the DPRK (Democratic People's Republic of Korea) is not open to the international community. The international community is not open (to us) because of the sanctions.
"What are in the sanctions? Daily necessities… Milk powder and prams for babies. Why prams? Because they are made of stainless steel and could be used for rocket production? It is so ridiculous!"
They also commented freely on the summit between Mr Kim and US President Donald Trump that was held in Singapore three months ago.
One of them said it was a "trust-building exercise" and "good start" to reduce the many misunderstandings that exist between the two countries, and that progress will be based on "simultaneous actions" according to what was stated in the declaration.
There were also more light-hearted takeaways from the historic Singapore summit. Our interpreter, Ms Kang Hyona, 25, said she now wishes to visit Marina Bay Sands, a landmark that is now synonymous with Singapore in the minds of many North Koreans, as Mr Kim had spoken well about the integrated resort.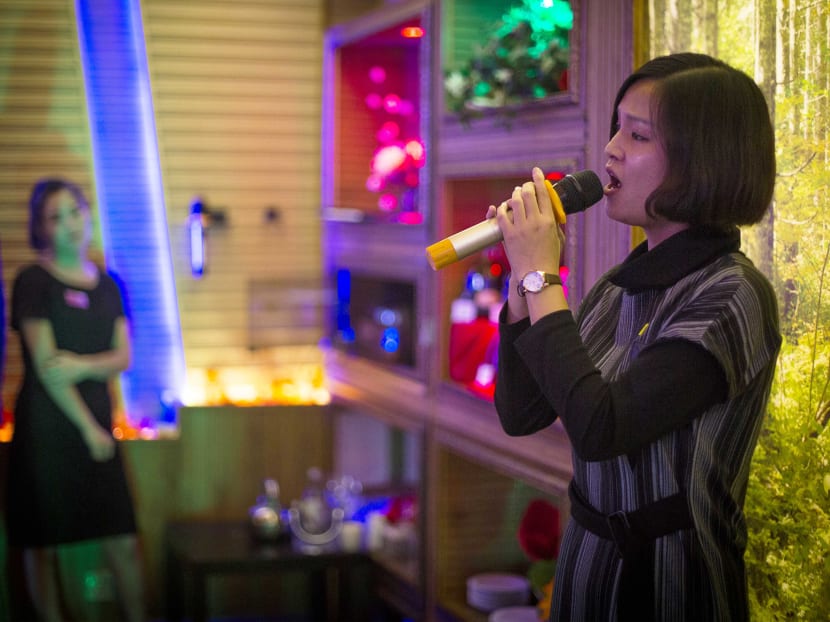 Ms Kang was also not secretive about her personal life.
She told me that her father is an architect and her mother is an interior designer, and she let me handle her Arirang-brand Android touchscreen smartphone, which was made in North Korea.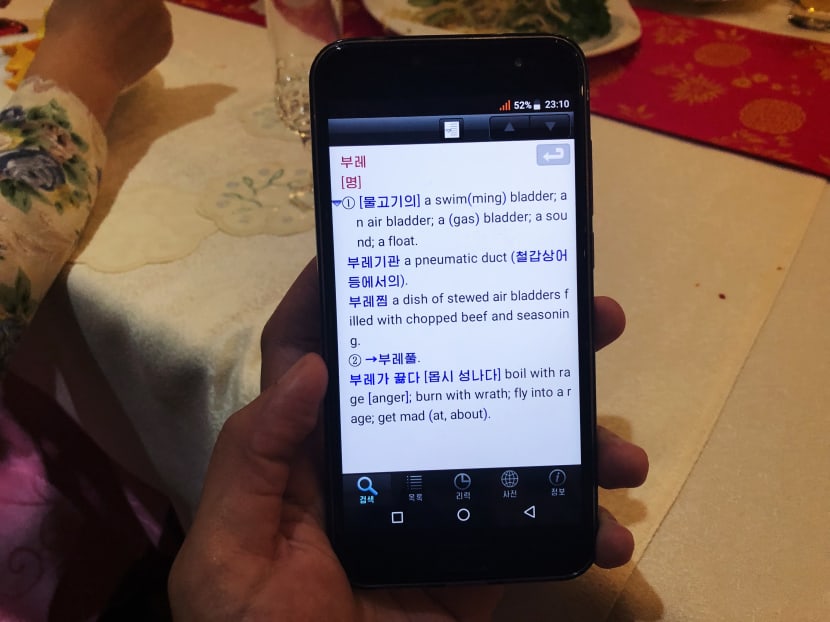 The only child likes to sleep in, read, or take a walk with her mother on the days she is not working, and grew up watching a number of English cartoons, namely Tangled, A Bug's Life, Shark's Tale, and Ice Age.
"War hasn't ended, but our country is very safe," Ms Kang told me over lunch. "At 10pm, you can find women walking in the streets. There are a lot of security guards protecting us. Also, the social education and family education level is very high. We are very stable in our psychological status."
The Singaporean delegation of eight businessmen also had a chance to meet a senior government official — Deputy Minister of External Economic Relations Ri Myong-san — who received us at the Ministry of Foreign Trade building, located at the famed Kim Il-sung Square where massive military parades are held.
At one point, Mr Ri turned to me and said: "I know that the role of a journalist is very important", as he expressed his wish that I based my reporting on the "principle of justice and objectivity".
While addressing the delegation, which was led by former academic Dr Michael Heng, Mr Ri said North Korea is "open to developing friendly, cooperative relationships with all the countries which respect our country's dignity and treat our country fairly".
Despite Singapore's suspension of trade relations with North Korea last November, which are in line with tightened United Nations sanctions over its weapons programme, Singapore is still regarded as a friend.
"Please when you go back to your country, tell your Singapore people that in every Korean people's hearts, you are friends," Mr Ri said just before he ended the 40-minute courtesy call.
I could sense he was sincere when he told Dr Heng: "You can suggest your opinions – anything you feel unsatisfactory about. Don't only tell us the good things."
The exceptional friendliness and goodwill shown to us served as a contrast to the treatment I initially received when I first got here. But I do not think our North Korean hosts were simply putting on an act. Perhaps, at the people-to-people level, after you take away all that politics, they are just like any ordinary citizens around the world, with similar hopes and dreams.
The best takeaway from my trip to North Korea? A photo of me making a funny face with a North Korean man – a symbol of our friendship.