Keep bringing up the past and I'll go my own way, Anwar tells Dr Mahathir
KUALA LUMPUR — Mr Anwar Ibrahim said he would rather go his own way if Dr Mahathir Mohamad keeps making repeated references to the two leaders' contentious past.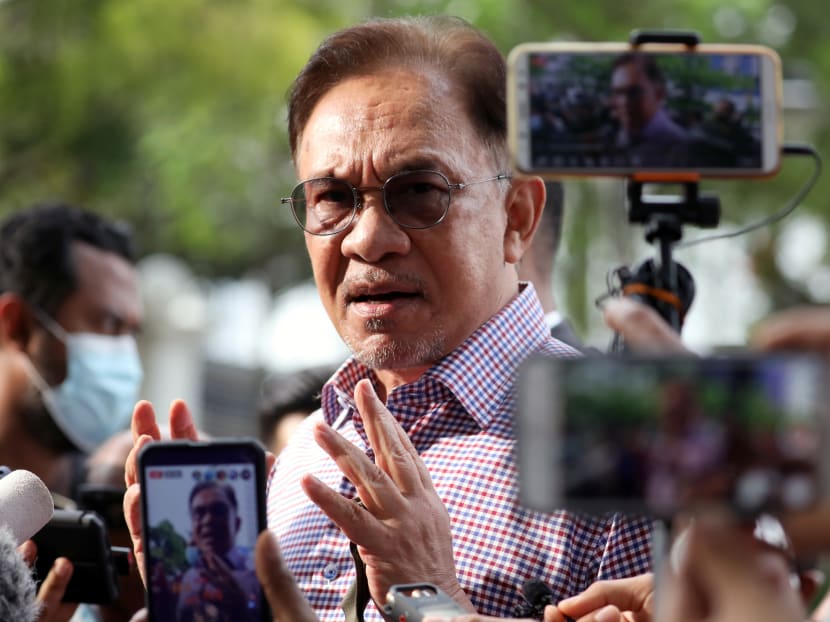 KUALA LUMPUR — Mr Anwar Ibrahim said he would rather go his own way if Dr Mahathir Mohamad keeps making repeated references to the two leaders' contentious past.
In an interview with Malaysia Gazette, the People's Justice Party president and opposition leader said it was normal for him as a human being to feel upset over the many trials in his life, including being incarcerated by Dr Mahathir during the latter's first tenure as Malaysian prime minister.
Despite the past, Mr Anwar said he was able to set it aside two years ago to work with his former mentor-turned-nemesis, so that Pakatan Harapan (PH) could oust the Barisan Nasional regime in the general election.
"But we can't continue to repeat the conspiracies and the backstabbing. Now, for me, it's okay, I'll go my own way," Mr Anwar said in the interview.
Prior to his interview with Malaysia Gazette, The Malaysian Insight published an interview with Dr Mahathir in which he claimed Anwar lacked the capability to handle Malaysia's 1997/98 financial crisis as the country's finance minister at the time.
"I tested his capabilities when I was prime minister. I took a holiday for two months and Anwar took over the reins. We had an economic crisis at the time, and his suggestions did not help the country recover its financial standing.
"That is why I had to take over from the finance minister and come up with plans to save the country from economic woes.
"I do not know how the people saw this, but what was clear during the financial crisis in 1997 was, Anwar was not capable," Dr Mahathir told The Malaysian Insight.
However, Dr Mahathir went on to sack Mr Anwar, who was also his deputy prime minister, on grounds of sodomy and corruption. Mr Anwar was jailed and faced trial, and imprisoned until September 2004 after his conviction was overturned by the Federal Court.
Mr Anwar, in the Malaysia Gazette interview, said Dr Mahathir ought to remember he (Mr Anwar) had defended the senior leader when he faced a contest for the United Malays National Organisation (Umno) presidency in 1987 from Tengku Razaleigh Hamzah.
"Everybody knows in 1987 if I didn't back him, he would have lost it all. He would have lost to Tengku Razaleigh."
Mr Anwar also rebutted Dr Mahathir's view that he was a nobody with no experience when he first took up a government post, citing his credentials in world youth organisations and in Angkatan Belia Islam.
It was Dr Mahathir who brought Mr Anwar into Umno and government after seeing his potential as a student leader.
The 73-year-old Mr Anwar, who is also Port Dickson MP, rebutted claims he was desperate to be prime minister, saying it had already been agreed to by PH parties and Dr Mahathir himself.
"It is not a question of Anwar wanting to be prime minister, no. I was nominated by the parties in PH."
The plan for him to succeed Dr Mahathir as prime minister was decided even before PH won the 14th general election, he added.
"Then, I was nominated as prime minister and Dr Mahathir as the temporary prime minister. We won the GE14.
"So this should be made known, it's not as if this developed two weeks ago or last month as alleged," he said.
Mr Anwar recently launched a bid to change the government by claiming on Sept 23 he had majority support to become the next Malaysian prime minister.
Although he met the Malaysian king with documentary evidence to support his claim, he did not specify the names of the MPs. THE MALAYSIAN INSIGHT