Looking ahead to 2018: Asean chairmanship poses a stern test for Singapore
SINGAPORE — On Monday (Jan 1), Singapore takes take over the rotating chairmanship of the Association of South-east Asian Nations (Asean). The Republic has its work cut out during the one-year term.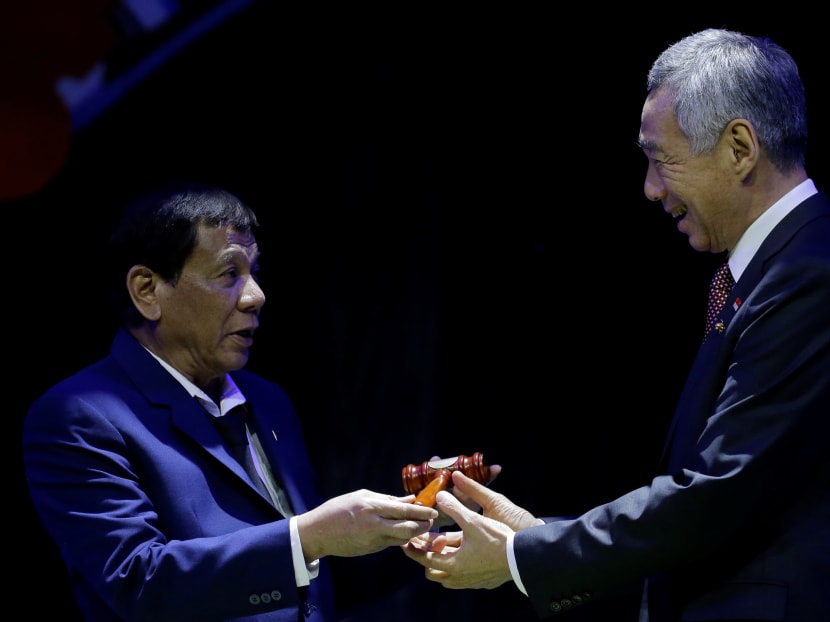 In the final instalment of a series looking at key issues on the local and foreign front in the next 12 months, we focus on the challenges Singapore faces in chairing the Association of South-east Asian Nations.
SINGAPORE — On Monday (Jan 1), Singapore takes take over the rotating chairmanship of the Association of South-east Asian Nations (Asean).
2018 will be a critical year of consolidation for the grouping, having just celebrated its golden jubilee. As a maturing regional organisation, Asean is expected to play a more relevant role in global affairs and further promote trade liberalisation.
Singapore has said that its chairmanship of the grouping will focus on the themes of "resilience" and "innovation". This includes promoting and upholding the regional order to better deal with emerging security challenges, tapping new ways to manage and mine digital technologies and pushing ahead with regional economic integration, among other issues.
The Republic has its work cut out during the one-year term. High on the political agenda is the ongoing exercise to maintain Asean unity and centrality in a web of regional dialogue mechanisms.
Asean also has to navigate a myriad of security threats, including territorial disputes in the South China Sea, the Rohingya crisis in Rakhine State and the North Korean nuclear programme.
Ambassador-at-Large Ong Keng Yong told TODAY that one key challenge for Singapore is to manage intra-Asean dynamics to ensure the grouping stays united and cohesive to substantiate its role in maintaining regional peace and stability.
"Bilateral relations between individual Asean member states and big powers from outside Asean have created significant impact on the ability of Asean member states to manoeuvre between Asean policy position and national policy preference," said Mr Ong, who is also the executive deputy chairman of the S Rajaratnam School of International Studies (RSIS).
Another key challenge for Singapore, the veteran diplomat and former Asean secretary-general said, is in the area of big-power rivalry, particularly in steering Asean towards avoiding taking sides among contending big powers.
"It is no secret that the United States is regarded as a status quo power in the region and this is not something China would unquestionably accept in today's economic and geopolitical realities," said Mr Ong. He noted that manifestations of their competing interests include the future role of the Asean-led East Asia Summit and options on the Korean Peninsula, among others.
"As Asean chair, Singapore has to find a way to manage the differences among the big powers as they shift to preserve their respective positions on the thorny issues in regional political and security concerns."
On the economic front, Asean cannot afford to let up the momentum in terms of regional integration. Singapore has identified e-commerce and smart cities among the key deliverables for its chairmanship year. But questions remain whether there will be buy-in from the other member states, given the varying levels of economic development in the region.
Singapore will also have to address the issue of fostering an Asean identity, and this may not be easy given the low level of interest among Singaporeans on the issue.
ASEAN UNITY AND CENTRALITY
Outlining Singapore's priorities for its Asean chairmanship in November, Prime Minister Lee Hsien Loong said the grouping must maintain unity and credibility on regional and global issues.
He also called for "deeper and more substantive co-operation" between Asean and China, including the negotiations on a Code of Conduct (CoC) for the South China Sea.
The code has been in the works for over a decade, with Beijing attempting to dictate the terms and pace of the talks.
In recent years, there have been clear signs of frayed Asean unity over the South China Sea issue, as some countries close to China take differing positions from others with claims over the strategic waters.
Dr Tang Siew Mun, Head of the Asean Studies Centre at Iseas-Yusof Ishak Institute noted that getting member states to prioritise regional well-being over national interests is a "constant struggle".
"The core issue is getting Asean member states to understand and live up to their obligations and responsibilities to the organisation, and come to the realisation that a united Asean serves everyone's interests," he explained.
"In flagging Asean centrality as a priority, Prime Minister Lee is in fact reminding everyone the essence and rationale for the establishment of Asean and the looming challenges to Asean's relevance and identity."
Tensions in the South China Sea appear to have eased for the moment after Asean and China concluded a framework for the CoC in 2017. But all eyes are on signs of more concrete progress once both sides commence formal negotiations on the CoC during Singapore's term as Asean chair in 2018, while double hatting as the coordinator for Asean-China relations until the middle of the year before handing over the baton to the Philippines.
"We must be patient. The plan is there. We need to implement the plan," said Mr Ong, the Ambassador-at-Large.
"To get a CoC, we must accept the time-consuming process and find convergence on delicate issues like how to have a binding agreement and how to establish viable dispute settlement mechanisms."
He said public education is important and Asean needs to find a common platform to better inform citizens about the intricate aspects of a CoC.
"Much will depend on how the Philippines government (as a claimant) manages its relations with China in this respect as public opinion in the Philippines is volatile," Mr Ong said.
Another issue that has threatened to divide Asean is the situation of the Rohingyas.
International condemnation has grown over what United Nations has called ethnic cleansing by Myanmar army's in Rakhine, a charge denied by the Aung San Suu Kyi government.
Meanwhile, Malaysia and Indonesia have called on Myanmar to end the violence. In September, Putrajaya disassociated itself from an Asean statement, which had appealed to all sides to avoid action that would worsen the situation. In the same month, thousands of Indonesians, led by Islamist groups, held a rally near the Myanmar embassy in Jakarta to protest against the treatment of Rohingyas and called for the cutting of ties between the two countries.
Asean has been criticised for being toothless on the Rohingya issue and as Asean chair, Singapore can expect to be come under some international pressure.
But it also has to consider Asean's long-standing principle of non-interference in the domestic politics of member states.
The Republic has traditionally upheld this principle and this is unlikely to change in 2018, said Mr David Han, a senior analyst with RSIS.
"That said, Singapore will also not ignore the Rohingya issue, as the non-interference principle does not preclude dialogue to find ways to tackle the problem," he said.
Mr Ong suggested that all parties should focus on the issues of delivering humanitarian aid and ensuring that the security situation in other parts of Rakhine state remains stable.
"Persuading the Myanmar authorities to stop military action against the population in the affected areas and to move more relief supplies to help the refugees on the border and the impoverished population in all parts of the Rakhine state is a reasonable and humane approach," he said.
TIES WITH MAJOR POWERS
The tussle between the US and China for influence in South-east Asia will have important geopolitical implications for the region.
The US has long been perceived as a reliable security partner whose benign presence in the region contributes to stability and prosperity. At the same time, many Asean member states have substantial economic links with China, which is asserting itself more vigorously on the world stage.
Mr Han of RSIS pointed out that it will be a challenge for Singapore - who has close ties with both Washington and Beijing and has reiterated that it will not take sides - to ensure that Asean builds a balanced relationship with both major powers.
Associate Professor Thitinan Pongsudhirak added that Asean would "need to keep the major powers at an arm's length so they don't overwhelm the grouping."
The director of the Institute of Security and International Studies at Thailand's Chulalongkorn University noted that Mr Trump has engaged Asean in a "narrow fashion" focusing on trade and existential security threats such as North Korea.
"This means China will have a field day in the region for the forseeable few years," said Assoc Prof Thitinan.
Indeed, one issue that Washington and Beijing hold starkly different views is regarding tensions on the Korean Peninsula.
Fears of a military confrontation have spiked after Washington and Pyongyang traded a series of threats.
Beijing, as Pyongyang's major ally, has advocated a less hawkish approach. At the same time, Chinese military commanders have warned that war could break out on the Korean peninsula at any time from now on until March when South Korea and the US hold annual military drills.
Singapore leaders have warned that the issue, if not handled tactfully, could threaten regional order and stability of not just North-east Asia but also South-east Asia.
In laying out Singapore's priorities for its chairmanship year, PM Lee made clear that the grouping must continue to call for North Korea to conform to its international obligations and commitments.
Singapore will inherit an already established Asean policy position on North Korea, said Professor Carl Thayer of the University of New South Wales at the Australian Defence Force Academy.
"Asean first and foremost should continue to endorse and implement UN Security Council resolutions on North Korea and support new sanctions when they are tabled," he said, adding that Asean leaders should continue to include a paragraph in their joint statements on developments in the Korean Peninsula when they meet.
Assoc Prof Thitinan of Chulalongkorn University added that Asean can leverage its role through multilateral forums such as the Asean Regional Forum and Council for Security Cooperation in the Asia Pacific to find ways to engage North Korea and offer a platform for ways forward.
"There's been enough rhetoric and perfunctory statements. Perhaps now is the time for Asean to offer a concrete role as broker and platform for negotiations," he said.
REGIONAL CONNECTIVITY
On the economic front, Singapore has pledged to further strengthen regional integration and connectivity, particularly through e-commerce.
Minister for Foreign Affairs Vivian Balakrishnan has proposed a single digital market in the region. This market will have "norms that will guard cyber security and yet enable cross-border transactions at very much lower transaction rates", he said.
A basis for further discussion is already in place, with an E-Asean Framework Agreement concluded in 2000 covering opportunities in the Information and Communications Technology (ICT) and e-commerce sectors.
Dr Keawkamol Pitakdumrongkit, the deputy head of the Centre for Multilateralism Studies at RSIS said that for an e-commerce drive to succeed in the region, the member states will have to roll out and implement a competition policy at the national level so that Small and Medium Enterprises (SMEs) can thrive alongside the big firms.
She added that there should also be more capacity training programmes to enhance the SMEs' expertise on e-commerce.
"(However), different Asean member states may have different ideas about how to pursue them at a regional level," she said.
"Some may prioritise stringent rules on data protection and privacy while the others see them as obstacles to advance innovation. These differences will need to be reconciled to craft a regional framework on e-commerce governance."
Dr Balakrishan, who drives Singapore's smart nation initiative, has also mooted the creation of a network of smart cities in South-east Asia.
Many South-east Asian governments are keen to capitalise on new smart technologies to maximise opportunities, including those in smart cities, noted Dr Lim Tai Wei, an adjunct research fellow with the National University of Singapore's East Asian Institute (EAI).
"Singapore aims to be an honest facilitator on the issue," he added.
Sounding a note of caution, Dr Kaewkamol said the reception to Singapore's plans depends on how it addresses the issue of uneven development in the region.
"Some critics may question whether Singapore's effort to advance innovation and a network of smart cities would widen the development gap among Asean member states," she said.
To overcome this issue, she said that Singapore is likely to promote the Initiative for Asean Integration, which aims to bridge the development gap in the region.
Added Mr Ong: "Singapore just has to demonstrate that it is not purely for self-interest as it moves to push the initiative of riding the high-tech and digital economy (wave) in the region."
PROMOTING ASEAN IDENTITY
Serving as Asean chair is not just an external undertaking as the Singapore government would also need to enhance Asean awareness and identity among its citizens.
But this may not be an easy task, given what appears to be a low level of interest in Asean among Singaporeans.
A recent survey by Singapore-based independent research consultancy Blackbox Research found Singaporeans being the least positive in their opinion of Asean among South-east Asian citizens.
Less than 60 per cent of Singaporeans who responded to the survey - which covered more than 3,000 people in all 10 member states - said they were positive about the grouping.
Dr Lim Tai Wei, an adjunct research fellow with the National University of Singapore's East Asian Institute, said the government could organise activities to raise awareness and commemorate Singapore's chairmanship of Asean, while tapping on conventional and social media for the effort.
Dr Mustafa Izzuddin, a political analyst, added said that an effective way would be to enhance people-to-people linkages with other member states, particularly among the youths.
But not all is lost, said Singapore's Ambassador-at-Large Ong Keng Yong, because while Singaporeans "appear to be more business-like, it does not mean that they do not care about Asean".
"We will have to reiterate our messaging and referencing on the value of Asean and its membership benefits," said Mr Ong, adding that for instance, Singaporeans would not be able to travel so easily in the region without various Asean initiatives.
He said one should not believe that Singapore can do well without the neighbouring countries.
"Singapore is not an island. We are linked to the people of the region in more ways than we appreciate: show the relationships, the benefits and the need to be connected with Asean just like how Singaporeans have valued our country's links with China, India and the West."
Missed the earlier reports from our Looking Ahead to 2018 series?