Malaysia GE2022: With the most seats in West Malaysia, Johor's electoral results will paint the country's political picture
JOHOR BAHRU — The Malaysian state most popular with Singaporeans will be among the most keenly watched states in Malaysia's upcoming 15th General Election (GE) on Nov 19.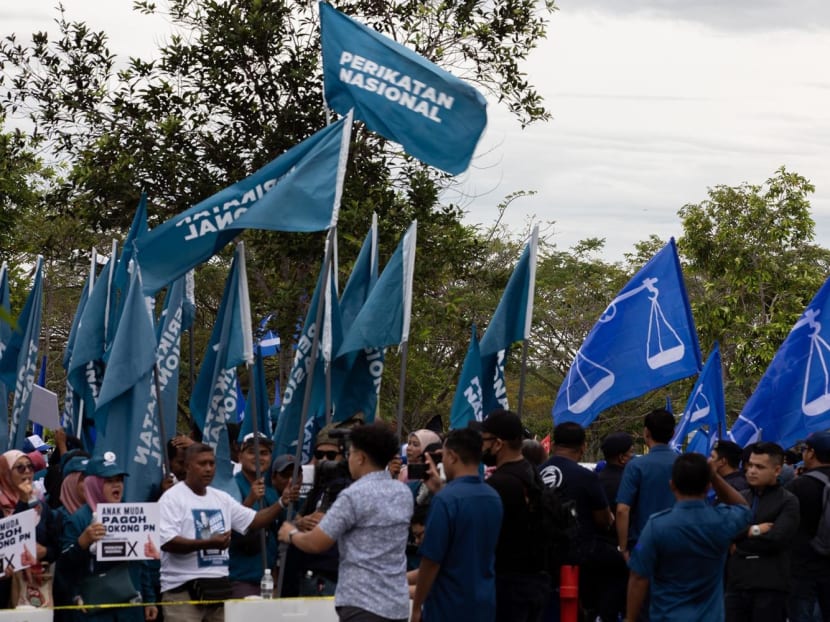 The state of Johor, which is just north of Singapore, has the second most number of parliamentary seats in Malaysia
Political experts say that any political coalition hoping to form the Government will likely have to win a sizable number of the 26 seats up for grabs in the state
While Johor had been Barisan Nasional (BN) stronghold, the opposition coalition Pakatan Harapan gained a majority of the seats during the 2018 General Elections 
In the State Elections earlier this year however, BN had a landslide victory which has led political observers to consider Johor a swing state in the upcoming polls
Johor voters who live in Singapore will also be able to return during the elections with border measures lifted and this could benefit the opposition, say experts 
JOHOR BAHRU — The Malaysian state most popular with Singaporeans will be among the most keenly watched states in Malaysia's upcoming 15th General Election (GE15) on Nov 19. 
With a sizeable 26 seats up for grabs in Johor, any political coalition hoping to form the next Government will have to claim victory of a significant portion of the seats in the southernmost state, said political experts.
Johor, which sits just north of Singapore, holds the most number of parliamentary seats in West Malaysia. The state of Sarawak, which sits in East Malaysia, has the most number of seats with 31 up for grabs.     
The 26 seats, each one representing a constituency, stretch from Johor Bahru up to Muar, about a two-and-a-half hour drive from Singapore.  
The state is about 26 times the size of Singapore, and has a voter racial breakdown of 42 per cent Malays, 40 per cent Chinese and 6 per cent Indians. 
Heading into GE15, opposition coalition Pakatan Harapan (PH) holds the most number of seats in the state with 11, while the incumbent Government Barisan Nasional (BN) holds eight seats.
Meanwhile, the other coalition, Perikatan Nasional (PN), which was founded by former Prime Minister Muhyiddin Yassin in 2020, has three seats, with Mr Muhyiddin himself holding the Pagoh seat in Johor. 
Three other parties fill the remaining four seats.
Dr Oh Ei Sun, a senior fellow at the Singapore Institute of International Affairs said that the state's electoral result is in a sense "a reflection of the larger political picture in Malaysia".
When PH, who was formed by and led by former Prime Minister Mahathir Mohamad, grabbed a shock victory during the GE in 2018, it won 18 out of the 26 seats in Johor.
PH went on to win 113 seats out of the total 222 seats in the Malaysian Parliament, topping the incumbent BN Government for the first time. 
Thus, the seats from Johor, 13 of which PH snatched from the incumbent seat holders at that time, were instrumental to PH, say experts. 
WHY JOHOR IS A STATE TO WATCH 
While the seats PH managed to take over seats from incumbents in the last GE, experts say it is unclear if this was a one-off or the way voters will continue to vote, given the results in the latest State Elections in March. 
While Malaysia will be holding its General Election or Federal Elections on Nov 19, Johor held its State Elections earlier this year. 
Elections in Malaysia exist at two levels, the federal and state level. The former is for those who want to be voted into Parliament, whilst the latter is for membership in the various State Legislative Assemblies.
During the latest State Elections, BN secured a landslide win, winning 40 out of 56 state seats, while PH only won 12 seats. 
In contrast, during the 2018 State Elections, which was held at the same time as the GE then, BN only won 19 seats while PH won 36 seats.
Mr Adib Zalkapli, a director with political consultancy Bower Group Asia, said: "It remains to be seen whether what happened in 2018 was a fluke or a trend that will remain, for the ongoing general elections." 
THE EFFECTS OF VOTER TURNOUT AND RETURNING VOTERS
Experts pointed out that one factor that would make a significant difference to the outcome in Johor is that of voter turnout, particularly that of returning Johoreans who are working in Singapore. 
Given that the land borders between Malaysia and Singapore were closed during the State Elections in March due to the Covid-19 pandemic, Malaysians working in Singapore were unable to return home to vote. 
The current GE15 may have a much higher voter turnout as borders have since reopened.
Mr Adib said that while the actual number of voters who fall into this group "is small", their return will have a trickle down effect on voter turnout. 
While there is no official figures on how large this group is, an article in Malaysia's The Sun in June reported that 900,000 Malaysians work in Singapore, with about 300,000 commuting daily.
"The fact that there is some kind of mobilisation of voters from abroad will excite voters everywhere (in Johor)... it will excite a lot of PH voters who are already here (in Johor) to come out and join."
Political observers say that overall, PH is expected to do well with a higher voter turnout out while the converse will work in BN's favour, which was the case in the March State Elections, where the turnout was only 55 per cent.
A report by Dr Francis Hutchinson and Kevin Zhang from the Malaysia Studies Programme at the Iseas-Yusok Ishak Institute in Singapore pointed out that the number of votes that BN receives stays relatively constant regardless of voter turnout, while votes for PH are more variable.
"While BN can rest assured that its supporters will turn up to vote regardless of the occasion, PH needs to hope that its supporters treat state and parliamentary elections differently," read the report. 
"It really needs to hold onto its urban pockets and work the ground in semi-urban constituencies to drive up support."
THE HOT SEATS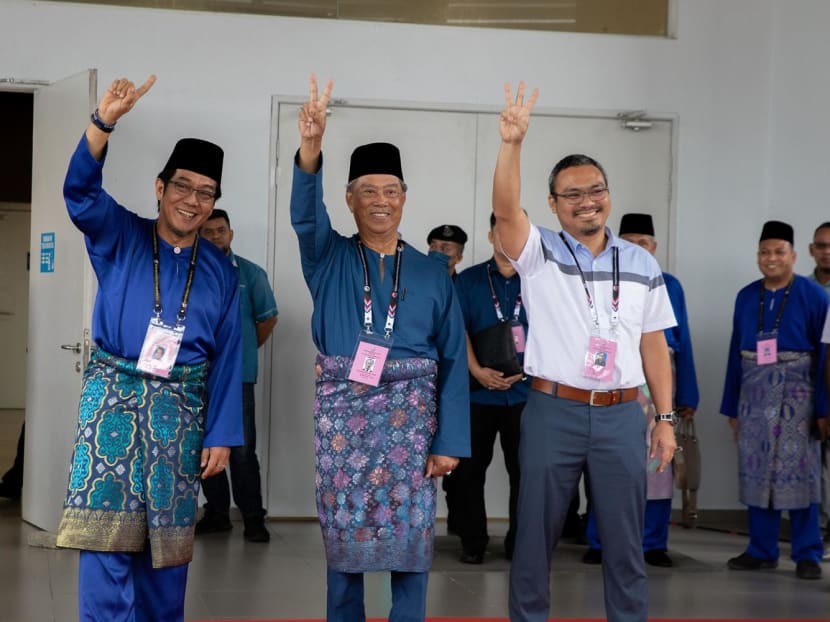 Experts point to at least three seats that will be hotly contested in the upcoming GE — Pagoh, Ayer Hitam and Muar.  
Pagoh
The seat, which is located east of Muar, has been held by Mr Muhyiddin who is hoping to retain his seat for a sixth time under the PN flag. He is up against BN's Razali Ibrahim and PH's Iskandar Shah
Mr Adib said that while Mr Muhyiddin has "a good chance" of retaining the seat, his opponent Mr Razali cannot be discounted as he is a "high profile candidate" who used to be a Deputy Minister in the Prime Minister's Department.
"BN is trying to mount a credible campaign by offering a high profile candidate," he said.
Dr Oh added that Mr Muhyiddin's leading role in the Sheraton Move, where he withdrew his party Bersatu from the PH coalition, which led to the collapse of the PH government in 2020, will not be looked upon kindly by Chinese voters.
"During the Sheraton Move, (Muhyiddin) was instrumental in overthrowing the popularly elected PH government which so many Chinese voters had pinned their hopes on," said Dr Oh.
Ayer Hitam
The seat, which covers an area east of Pagoh, has been held by BN's Wee Ka Siong for four terms.
Mr Wee, who is also the country's Transport Minister, however has been losing favour with voters over the years and only managed to win his seat during the 2018 elections by a slim margin of 303 votes. 
Mr Wee is up against PH's Sheikh Umar Bagharib Ali from PH and PN's Muhammad Syafiq A Aziz, who are both first-time candidates.
Muar
The Muar seat is held by founder of the Malaysian United Democratic Alliance (Muda), Mr Syed Saddiq, whose party will be contesting under the PH banner. 
Mr Syed Saddiq won the seat during the last elections in 2018 garnering 53 per cent of the votes, in a three-cornered fight, which included Mr Razali.
He is the youngest cabinet Minister to be appointed at the age of 25, as well as the third youngest elected Member of Parliament.
He will be up against BN's Helmy Latif and PN's Abdulah Husin, both who are contesting in Muar for the first time.
Dr Oh noted that while Mr Syed Saddiq, 29, and Mr Helmy, 41, are both relatively young, it "remains to be seen" if the younger first time voters will be wooed by them.
"We don't know if young people would come out to vote in large numbers, or if they would vote for progressive or conservative candidates," he said.
Mr Adib said that while Mr Syed Saddiq is the favourite, victory is not assured. 
"Muar was only won for the first time by the opposition, PH, in 2018, so it is not yet a safe seat."
THE KEY ISSUES ON VOTERS' MINDS
Johor voters told TODAY that the key issues on their mind this GE include jobs and infrastructure.
Consultant Kaz Mansor, 28, said that he wants the elected Government to bring more professional jobs to Johor, rather than just jobs requiring vocational and technical skills which are more common in the state at the moment. 
"We would like some big agencies or firms in the professional side so a lot of young people can develop more in these kinds of careers as well," Mr Mansor, who will be voting in Muar. 
Meanwhile, Mr Raja Haziq a 19-year-old university student who will be voting in Segamat, the northernmost state in Johor, pointed out that there is still a stark difference in infrastructure throughout the state. 
"In the city, there are many facilities as compared to the rural areas... I want more facilities for the people living in the rural areas," said the first-time voter. 
As for Ms Suhaila Zainuddin, 29, a business developer voting in the Johor Bahru state, her main concern is that of the lack of public transport infrastructure in Johor.
"As you can see in Johor, (to travel around) you need your own transport, there isn't a lot of public transport," she said.
Visit our Malaysia Elections 2022 page for the latest coverage, updates from TODAY journalists on the ground and more.