Malaysia GE2022: Once BN's 'fixed deposits', Sabah and Sarawak could now be the kingmakers
KOTA KINABALU — Sabah and Sarawak have long been touted as "fixed deposits" for the Barisan Nasional (BN) coalition and helping it to retain power for decades, but that changed in 2018 and with further political shifts since then, the spotlight is on how the two Malaysian states could decide who wins the upcoming Malaysian General Election. 
The East Malaysian states of Sabah and Sarawak could determine which coalition forms the federal Government of Malaysia after polling day on Nov 19
Sabah and Sarawak make up a quarter of the 222 seats in Malaysia's federal Parliament
The major coalitions of Barisan Nasional and Pakatan Harapan have begun dangling carrots to woo East Malaysia parties, with both sides offering a deputy prime minister role, typically held by politicians from peninsular Malaysia
Employment, cost of living and education will be among the key issues during the campaigns in both states
KOTA KINABALU — Sabah and Sarawak have long been touted as "fixed deposits" for the Barisan Nasional (BN) coalition and helping it to retain power for decades, but that changed in 2018 and with further political shifts since then, the spotlight is on how the two Malaysian states could decide who wins the coming Malaysian General Election. 
Neither BN, the Perikatan Nasional (PN) pact headed by former prime minister Muhyiddin Yassin and the opposition Pakatan Harapan (PH) coalition is expected to win a simple majority of votes to form the Government when Malaysians head to the polls on Nov 19.
This means the decision by East Malaysian voters and political leaders on which side to support post-election could "make or break" the coalition hoping to lead the federal Government.
TODAY, which is reporting on the ground in East Malaysia, takes a closer look at the key parties, how the electoral fight there is shaping up, and what is at stake. 
KEY PARTIES AND HOT SEATS IN EAST MALAYSIA
Located along the coast of the South China Sea, Sabah and Sarawak make up a quarter of the 222 seats in Malaysia's federal Parliament. Sarawak, which is Malaysia's largest state, has 31 seats while Sabah, the country's second-largest state, holds 25 seats.
Unlike in peninsular Malaysia, where the three main races are Malays, Chinese and Indians, Sabah and Sarawak have a different ethnic mix. 
In Sabah, the Kadazan-Dusun make up the largest ethnic group at 30 per cent of the population, followed by the Bajaus and Muruts. In Sarawak, the biggest ethnic group are the Ibans, followed by other groups such as Bidayuh and Melanau. 
Malays and Chinese populate the city areas in both states.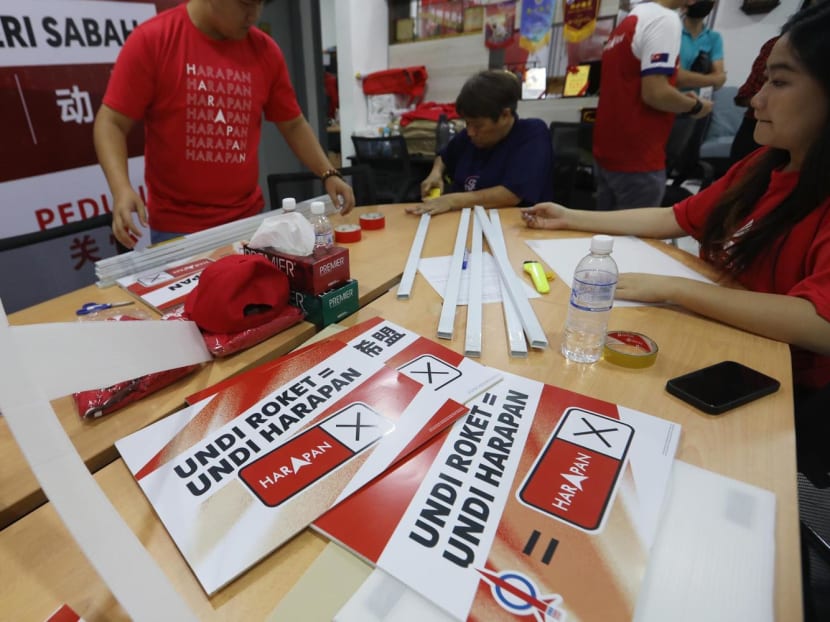 Sarawak
Prior to 2018, when BN was Malaysia's ruling coalition for an uninterrupted six decades, it had an alliance with local political parties in both Sabah and Sarawak.
The last general election in 2018 saw Sarawak BN coalition sweep 19 seats and PH win 10 seats.
The remaining two went to independent candidates. 
However, the coalition broke up in 2020 leading to several Sarawak-based parties forming Gabungan Parti Sarawak (GPS).
GPS later joined BN and PN to form the federal government in 2020 after the political crisis known sparked by the "Sheraton Move" where a faction of Members of Parliament from PH, led by Bersatu president Muhyiddin, defected to form PN.
The defections led to the fall of the PH government and the sudden resignation of Dr Mahathir Mohamad, who was replaced by Mr Muhyiddin as prime minister.
GPS is contesting all 31 seats Sarawak in the Nov 19 election while PH is contesting 30 seats.
GPS is expected to retain control of Sarawak despite PH's challenge and a credible campaign by a new local opposition party, Parti Sarawak Bersatu, which is only contesting 10 seats, said Dr Lee Poh Onn, a senior fellow at Iseas–Yusof Ishak Institute in Singapore.
PH, particularly component party Parti Keadilan Rakyat, will have "an uphill battle" to win votes despite contesting in almost all seats as they are a peninsular-based party and lack strong grassroots support, said Dr Lee. 
Among the key battlegrounds in Sarawak is Sibu, which will see a three-way fight between incumbent Oscar Ling Chai Yew from Democratic Action Party, which is a component party of PH, Parti Sarawak Bersatu president Wong Soon Koh and GPS' Clarence Ting Ing Horh.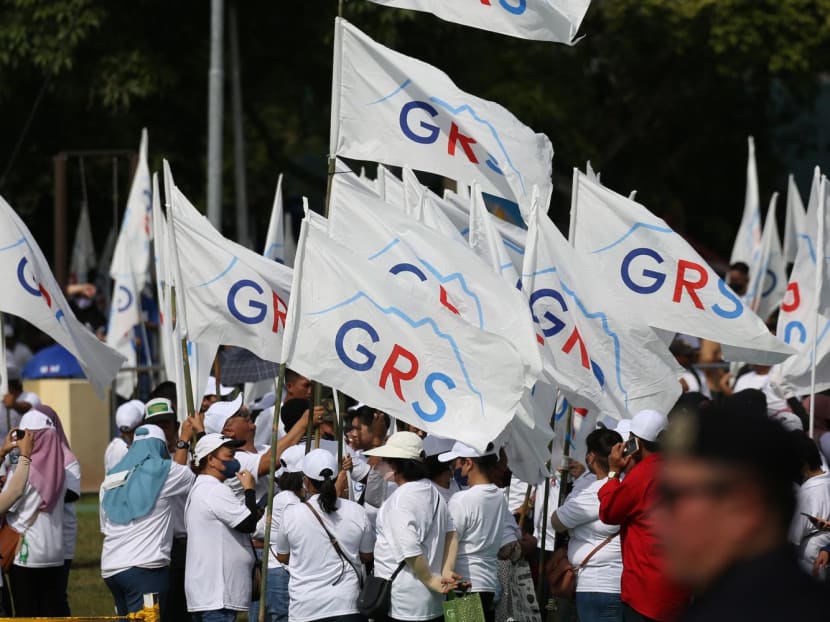 Sabah
In Sabah, the political scene is much more fragmented and almost all constituencies will see a multi-cornered fight.
The major coalition in Sabah is Gabungan Rakyat Sabah (GRS), which was formed in 2020 by Mr Muhyiddin after he defected from PH.
Its component parties are Bersatu, Parti Bersatu Sabah, Sabah Star, Sabah Progressive Party and United Sabah National Organisation.
GRS is partnering BN in Sabah to contest 25 seats in the upcoming polls. PH, which also has a significant presence in Sabah, is contesting in 24 seats.
Sabah-based party Warisan, which partnered with PH in the last general election, is also putting up a strong fight by contesting all 25 seats despite choosing to go solo this time around. 
Gerakan Tanah Air (GTA) led by Dr Mahathir is fielding 14 candidates. The veteran politiian was in Kota Kinabalu on Sunday (Nov 6) to launch the Sabah chapter of GTA's component party Pejuang, which he set up in August 2020.
With PH and Warisan no longer working together, any multi-cornered fight will favour the GRS-BN coalition in Sabah, said Dr Lee.
When asked about this, Ms Jo Anna Sue Henley Rampas, the Warisan candidate contesting in the Tuaran constituency of Sabah, told TODAY that voters in Sabah want a local-based party, and Warisan's decision to go solo is to give Sabahans a voice. 
Among the hot seats in Sabah are Tenom constituency, which has five candidates contesting and the Tuaran constituency, which sees a six-way fight.
The tense battle is evident in how riots broke out outside the nomination centre in Tenom on Saturday after supporters of candidate Peter Anthony, the president of Social Democratic Harmony Party, found out that his nomination had been rejected by the Election Commission.
In Tuaran, the incumbent candidate, Mr Wilfred Madius Tangau of United Progressive Kinabalu Organisation, a component party of PH in Sabah, will go against candidates from GRS and Warisan.
Mr Wilfred had previously won the seat under BN's banner, but left BN a day after the May 2018 general election to form the Sabah state government with Warisan and PH.
FROM FIXED DEPOSITS TO LIKELY KINGMAKERS
Ms Ariel Tan, a senior fellow and coordinator of the Malaysia Programme at the S. Rajaratnam School of International Studies, said that the East Malaysian states' roles as fixed deposit states had already been on the wane since 2008, when BN first lost its two-thirds majority in Parliament, due to BN's declining popularity and rising strength of the opposition. 
Ms Tan said that 2018 constituted a "significant break" where political heavyweights who were previously flying BN's flag in East Malaysia either left BN before or after the general election.
"This means that they also took with them supporters who used to vote for BN," she said.
"In Sabah, for instance, Shafie Apdal was a deputy prime minister from Umno (BN's dominant party) before leaving to form Warisan, which was allied with PH in 2018. In Sarawak, erstwhile component parties of BN left BN to form GPS after BN's defeat in the 2018 general elections," she said.
Despite the current informal alliance between BN and GPS in Sarawak, political observers said that GPS is no longer a fixed deposit for BN as it will support any federal coalition that will give it the most benefits such as more funding for state development.
However, if BN does well at the polls in peninsular Malaysia, GPS will prefer to partner BN at a federal level post-elections given the strong historical ties between both sides, they said.
In the case of Sabah, while BN has an electoral pact with GRS, it remains to be seen who GRS, which still counts PN's Bersatu as a component party, will align with post-election.
This is because BN and PN are on opposite camps in peninsular Malaysia, said Dr Lee.
With weaker coalitions in peninsular Malaysia, East Malaysian parties will also have more leverage to bargain for more concessions to their two states, added Ms Tan.
Already, BN and PH have begun dangling carrots to woo East Malaysia parties, with both sides offering a deputy prime minister role, typically held by politicians from peninsular Malaysia, to someone from East Malaysia.
If it comes to pass, it would be the first time a politician from Sabah or Sarawak would be appointed to the deputy prime minister post.  
KEY CAMPAIGN ISSUES 
Bread and butter issues such as employment, cost of living and education will feature prominently in the elections for both East Malaysian states, said political observers, candidates and voters.
Speaking to TODAY on Saturday after his nomination was formally announced, Mr Wilfred, the candidate for Tuaran in Sabah, said that young people in Sabah want more opportunities to qualify for technical and vocational education programmes so that they can get skills to become more employable.
The incumbent PH candidate in Sabah's state capital of Kota Kinabalu, Mr Chan Foong Hin, also said that jobs "are the real issue" in Sabah.
He noted that many youths in Sabah are engaged in the informal sector and added that PH wanted to provide social welfare protection for gig workers. 
Ms Henley Rampas from Warisan pointed out the lack of high schools in the Kiulu area in Tuaran as an issue she wished to raise in Parliament.
Some Sabah voters also highlighted infrastructure and development as concerns.
Ms Ammyssa Gimpau, an 18-year-old Sabah native who is studying at a teacher's training college, said she wanted wider and better roads around her hometown in Kota Marudu in north Sabah.
Other issues that will feature in the elections are the protection of rights under the 1963 Malaysia Agreement, which specifies the terms of autonomy for the East Malaysia states, said observers.
Among the issues under contention are oil royalties, petroleum cash payments and oil minerals and oil fields claimed by the states under the Agreement.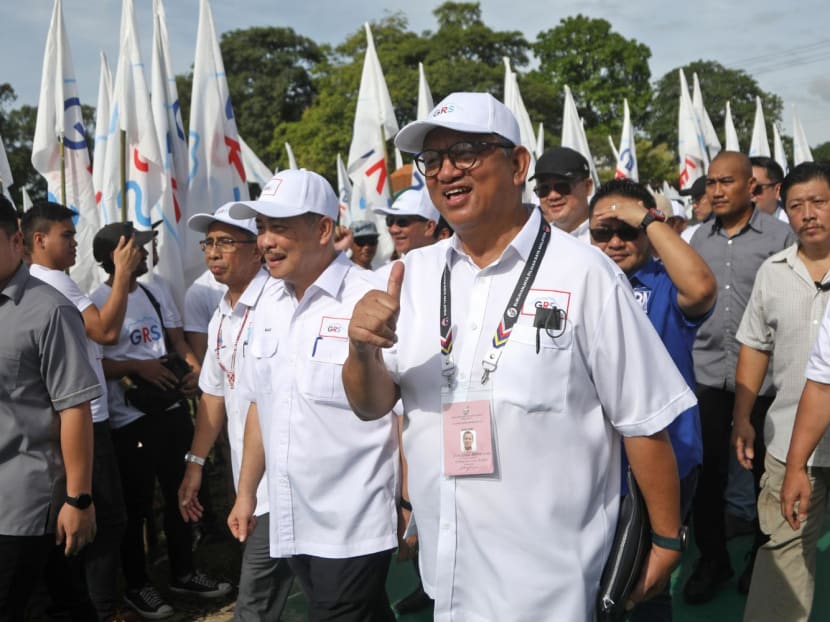 Ms Tan, the analyst, said that greater autonomy for the states is popular among East Malaysian voters who feel that their natural resources have been channelled to develop peninsular Malaysia for decades, while Sabah and Sarawak have consequently been neglected. 
One relative unknown in the upcoming poll is how young voters will vote, following the lowering of the voting age from 21 to 18 and given the fact that East Malaysia has a relatively young population.
Ms Tan said that many young East Malaysians are studying or working in peninsular Malaysia or overseas and it does not appear likely that they will return in droves to vote.
As the election campaign kicked off over the weekend, the East Malaysian parties will be out to woo voters with promises of better jobs and economy. On the cards will also be the promise of a more stable federal government, after four years of political tumult.
Said GPS chairman and Sarawak premier Abang Johari Tun Openg at the nomination centre in Kuching, Sarawak on Saturday: "We hope that this election will allow for a more stable government to be formed on the federal level.
"This is because we have wasted a lot of time with uncertain politics when we should have been providing our services to the people."
Visit our Malaysia Elections 2022 page for the latest coverage, updates from TODAY journalists on the ground and more.