Malaysia GE2022: Conservative PAS, progressive DAP winning most number of seats shows country more divided than ever
MUAR, SINGAPORE, KUCHING — The outcome of the Malaysian general election (GE2022) has seen two parties on both ends of the political spectrum garner the most number of seats, putting their respective coalitions — Pakatan Harapan (PH) and Perikatan Nasional (PN) — in a commanding position to form the next government.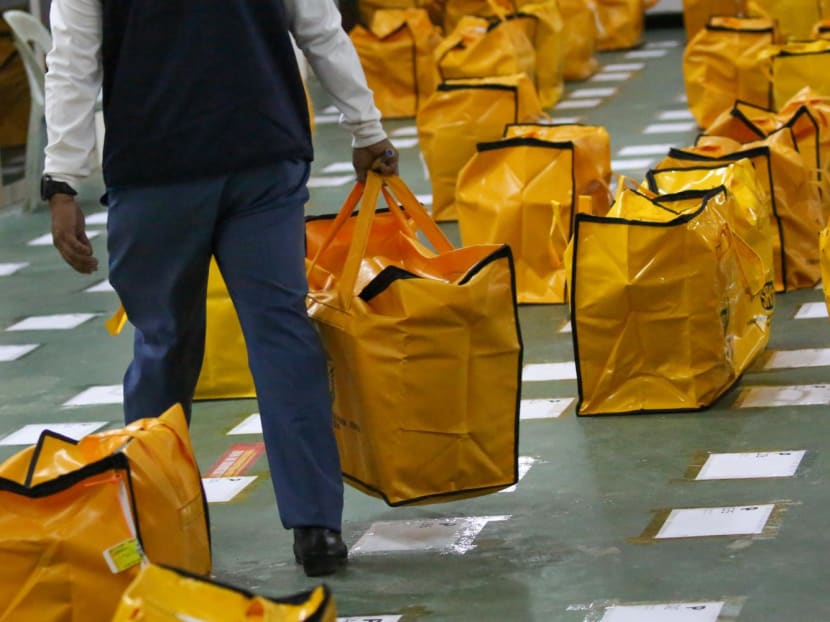 The Malaysian general elections saw two parties with opposing ideologies win the most number of votes 
The popularity of these two parties shows that Malaysia is in a 'new stage of politics' that is more divided than ever, said experts
Barisan Nasional had a poor showing at the hustings, winning only 30 seats
Former PM Mahathir Mohamad's abysmal result shows voters are 'done' with his approach to politics, one expert said
MUAR, SINGAPORE, KUCHING — The outcome of the Malaysian general election (GE2022) has seen two parties on both ends of the political spectrum garner the most number of seats, putting their respective coalitions — Pakatan Harapan (PH) and Perikatan Nasional (PN) — in a commanding position to form the next government. 
However, political analysts said that the rise of the conservative Parti Islam Se-Malaysia (PAS) and the steady popularity of the more progressive Democratic Action Party (DAP) show that Malaysia is in a "new stage of politics" that is more divided than ever. 
PAS, a component party of the newly formed PN, had taken 49 seats out of the 222 available, the most number of seats won by a single party. In the previous GE in 2018, it won only 18 seats. 
In the meantime, DAP, a component party of PH, won the second most number of seats, its 40-seat haul almost maintaining its 2018 margin of 42 seats. 
The seats that the DAP and PAS won helped their respective coalitions grab a significant number of parliamentary seats — PH took the lead with 82 seats, while PN followed close behind with 73. 
Both coalitions did not attain sufficient seats, however, to form the government and will have to negotiate with other parties to form a larger alliance to do so.
The experts also noted that incumbent coalition Barisan Nasional (BN) had a "surprisingly" poor showing at the polls, winning only 30 seats, a sharp decline from the 79 seats it had won in 2018. 
Notable was also former Prime Minister Mahathir Mohamad's abysmal showing, with the former PH leader losing his Langkawi seat, his first defeat in 53 years, with the 97-year-old attaining only 9.62 per cent of the vote, losing his deposit in the process. 
WHAT PAS AND DAP'S RISE IN POPULARITY MEANS 
Experts said that PAS' rise in popularity during these elections shows that there could be an increasing slant towards conservatism in Malaysian society and this could lead to outcomes on the federal level that could affect all Malaysians. 
Speaking to Malaysian radio channel BFM, Professor James Chin, a lecturer in Asian Studies at the University of Tasmania, said that the rise of PAS indicates a "fundamental shift in Malaysia politics". 
While the traditional PAS seats were isolated to the northern states in Peninsular Malaysia, PAS has now "broken out of that completely, and is now a major player and major powerbroker". 
Prof Chin said this could mean that with a sizeable number of seats, PAS could begin to make demands in parliament that it otherwise could not do so in the past. 
"They have the leverage to ask for some of the things that they always wanted but couldn't get, for example, could you imagine PAS controlling the Education Ministry?" 
However, other experts said that the rise of PAS may not necessarily mean a rise towards conservatism, but rather that many voters are "protesting" against BN by voting for PAS. 
Dr Francis Hutchinson, senior fellow and coordinator of the Malaysia Studies Programme at Iseas-Yusof Ishak Institute in Singapore, said that PAS is ultimately under PN, which is seen as a viable alternative to BN. 
"BN has lost its position as protector of the Malay community, and for many Malay voters, they are unwilling to vote for PH. So in this context, PN comes out as a very acceptable alternative." 
As for PH-backed DAP, they had managed to retain their "solid base" of supporters from the previous elections, and this is a "reinstatement of the support that PH has in more urban and mixed-race constituencies", said Dr Hutchinson. 
However, experts said that these elections have seen a greater divide about the electorate given that the two ideologically opposed factions have emerged as the two frontrunners. 
Said Dr Serina Rahman, lecturer at the department of Southeast Asian Studies at the National University of Singapore: "PAS and DAP's popularity speaks of the increased polarisation in society.
"Perhaps it's simply that people have either moved towards increased conservatism or have an increased discomfort with singular Malay dominance and race-based politics." 
Having said that, Dr Serina added that in politics, there is a difference between who wields actual power and who has the face of the party or coalition.  
"PAS and DAP are publicly seen as too extreme in their views and what they represent to be the face that tries to negotiate a coalition," she said.
"Thus for better PR (public relations) and negotiation, the more moderate or 'neutral' personas of Anwar (Ibrahim) or Muhyiddin (Yassin) might seem a safer bet."
WHY DID BN FARE SO BADLY? 
BN's poor showing at the polls was due to several key failures leading up to and during the campaign trail, experts said. 
Dr Hutchinson said that between the 2018 elections, where BN had lost, up to GE 2022, there had been an insufficient "internal cleansing process". 
"While (former Prime Minister) Najib Razak did step down, the whole discourse still revolved around preserving the leadership of the old guard and there were no new narratives," said Dr Hutchinson. 
"It was always about taking BN back to where it was before." 
Agreeing, Dr Serina said that the party's campaign had also been harmed by its controversial leader, Dr Ahmad Zahid Hamidi, who is facing graft charges. 
"BN's poor performance (can be attributed to) frustration with Zahid and an effort to ensure he is defeated," she said. 
Dr Azmi Hassan, a senior fellow at Nusantara Academy for Strategic Research, added that due to BN component party the United Malays National Organization's (Umno) own internal strife and court cases, Malay voters have had "a change of heart" and want "a party to protect their interest, religion and race". 
Compared to Umno, PN's PAS leaders had been seen as the "cleaner" choice, resulting in a loss of votes. 
Following the election results, Dr Ahmad Zahid has been facing increasing calls within his party to step down to take responsibility for the bad performance.
Among the echo of voices asking him to step aside was Johor Menteri Besar and party supreme council member Onn Hafiz Ghazi.
The timing of the elections likely did not affect the result, said Dr Azmi. 
He said that even if BN had chosen to call the elections six months later, they would have seen similar results because Malay voters in both semi-urban and heartland Malaysia have had a change of heart and would have voted for an alternative. 
Nonetheless, experts cautioned against writing off BN too quickly despite its heavy losses.
Political scientist Meredith Weiss said that pending the confirmation of the upcoming coalition plan, it seemed that BN might still form part of the government.
"They still have a lifeline," said the visiting senior fellow at the S Rajaratnam School of International Studies.
"That said, to call this entity 'BN' is bordering on farce — it's Umno with the sparsest possible non-Malay presence. If BN as a whole plays second fiddle to PN, MCA and MIC, it may as well give up the pretense that they matter to the coalition," she added.
Mr Adib Zalkapli, a director at advisory firm Bower Asia Group, noted how the coalition still controls more than 10 per cent of parliamentary seats.
"So they should still be taken seriously," he said.
Dr Oh Ei Sun, a senior fellow at the Singapore Institute of International Affairs, even expects the coalition to bounce back, saying that political resurrections are "commonplace" in Malaysian politics. 
MAHATHIR'S FIRST ELECTORAL DEFEAT IN 53 YEARS
Dr Mahathir's defeat at the polls shows that the electorate is now ready to "move on" from his approach to politics. 
The nonagenarian, who had served as Malaysia's Prime Minister for more than two decades over two stints, had helmed the PH government between 2018 and 2020, before it was dissolved amid the infamous Sheraton move. 
He had then founded the Gerakan Tanah Air (GTA) coalition in August this year. The coalition contested in 121 seats and failed to win any. 
"Mahathir's loss — and that of all GTA — indicated that voters are done with his approach to politics," said Dr Serina. 
"Notwithstanding everything he's done for the nation, it shows that people would prefer that he retires and that the nation moves on with younger candidates and newer policies."
Visit our Malaysia Elections 2022 page for the latest coverage, updates from TODAY journalists on the ground and more.